Linux PC Build 2021
I show my Linux computer build for video editing. It is an Intel-based Linux system with a lot of RAM and powerful processor. I also discuss an AMD alternative build.
This Linux PC build can be used for many tasks including gaming. However, I use my Linux computer mainly for video editing in Kdenlive. That is why I tried to make this Linux PC build the most suited for video and photo editing. The choice of different parts was also justified by the price at the time I bought everything on Black Friday in 2019.
Also, after I bought everything, I realized it was not the best choice. So, below I show what computer I built, what options I considered before buying and what other Linux PC builds are possible. The content is the following:
Note, I indicate the price I paid for the computer parts or the price at the time I wrote this post. Click on the links to find out the current price of each part.
My old Linux PC
Let me first say a few words about my old Linux computer.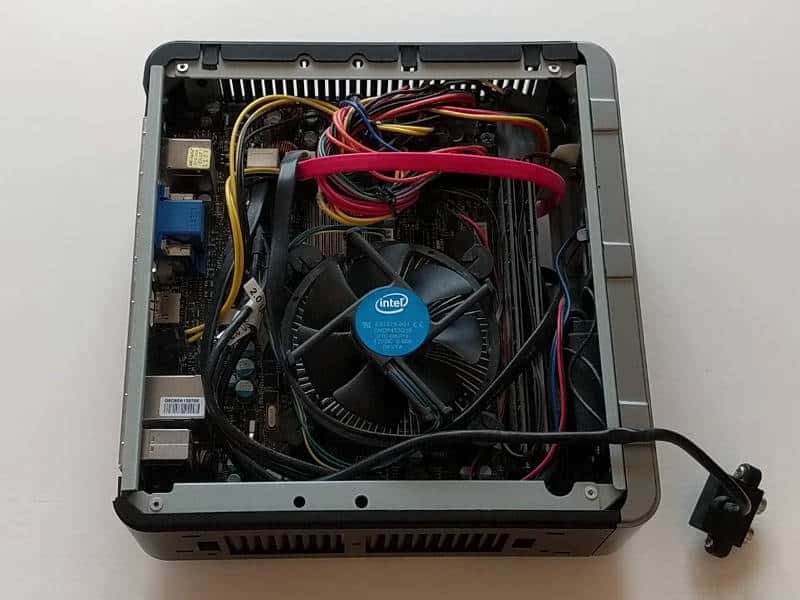 I bought it in 2014 and it was before I even considered creating YouTube videos. I mainly aimed for a bargain price, compact size, and Linux compatibility. I was able to achieve that with these parts:
I have been very happy with this build. I paid only $430 and it served me for 6 years. I had no Linux compatibility issues whatsoever despite trying many different Linux distros on this hardware. I also successfully used it to create and edit over 100 videos on my YouTube channel.
It still works fine even for video editing. The only problem is when I edit a video, Kdenlive fills in almost all 8G of RAM and I can not run any other apps. This affected my productivity because I often need to run VirtualBox and record some video parts while I am editing a video. So, I started to feel the lack of RAM. Video rendering was also quite long because of the low-end processor. I also almost run out of HDD space and there are no additional slots for HDDs in this small factor case.
So, I have decided it is time to upgrade.
My new Intel Linux PC Build for Kdenlive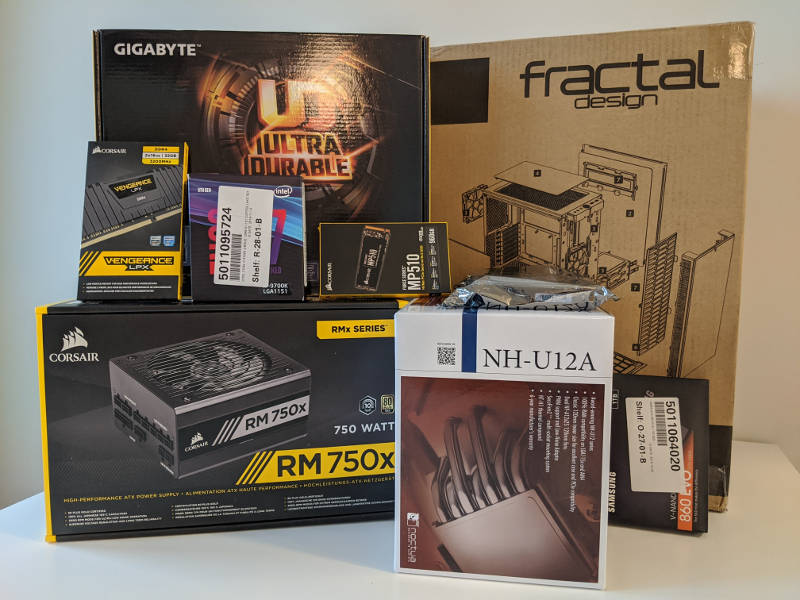 Why Intel and not AMD processor?
I bought this Intel Core i7 9700K Processor. I have Intel Core i7 8700K which forks flawlessly with Linux on my work computer for two years now. This 9700K is just an upgrade from 8700K. Unfortunately, it does not have multi-threading. But it has 8 cores as opposed to 6 cores with multi-threading in 8700K. So, in sense 8700K and 9700K are almost the same. In my case, I bought the newer 9700K because it was cheaper than 8700K. If you find 8700K cheaper than 9700K, buy 8700K.
Also, both 9700K and 8700K have integrated Intel UHD Graphics 630 which is enough for my needs. I have been using Linux for 10 years now and the most hassle-free solution has always been Intel processors with integrated graphics. Intel is also still the most popular processor among Linux users:
What processor do you use with Linux desktop?

— Average Linux User (@AVGLinuxUser) November 16, 2019
I have also checked AMD processors. They are more attractive in terms of price. But most of them do not have integrated graphics and thus making an AMD Linux PC build would also require a dedicated graphics card. Adding the price of a graphics card results in a higher price than an Intel processor with integrated GPU. Of course, an AMD processor and a dedicated GPU also provide more performance. But I was not sure I really needed it.
In my tests, Kdenlive does not show much performance gain with a dedicated GPU. I also asked my YouTube colleagues if they see any difference and they supported my conclusion:
Yeah Kdenlive doesn't really support GPU acceleration, so the CPU will be the only important factor, I think. There are options in the settings to enable using the GPU for some effects and the preview, but they always made Kdenlive ultra buggy for me (couldn't render a video)

— Nick @ The Linux Experiment (@thelinuxEXP) November 19, 2019
I have experience using dedicated AMD and Nvidia graphics cards and I always had some issues. My AMD graphics card was always much hotter in Linux than in Windows. Both AMD and Nvidia graphics cards had drivers issue after some updates. Whereas I have never had issues with Intel integrated graphics. Moreover, in one of my systems, I had both an Intel processor with integrated graphics and Nvidia GPU, and my Linux experience was much better with Intel integrated graphics. But of course, this is because I do not play games nor do 3D modeling where a good graphics card is a must-have.
Finally, computer silence is a must-have for making screen-cast tutorials. Having a dedicated graphics card would mean having another 1-3 fans that make noise. Thus, there are other pros to having integrated graphics.
So, I decided to go for the Intel processor with integrated graphics. Below you will also find more information on the dedicated graphics card you can add to this build.
32GB RAM
I believe that extra RAM will never hurt. I would recommend to install at least 16GB RAM nowadays. I decided to go for Corsair 32GB (2x16GB) DDR4 3200MHz RAM because it had a lower price per GB than 2x8GB. I also have to say that this RAM has an unnecessarily high frequency of 3200MHz for Intel Core i7 9700K that supports only 2666MHz by default. If you use a motherboard that supports overclocking (X.M.P.) as I do, 3200MHz will work at its maximum frequency. Nevertheless, you can consider buying Corsair 16GB (2x8GB) DDR4 DRAM 2666MHz if it is much cheaper.
First, 32GB of RAM allows me to do video editing in Kdenlive without worrying about hitting the RAM limits. Second, I can run several VirtualBox machines at the same time. Third, I sometimes do heavy computation (bioinformatics analyses) and allocating more RAM for such tasks helps to speed up things a lot. Third, one can also configure some Linux programs to use RAM for cache and this will give some performance improvement. For example, this can be done for Firefox. Finally, applications become more and more RAM consuming, so having extra RAM will make your Linux PC build future safe.
So, buy as much RAM as you can afford. It will never hurt.
Motherboard
I bought Gigabyte Z390 UD Motherboard because it was the cheapest option on Intel Socket 1151-2 and it had all the features I needed. It has all the ports and slots I was looking for. Also, it supports over-clocking and I can get the extra performance from Intel i7 9700K. I also checked that Z390 is Linux a compatible motherboard.
There are other motherboards with "Gaming", "Pro", "Hero", "Max" and other fancy names. They might be a little better in quality but I believe they are overpriced. All those names are just marketing. They also have functionally useless features such as RGB light.
If you can afford, go for a little higher class motherboard. However, I always buy the cheapest ones and they have never failed. Just make sure you have googled whether your motherboard has any Linux compatibility issues.
Storage
My storage set up includes 2 SSDs and 1 HDD.
I bought Corsair MP510 NVMe M.2 960GB SSD for my Linux system. An NVMe SSD is the fastest SSDs you can get right now. I installed my Linux system on it to get the maximum performance. I also use it to store my video editing projects.
To store all the other data, I installed Samsung 860 Evo 1000GB 2.5 SSD". SSD are getting more and more affordable and they are much more pleasant to use. First, you indeed feel the speed difference when you read/write the files. Second, they are silent unlike the spinning HDDs.
Finally, I also added Seagate Barracuda 4TB 5400RPM SATA 3.5" HDD". It is one of the cheapest options you can get considering the price per GB. I have set my Linux system to make automatic backups from both SSDs to this drive.
Cooler
My choice of the cooler was mostly driven by one factor - it has to be as silent as possible. I am using this Linux PC build mainly for producing Linux tutorials for YouTube. So, the sound quality should be top-notch and there should not be background fan noise. According to my research of different reviews, Noctua NH-U12A BF19 Cooler seems to be the most silent one. After I have bought it, I can say that indeed it is very silent. The cooler in the power supply makes more noise than this CPU cooler.
Also, I chose the cooler with a 120mm fan to make sure it would fit into my case. But I now I can say that Noctua NH-D15 140mm would fit too.
Power Supply
As a power supply, I bought Corsair RM750X V2 750W.
It is an overkill for this build. It would have been enough to buy a 450W Power Supply. However, I wanted to be future safe and have extra capacity for upgrades. For example, I may still add a dedicated video card. So, I looked at Corsair RM550X 550W and Corsair RM650X V2 650W. But Corsair RM750X was selling with a discount on Black Friday that made it cheaper than lower specs models.
So, if you decide to do the same Linux PC build, have a look at all three models and buy the cheaper one.
Case
I selected the case based on the two parameters - it should be short to fit between the legs of my table and it has to be breathable. Fractal Design Define C Black Case was perfect. It is a little smaller size than most other ATX cases (Mini Tower) but it has enough room for future upgrades.
Here is some useful information about this case:
DxHxW 399x440x210 mm
Weight 7.4 kg
Volume 37 liter
3 slots for 2.5" drives
2 slots for 3.5" drives
Bottom and top walls are breathable
2 case fans and space for 5 additional fans
Dust filter and Soundproofing
NZXT H510 is another great case I considered. Have a look, you may like it more.
How to assemble this PC
If you decide to build the same Linux PC, you can follow my video guide on how to assemble it:
What Linux distro I installed?
I installed KDE Neon. KDE Neon works flawlessly on this hardware.
But some of you may know me an Arch Linux user. Well, I still love Arch Linux but KDE Neon is much easier to use. I run KDE Neon at work and having the same software at home makes my work much easier.
AMD Linux PC build alternative for Kdenlive
I am still not sure if Intel-based build was the right choice. Maybe AMD Linux PC build with AMD Ryzen 7 2700X Processor and PowerColor Radeon RX580 Red Dragon V2 8GB Video Card would have been better. It cost very similar.
Most AMD processors do not have integrated graphics. On the one hand, adding a graphics card results in almost the same total price as an Intel processor with the integrated graphics. On the other hand, AMD processors cost much less and you get better performance with a dedicated graphics card.
So, I recommend you to consider this AMD option too. But note that for the AMD build, you would need another motherboard with AMD chipset. I looked at Asus ROG Strix B450-F Gaming as the most attractive option for the AMD Linux PC build. The rest can be the same as in this Intel-based build.
Below, I also discuss the AMD Linux PC build for computation intensive tasks. Because AMD processors shine in parallel processing, while Intel processors are the best for single-core tasks.
Intel Linux PC Build for gaming
If you need to build a Linux PC for gaming, you can use the same build I describe above and only add a dedicated video card. I believe that Intel-based Linux computers are still better for gaming. Intel CPUs perform much better in single-core benchmarks and this is what is essential for gaming. Unfortunately, there are still a few games that run in the multi-cores mode.
However, Intel-based PC build with a dedicated graphics card will be considerably more expensive than similar in specs AMD build described in AMD Linux PC build alternative for Kdenlive
Which dedicated graphics card to add?
This is a tricky question. I would say the answer depends on your gaming requirements and budget. However, I believe if you run Linux, you better buy an AMD graphics card because AMD open-source their drivers. So, AMD cards are supposed to work out of the box in most Linux distros.
I would buy PowerColor Radeon RX580 Red Dragon V2 8GB. According to my market research, it is currently the most bargain option. It has enough power for most games and yet it does not cost a fortune (you may find it for $150). Also, according to the reviews I found, it works fine with Linux.
If you want a little more performance, consider Radeon RX Vega 56 8GB or Radeon RX Vega 64 8 GB. Also, note that Vega 56 has little better Linux support than Vega 64. But it may change at the time you read this. So, google it before you make your buying decision.
AMD Linux PC Build for computation intensive tasks
If you need a Linux PC for computation intensive tasks, I believe AMD Ryzen 9 3900X Processor is the best option currently available on the market. You get 12 cores and 24 threads with a base clock of 3.8GHz and max boost clock up to 4.6GHz. Moreover, you can also overclock this processor. And this 12 cores AMD processor costs ~$50 less than Intel Core i9 9900K with 8 cores.
The other parts can be the same as described above:
The most bargain AMD Linux PC Build
While doing the market research for my new Linux PC, I have digested a lot of information and I believe I have a good idea about what is currently the most bargain Linux PC Build. It is the best value for the money in my view:
According to the current Amazon prices, you can get this bargain AMD Linux PC Build for $672. It is a well balanced mid-range computer that can be used for various tasks including video editing and decent gaming.
I believe that AMD Ryzen 5 2600 is the best value processor ever. It is a mid-range processor but nothing can beat it given its price. As I said earlier Radeon RX580 8GB is a decent performer and the best video card for the money. 16GB of RAM should be more than enough for most tasks. I also believe it is better to install NVMe SSD as the performance difference is noticeable. Samsung 970 EVO is the most bargain option nowadays. Too bad it was not available in my country when I was buying my computer parts. The other parts are not the most important for the performance and can be different from the indicated ones.
If you find better options, please let me know in the comments and I will update this part of the article.
Additional parts
If you buy the parts listed above they include everything you need to build a PC except the SATA cables. So, you need to buy the same number of SATA cables as the number of your HDDs/SSDs. I think this pack of 3 SATA cables is a good deal ($6.99).
Screws, connectors, metal plates etc are included with the case. The thermo paste is included with the the cooler or a processor if it is sold with a cooler.
You may also need a screwdriver, but I believe any household has one 😉.
Conclusion
Building a Linux PC nowadays is very easy. Almost all available hardware is Linux compatible. But to be safe, always check if the hardware you are going to buy is compatible with Linux. Google will help you. I also always check Phoronix.com where they test different hardware for Linux compatibility.
I did build an Intel-based system because of my old habit to use an Intel processor. But I believe AMD with its open-source Linux drivers will conquer the market soon. I even regret a bit that I did not buy an AMD-based system now. So, I recommend to have a good look at the AMD options.
Let me know what you think about these Linux PC options in the comments below.