Notion - the best note-taking app
One of the first videos on this channel was about the best note-taking software on Linux. I reviewed the most popular apps in that video. I also checked many other note-taking apps which you suggested in the comments. There were some great options, but none of them was perfect until I tried Notion. I believe Notion is the best note-taking app.
Overview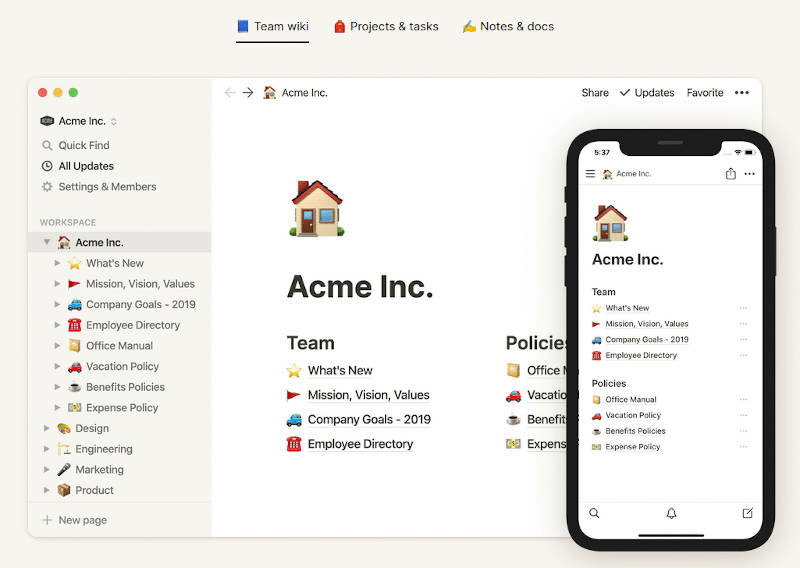 Notion is more than just a note-taking app. With Notion, you can:
take simple notes
manage tasks
organize projects
have a training plan
calculate your budget
plan your vacation
and much more…
There are templates for almost anything. You can also create your own templates by customizing an existing one or by creating it from scratch.
Moreover, Notion is probably the best all-in-one tool to work in a team. You can share some of your notes and work on them together with others.
It is a web app, so it works fine on Linux, Chrome OS, Windows, Mac. There is also a very nice mobile app. So, your notes are always synced across devices.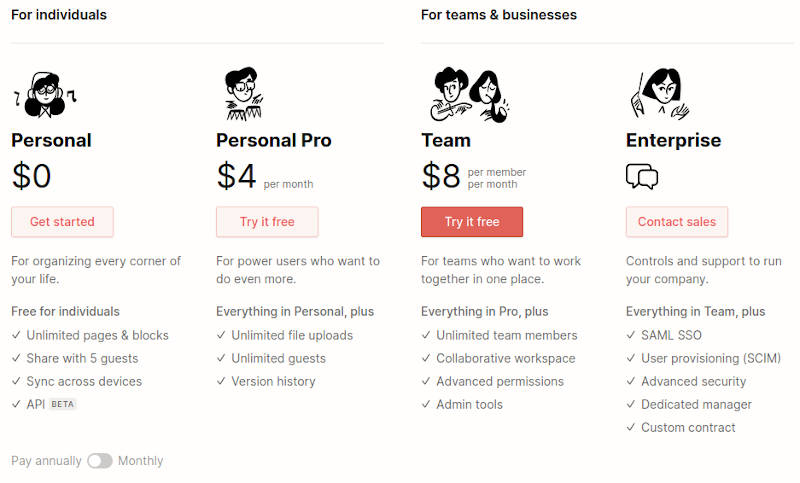 Notion is free for personal use and reasonably priced if you want the Pro features, or you need to work in a Team.
Features
When Notion approached me to review their app, I agreed because this app made a very nice first impression. But after exploring it more, I fall in love with it, and I am switching to Notion as my note-taking and organizer app. Let me show you how I use it. Maybe you will also like it.
YouTube Video planner
I did not have a proper system to organize my YouTube video production. I had a list of potential topics in a spreadsheet, scripts as separate documents, and schedule as a calendar. I also used Trello for progress tracking. It worked, but I never liked it.
Notion turned out to be a perfect app for organizing my YouTube video production. I can have everything in one place, and it is completely integrated.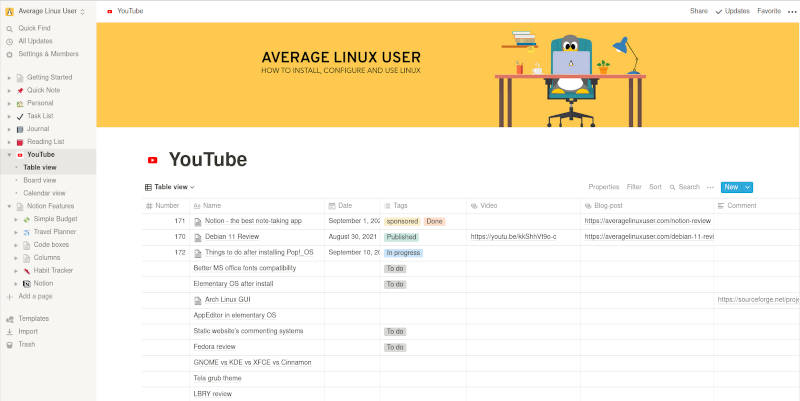 There is a simple table overview of all topics. If I click on any of them, I can open it and edit its script.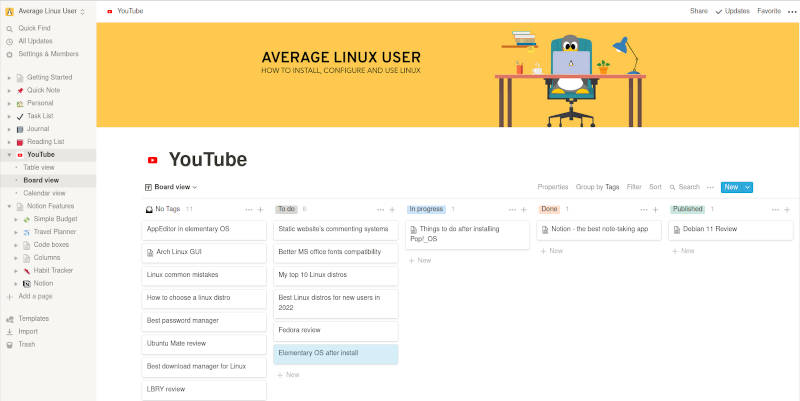 The same information can be viewer as a progress board. So, I can see potential video topics, videos which are in production, and videos that are done and published.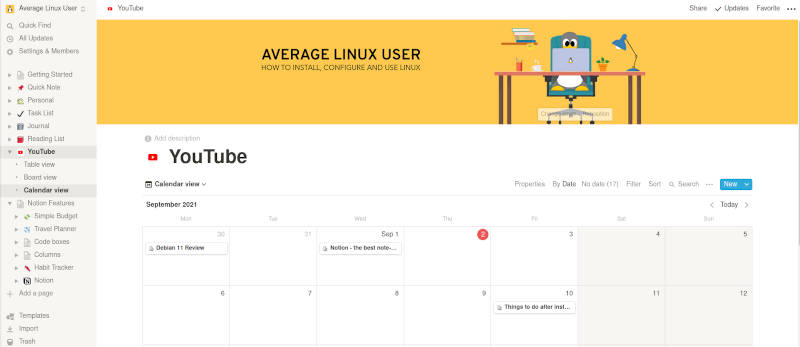 I can also see how these video topics are distributed in my calendar. And it is the same information which is presented in different views. This is extremely convenient.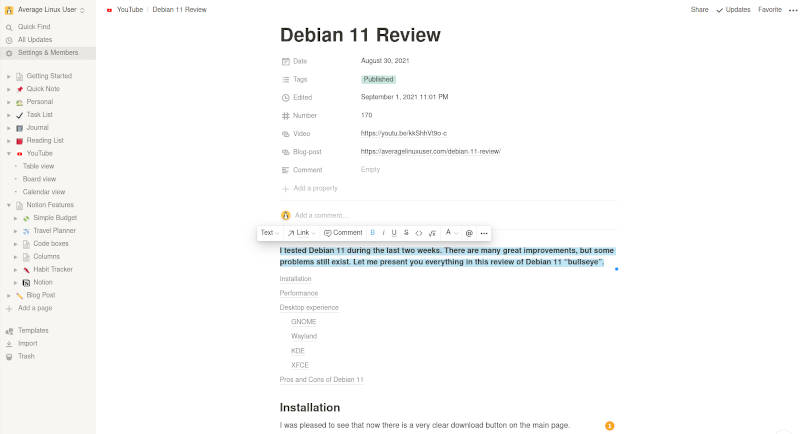 Writing video scripts is also very efficient. Notion has all the features of a powerful document editor. You can format your text by highlighting it and selecting a style.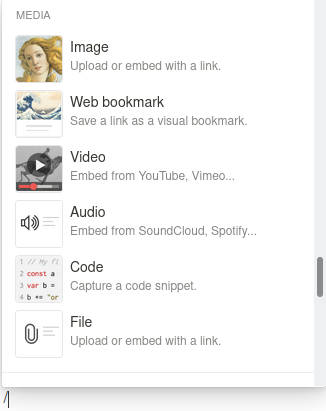 There are even more options which you can access by typing /. For example, you can get a table of content with just one click. You can embed different media, add tables, calendars and much more.
You can also add pages inside pages. I usually add a Progress tracker page, which I can share with a sponsor if it is a sponsored video. So, they can see my progress without emailing me.
Finally, any video script can easily be transformed into a blog-post. I just edit the script right in Notion and export it as a markdown document, which is recognized by my Jekyll website. The export option is available in the menu.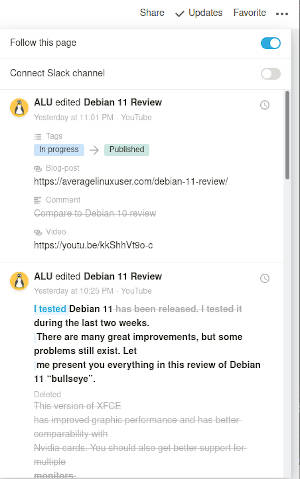 Another great option of Notion notes is that it saves the history of document changes. So, you can revert to the previous version of the document if needed.

There are many other useful options in the menu including a word counter, which helps to estimate the length of a blog-post.
Code boxes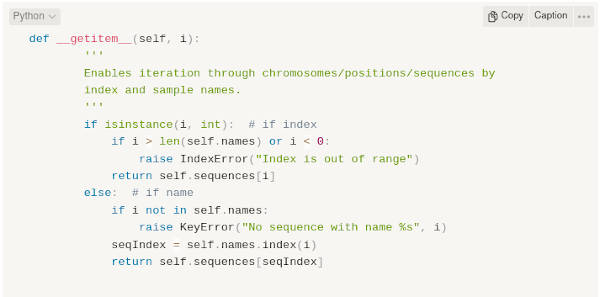 At my day work and in my YouTube scripts, I often have to use Code boxes. Notion is very powerful in this regard too. You can create a Code box with syntax highlighting for any popular programming language.
Tables
I have already mentioned some note-taking features of Notion. But there are some fancy features which I also have to show you.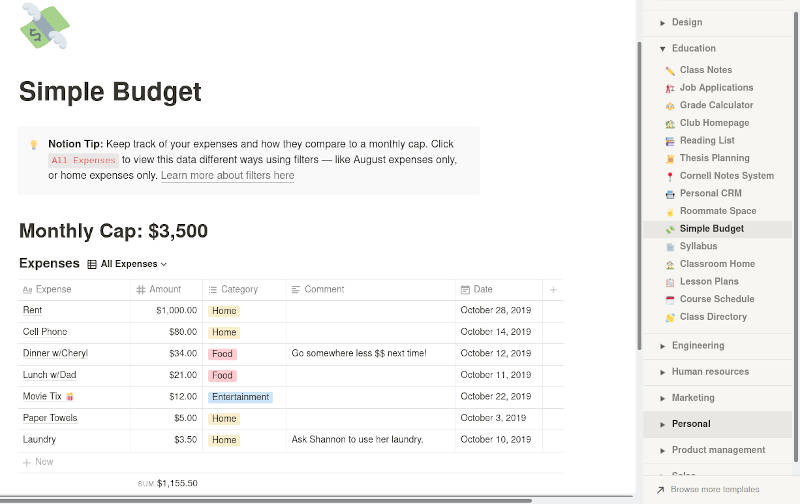 You can create tables inside your notes and these tables besides conveniently presenting the information can also make some work for you. The Simple Budget template presents an example table where you can calculate a total sum of your spending. You can also use a formula for some more specific calculation.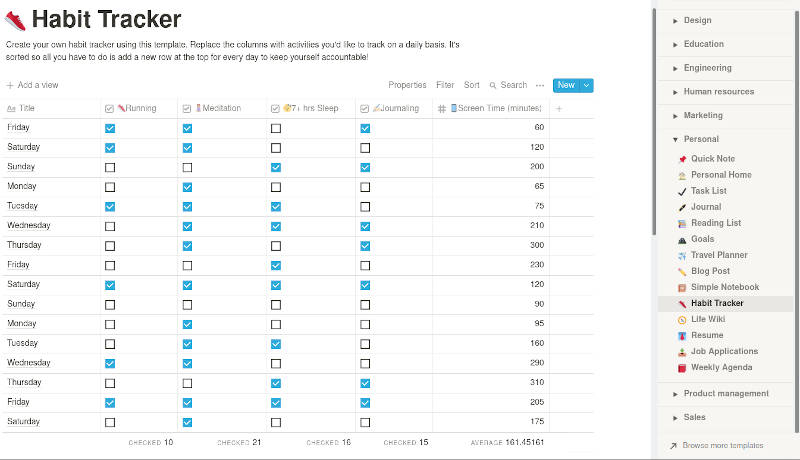 Another way to use tables is presented in the template Habit Tracker, where you mostly use check-boxes.
Maps
You can embed a map in your notes. The Travel Planner template is a perfect example of this.
Columns
You can organize your notes into columns, as you can see on the very first screenshot of this blog-post. A few note-taking apps can do this.
Notion layout and behavior
I also have to mention that Notion has a simple and yet efficient layout. You can have an overview of your notes on the left panel. There is a multi-level organization. You can use icons for different categories. There are many icons, and you can also add your custom icons. For example, I added the YouTube icon to my YouTube notes.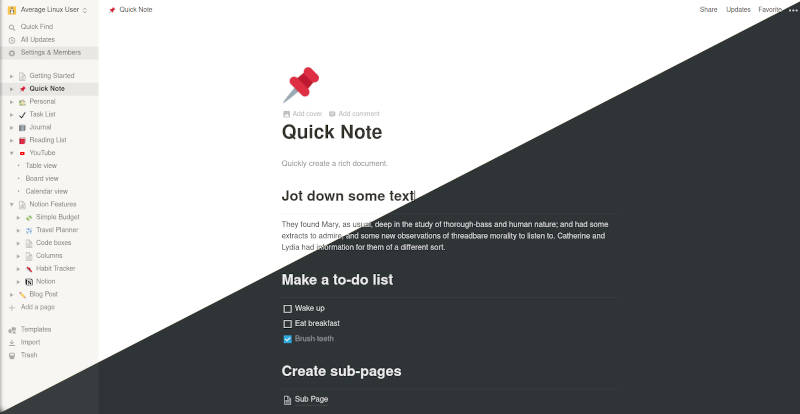 There is also an option to select between light and dark themes.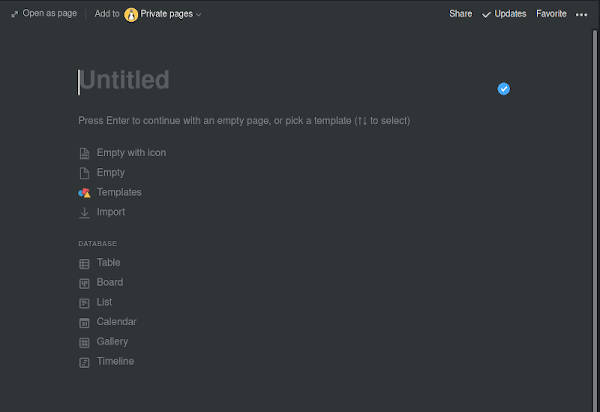 When you create a new page, you are offered a list of short-cuts to format this new page as you need in just a few clicks.
I have shown some templates already. This is indeed a great advantage of Notion in comparison to other apps. I would also like to mention that there is even more temples which you can add to your Notion workspace.
Why I like Notion
I believe Notion will increase your productivity and save you a lot of time. If I have not convinced you yet, you can try it yourself for free. Just use the link in the description to sign up. Thank you for watching.
DISCLAIMER: This blog-post is sponsored by Notion.
What note-taking apps I used before
If you wonder what note-taking apps I used before, you can read my review of them in this blog-post or watch the video below.
Please consider supporting this project:
Become a patron
Buy me a coffee
Shop on Amazon
Buy Linux Laptop
Build Linux PC
BTC: 1CfCLTYCqqDfYbngcvQtEav3n7SMZihfSS