Debian's NEW installer
Debian 10 Buster introduces a new installer. Now, Debian installation is possible from Live ISOs with Calamares installer. This posts overviews this new installer.
Content
What is Calamares installer?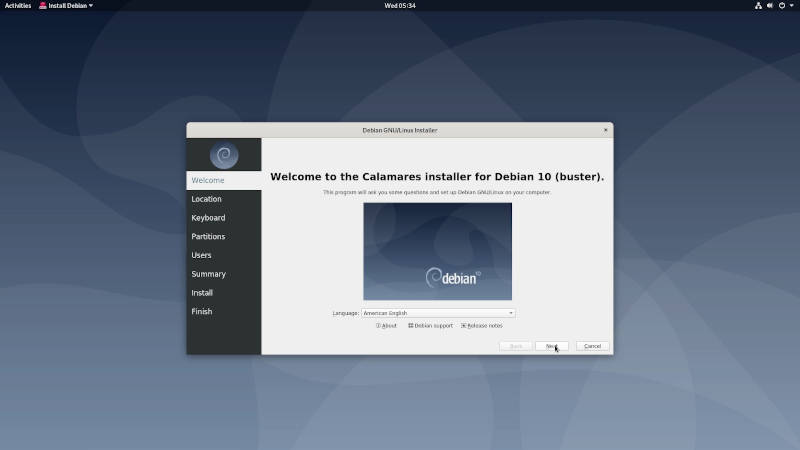 Calamares installer is one of the new features introduced in Debian 10 Buster. It is not a totally new installer. Calamares is a distro independent project and it has been around for a while. You may be well familiar with it of you have ever installed Manjaro.
Will Calamares become the default Debian installer?
I was not able to find clear information if Calamares will ever become the default installer of Debian. According to the comment of the Calamares package maintainer in Debian, this probably won't happen soon. Calamares needs some KDE dependencies that make it unsuitable for small ISOs. It also doesn't support many features including RAID.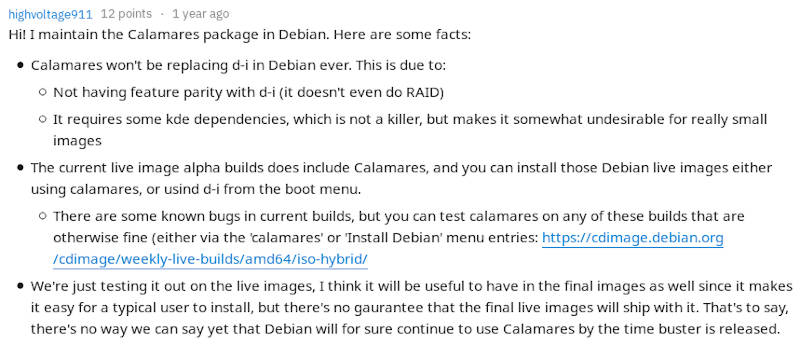 But it would be great if Debian used Calamares as a default installer. It is much user-friendlier than the default Debian installer. Let's have a quick look.
Overview of Calamares
You should find the Calamares launcher in the menu or on the desktop of your live session.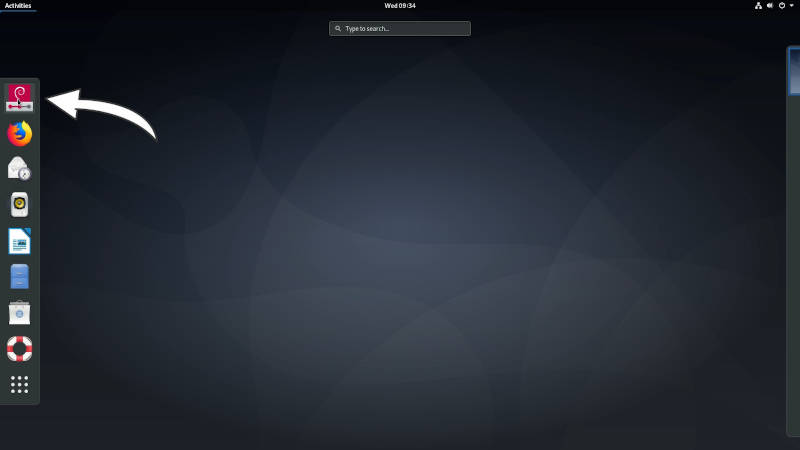 Clearly, it is more modern-looking than the Debian default installer.
Basic system settings
You need to select your language on the first screen: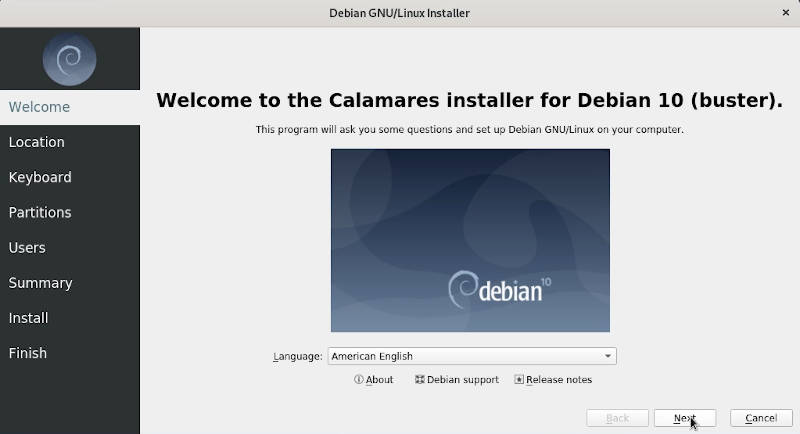 Then specify your location: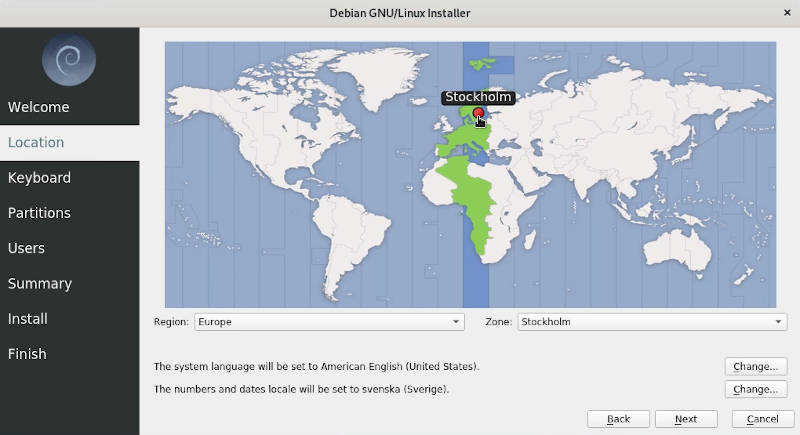 Change your keyboard model if necessary: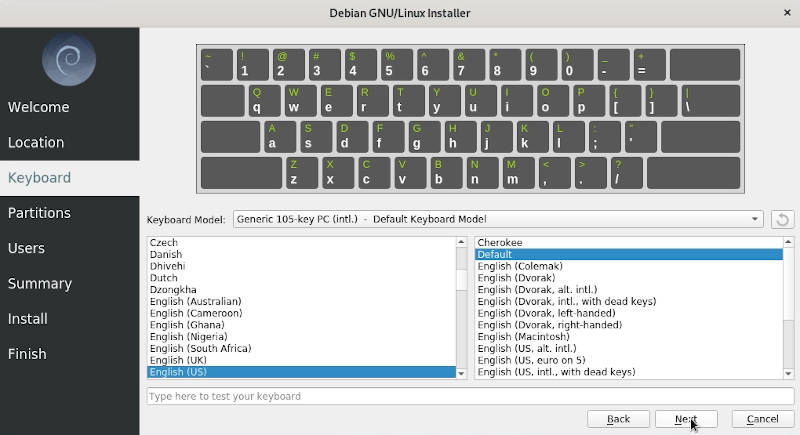 Partitioning
Next, you will have to do the partitioning. I usually select manual partitioning: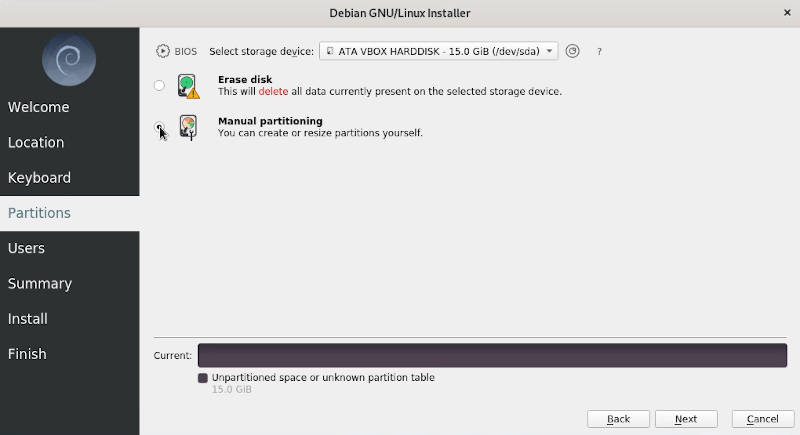 I have an empty drive. So, I need to create a new partition table on it. I will use the MBR table.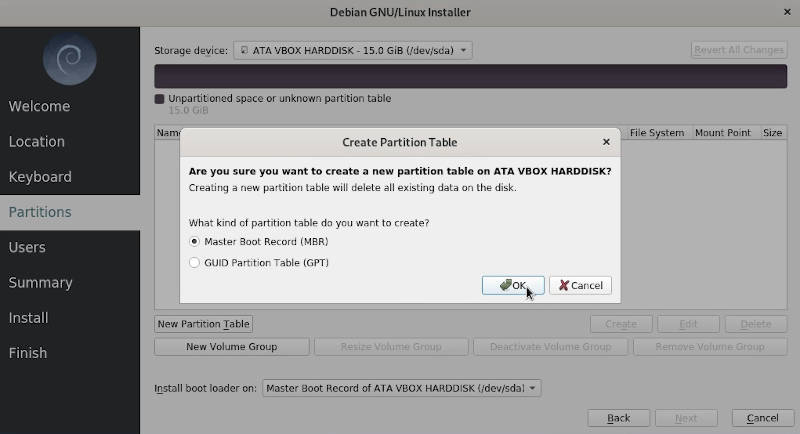 And create two partitions. The first one will be 10G with the system root mounting point: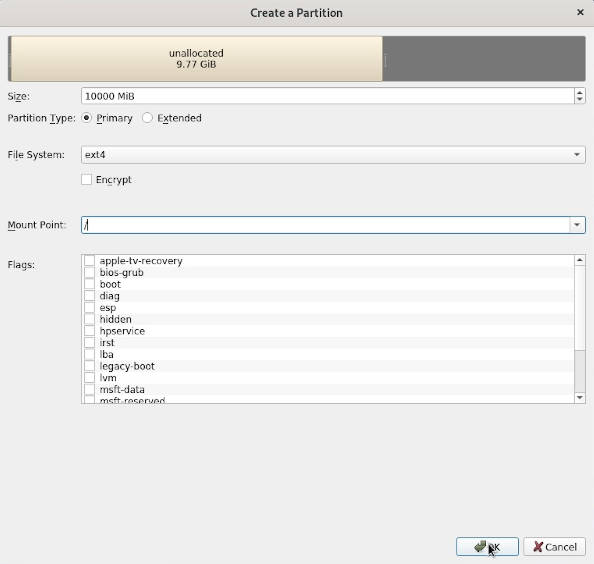 The second one will be my home partition: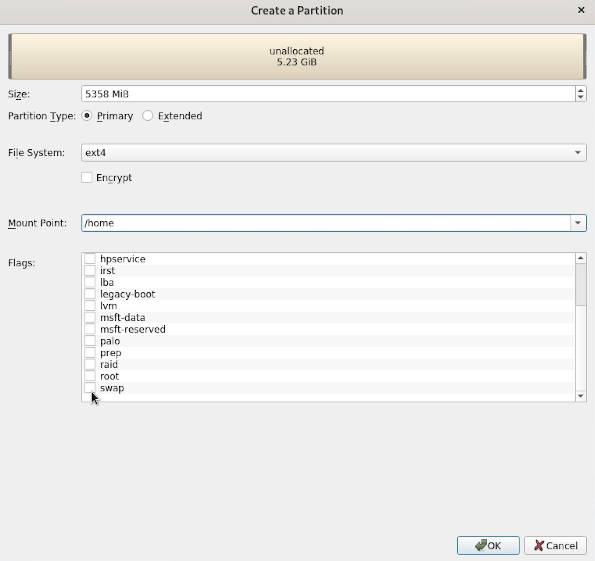 If you also create a swap partition, you also need to add a swap flag here. But I use a swap file instead.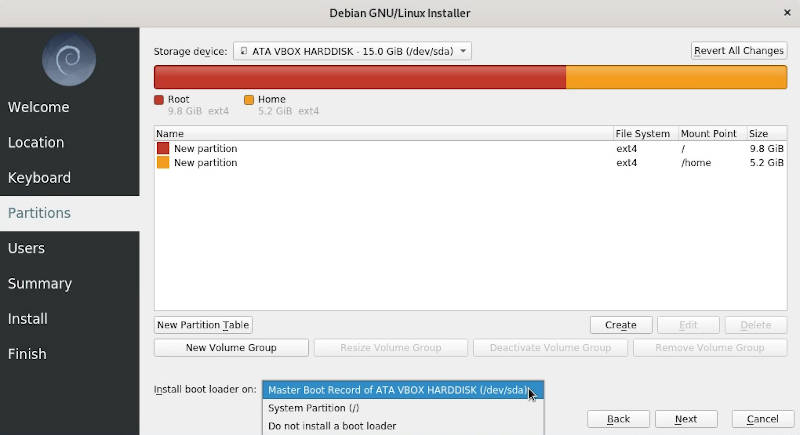 You can also specify where to install the boot-loader. Usually, the installer defines the correct location automatically. You can also install Debian without a boot loader. This is useful when you already have other Linux distro installed on your system and you want to dual-boot it with Debian.
Debian installation with Calamares partitioning is much easier than with the default Debian installer. Everything is very intuitive if you are even little familiar with Linux partitions.
User information
This is a standard user configuration window: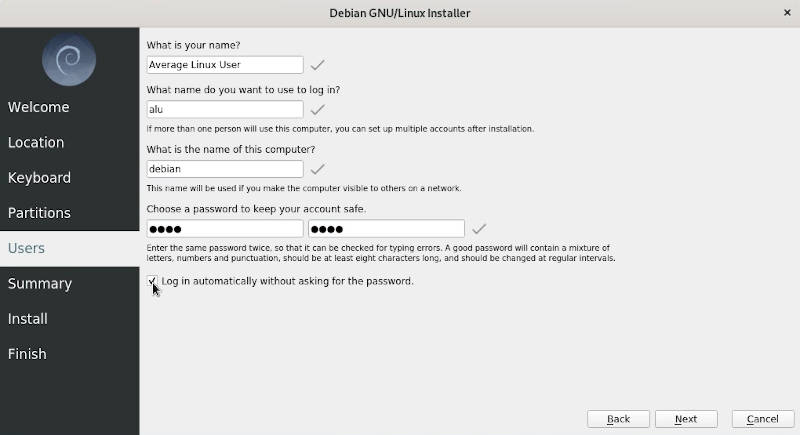 I like Calamares because all user information is presented in one window. Whereas you need to pass several windows to enter the same information in the default installer .
It is also worth mentioning that you only provide the user password here and this user will be in the sudo group. So, you will be able to execute administrative commands with the user password.
On the other hand, to achieve the same in the default Debian installer, you have to leave the root password empty and provide only the user password. Which is not that obvious. Calamares is definitely much better in this regard.
Automatic login option
In the same User information screen, you will find an option to log in automatically. It doesn't exist in the default Debian installer. Another credit goes to the Calamares installer for that.
However, I and some of my YouTube viewers noticed that even if you select the automatic login, you are still asked to enter your password at startup. So, This option does'nt work sometimes.
Complete the installation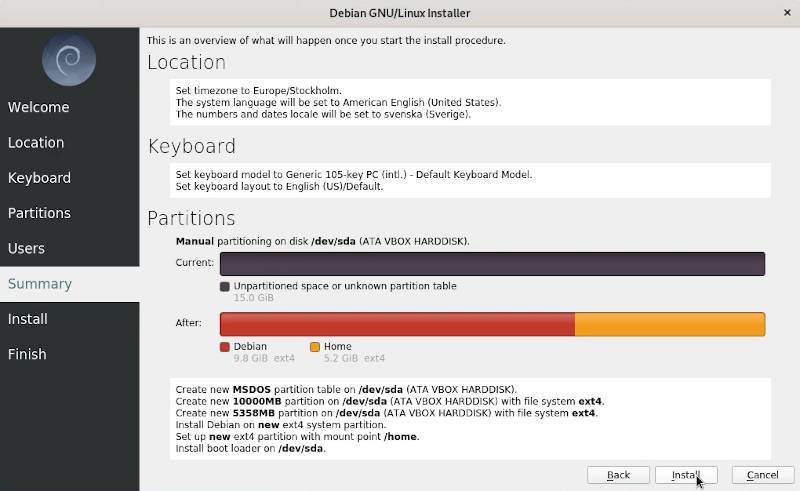 The summary window is also very informative. I especially like the illustration of the disk partition before and after the installation.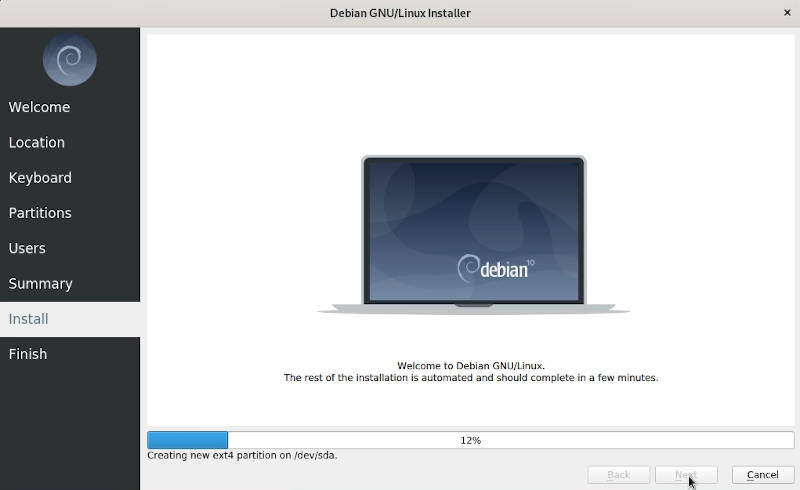 The installation process is still pretty long for both the default and the new installers. So, be ready to wait 20-30 minutes.
When the installation is finished, you will see this notification screen. You can use it to reboot or close it and keep using the live session if you want.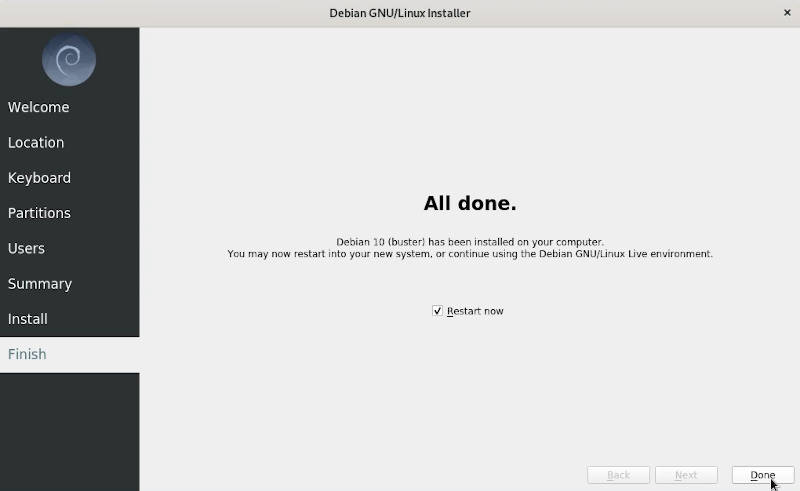 After the reboot, you will see your Debian with the same desktop as you had in the live session.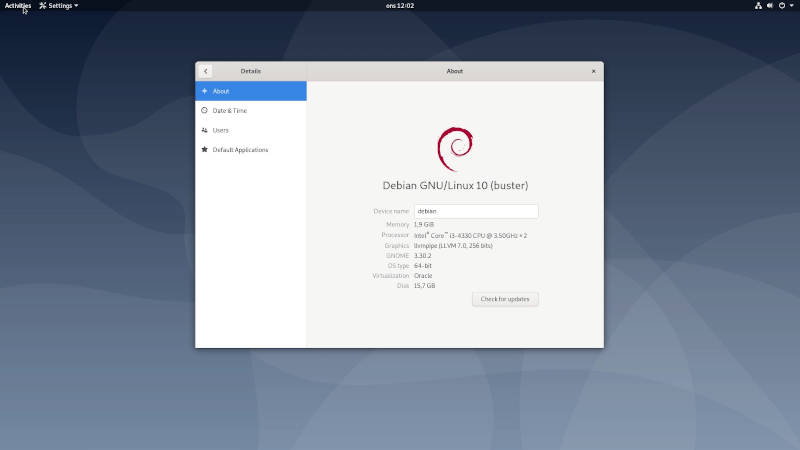 Final thoughts
It has been a pleasure to use this new Debian installer. Since Debian 10, Calamares installer is included in all Live ISOs. However, the install ISO (not Live) still uses the old Debian installer suggesting that Calamares is not fully ready yet.
If you are an experienced Linux user, use the old installer. However, if you are a new Linux user, you will like the new Debian installer. Potential bugs of this new installer will be less harmful, than the mistakes you can make during the installation with the old Debian installer.