Debian 10 KDE review
In this Debian 10 KDE review:
Sponsor
This blog-post is sponsored by UpCloud. With UpCloud, you can deploy a private Debian server with just a few clicks and start using it:
UpCloud provides the fastest servers with great reliability and responsive support.
Pros
What are the pros of Debian 10 KDE?
Stable
Debian is famous for its rock-solid stability. And Debian 10 KDE is not an exception. I have been using it for a week doing regular things and had no crashes or freezes. It is a stable and reliable desktop distro.
Light
It is also surprisingly light. Right after the log-in, it takes less than 500Mb of RAM uses very little of the CPU power. I know that Plasma 5 has become light recently. But Debian is loaded with many apps, so I expected it to consume more resources.
So, after you start using the system and load some apps such as KOrganazier, Kmail, KAdressBook, etc. Some processes stay running in the background after you close these apps, so the RAM usage goes up to about 1 GB. But it is still reasonable.
System improvements
There are many under the hood improvements that are unrelated to the desktop environment. They are the same as in my review of Debian 10 GNOME. So, I won't list them here. In this KDE version of Debian, I have to focus mostly on the desktop.
Plasma 5 is great
As you know I like Plasma 5 and the main reason is its configurability and completeness as a desktop.
Debian 10 KDE demonstrates it very well. It includes a complete set of KDE apps.
You can use Akregator to collect your RSS feed.
K3b is the best Linux app if need to burn a CD/DVD.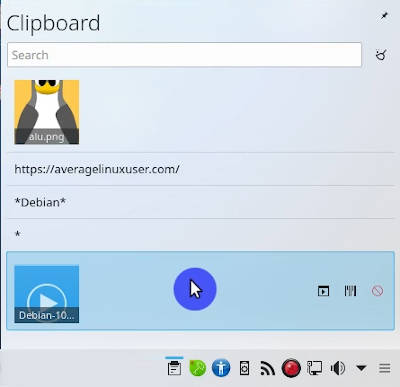 Plasma 5 always provides a clipboard manager by default. This is an essential app. I am still surprised many distros do not have it by default.
There is KDE Connect. It is probably the only app with a full set of features to integrate your phone with the Linux desktop.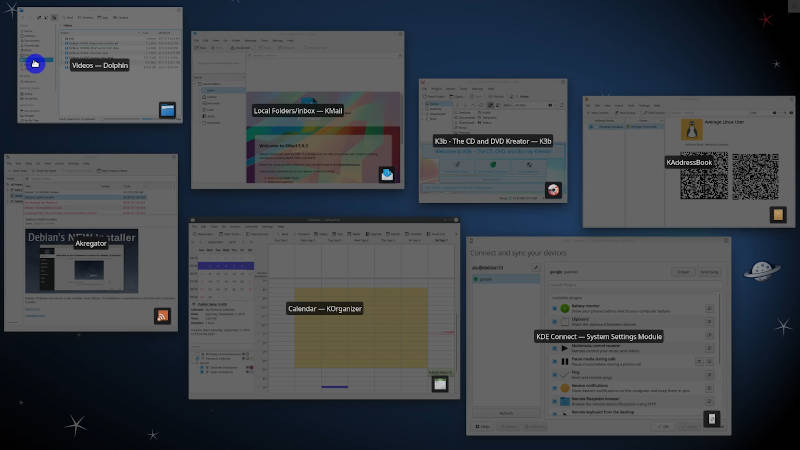 I like KDE's personal information management tools. There was a time when I used Korginizer, Kmail, KadressBook, and other personal information apps. All these applications for personal information management systems were too heavy. So, I switched to Thunderbird with Lightening Calendar integration. But it seems they have been improved and can be used effectively.
There is a system cleaning app Sweeper. It is still not common to see cleaning apps provided by default.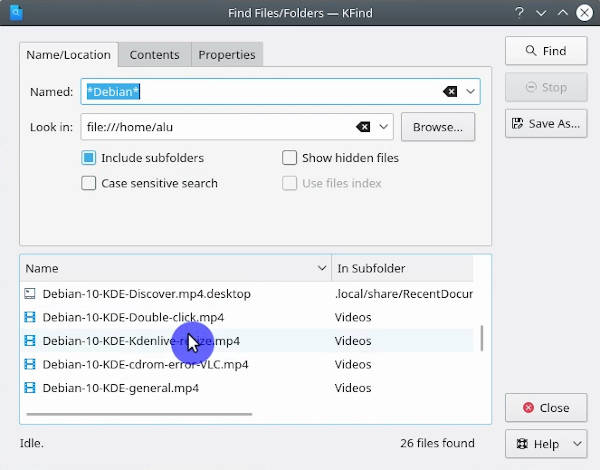 I also like Kfind. Linux search is still not as good as I would like it to be, but Kfind makes it close to an ideal search app.
Kopete is a nice messaging client. I used it several years ago. There was nothing to complain about. But I think there is almost no one who still uses ICQ and similar messaging services. So, if you need a messaging app, you will like it.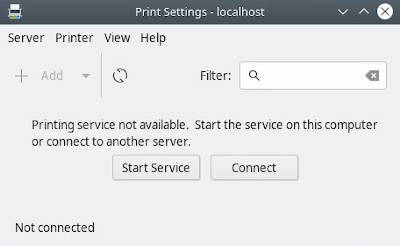 I also like that Debian provides a separate Printer settings app and removed the printer settings from the KDE settings. I recall some other distro with KDE desktop would often have duplicates of printer settings in a dedicated app and the KDE Settings. Debian has avoided this redundancy.
It was also nice to see Debian provides LibreOffice instead of KDE-specific Calligra Office. Debian tends to provide a desktop environment as it is. But we can see the addition of LibreOffice and Firefox definitely improves this release.
Cons
Now, let's look at some problems and possible improvements.
Debian is outdated
Debian's software is outdated. This is what you pay for stability. There are ways to overcome this problem. You can use Debian's back-ports, snaps, and AppImages. But speaking about what you get out of the box and in the default repositories, it is outdated.
Plasma 5 is not LTS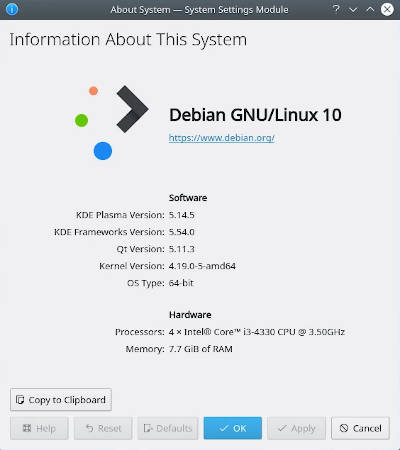 Debian uses KDE Plasma 5.14. I was also surprised the Debian team picked up a non-LTS version of Plasma. Using Plasma 5.12 LTS would make more sense. Maybe Debian will upgrade this Plasma with the next Debian 10.1 upgrade release.
Plasma 5 log-in theme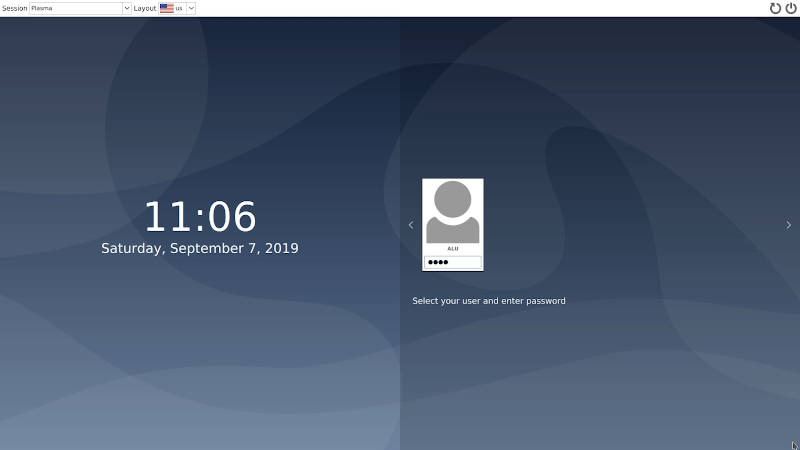 This is the log-in screen of Debian 10 KDE. I don't know why they did not install the Breeze theme for SDDM display manager. The log-in screen could have looked like this.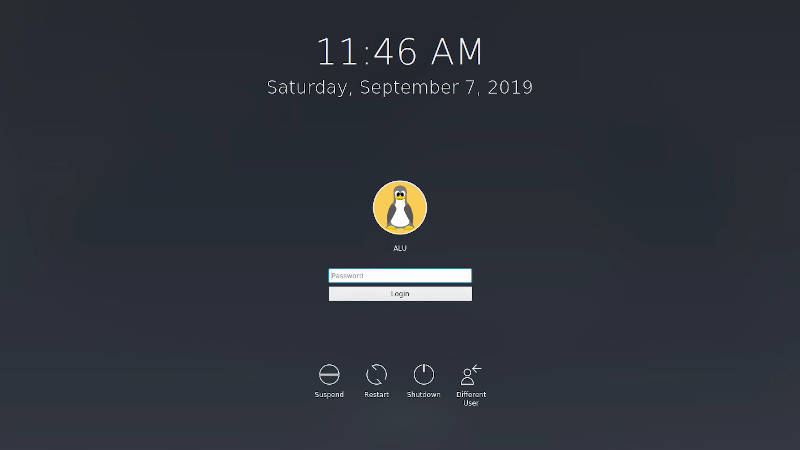 Debian installation
Debian installation is still not a smooth process. I showed all the pitfalls of Debian 10 installation previously. For example, if you install Debian 10 KDE from a DVD, you will get this CD-ROM error as in any other version of Debian 10.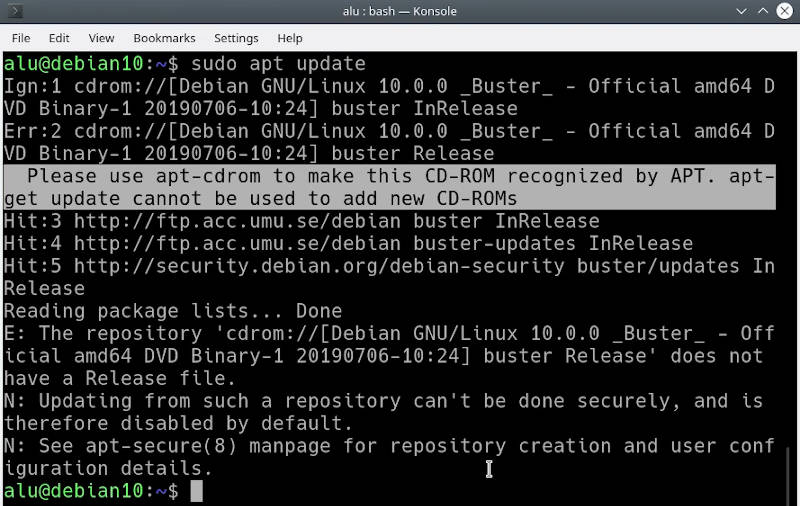 To fix this issue and overcome other installation problems, follow my Debian 10 installation guide.
Single-click
Plasma 5 uses a single mouse click to open files and folders by default. Debian 10 keeps this behavior. Many of you commented on this in my video 7 annoyances of Plasma 5 KDE and said you liked the single click. I tried to use it, but I am used to double-click. I also believe the double-click is a traditional way to use the mouse pointer, so I expect it to be the default behavior.
GIMP theme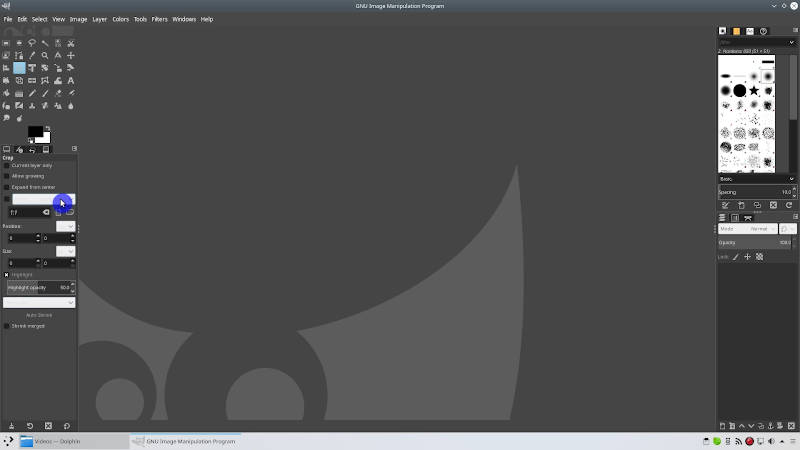 GIMP's default dark theme is not usable. You won't be able to read some text with this theme. You need to switch to the system theme to make everything visible.
Too many apps
Another con of Debian 10 KDE is that it has too many apps preinstalled. For example, the internet menu has many apps which I think will only confuse an average user.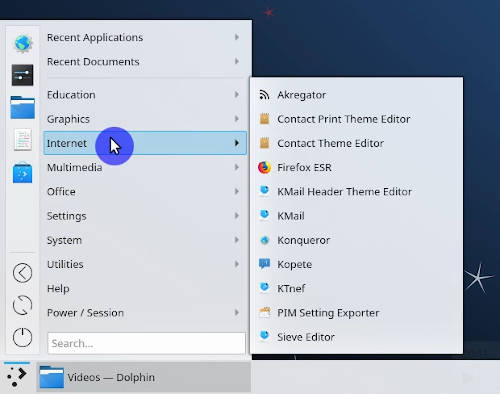 Another confusion is which Software Center to use. Both Apper and Discover are installed in Debian 10 KDE.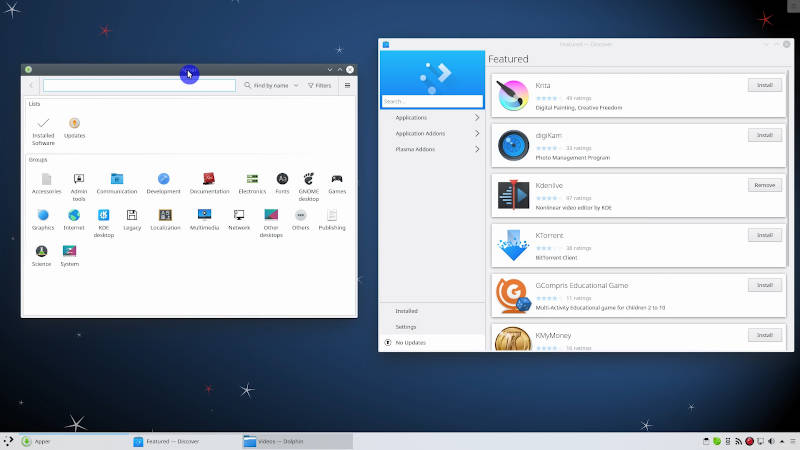 The same applies to KWrite and Kate. I would keep only Kate as a text editor.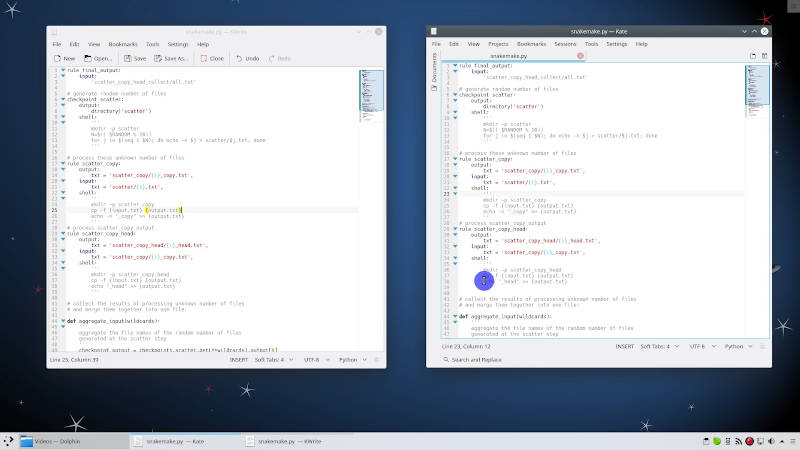 Kdenlive
I complained about Kdenlive in my Debian 10 GNOME review and I expected to see a better result in the KDE flavor of Debian. Unfortunately, Kdenlive was even less usable in Debian KDE.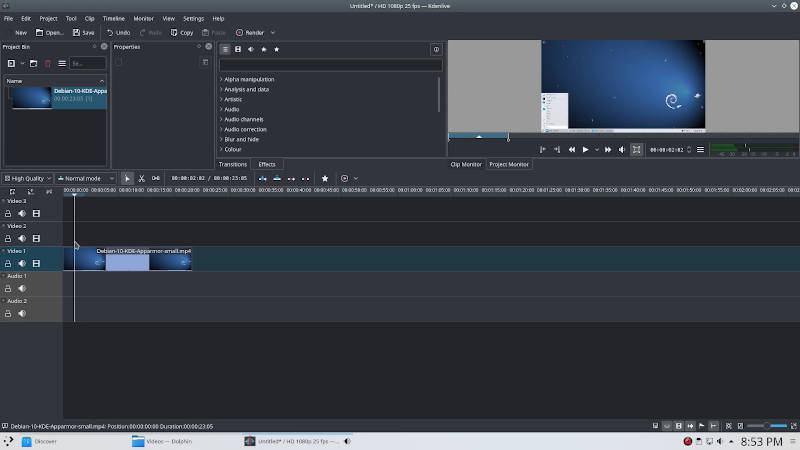 For example, you cannot increase the size of the video screen. It always jumps back to the small size as in the screenshot above. I was very disappointed and even have not tried to edit a complete video in Debian KDE.
Possible improvements
There are also many small things that do not affect usability but I believe some of you would like to improve them.
Education category is unnecessary. LibreOffice math is in the Office category too. You can edit this Plasma 5 menu and remove this category.
Windows open small in size. You can resize them, but it would be nice to see them open in a proper size.
Konqueror is suggested as a default web browser but Firefox is also installed. I would remove Konqueror or make Firefox a default browser.
Kmail is a usable email client, and many users may like its integration with the Plasma desktop. But if they already installed Firefox, they could have installed Thunderbird too.
Dragon player is a too simple video player. You may want to install VLC
Juk is also a minimalist music player. You can keep using it. But if you need a more advanced player, I recommend installing Clementine.
Is Debian 10 KDE better than Debian 10 GNOME?
Given everything you have seen in this review and my Debian 10 GNOME review, I can conclude that Debian 10 KDE is better in terms of resource usage. It is almost two times lighter than Debian 10 GNOME. Plasma 5 desktop is also a more complete desktop and more configurable. GTK apps look better in KDE than KDE apps in GNOME. However, you would need to spend a lot of time removing unnecessary programs and configuring Plasma 5.
Debian 10 GNOME is better configured out of the box. You can start using it right after the installation.
So, I gave Debian 10 GNOME 5 stars, while I give Debian 10 KDE only 4 stars.
Can it compete with KDE Neon?
The main reason Debian 10 KDE gets 4 stars from me is that other distros provide better Plasma 5 experience.
KDE Neon is such a distro. You will get the latest stable version of Plasma 5 with KDE Neon. Ubuntu 18.04 base is as stable as Debian 10. Plasma 5 has also reached the stage when even its latest versions are stable. Moreover, every update of Plasma 5 makes it better. You get a minimal installation of KDE Neon instead of the saturated with apps Debian KDE.
So, despite my love for Debian and Plasma 5, I have to conclude Debian 10 KDE is not the best option on the market.
Conclusion
I can recommend Debian 10 GNOME. Regarding the Plasma 5 desktop, I like KDE Neon more.
You can read my reviews of Debian 10 GNOME and KDE Neon to get more details.