Manjaro review (2019)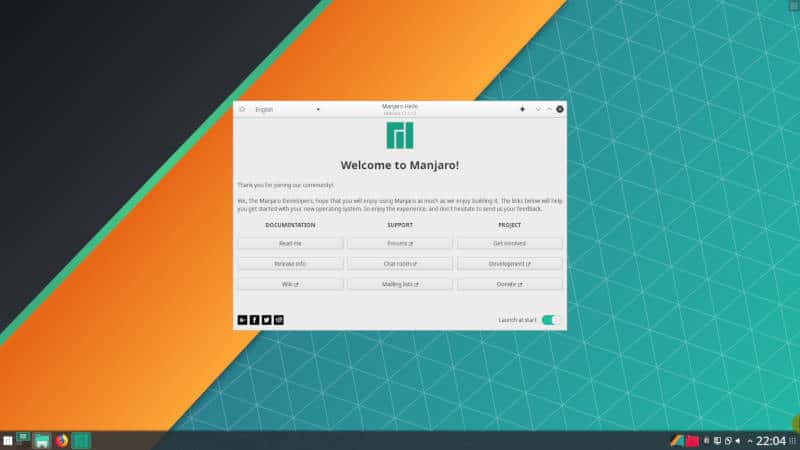 Manjaro is the most requested Linux distribution to review. I installed it on my computer. Tested it for about a week. Then I updated it, and this is what I got: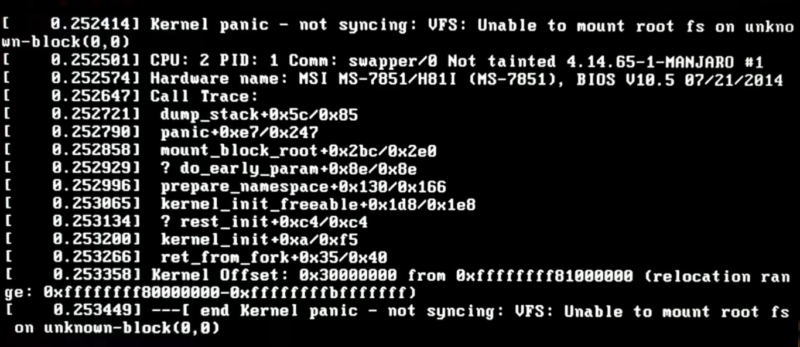 It is Manjaro Review by Average Linux User!
Manjaro is often called a user-friendly Arch. I am well familiar with Arch Linux. It is the main OS on my home computer. So, as an Arch Linux user, my review will be little subjective.
I will review Manjaro KDE here, because as you probably know I run Arch Linux with Plasma 5, so this way I can make a direct comparison between the two distributions.
By the way, if you are interested in rolling Linux distributions, you can also check out my review of Solus Linux.
Let's have a look at some details of this Manjaro review.
Video Review
Is Manjaro indeed a user-friendly distribution?
Personally, I never understood the concept of Manjaro. If you want a user-friendly Linux, go for Linux Mint, or some other truly user-friendly distributions.
If you want the bleeding edge distribution, install Arch Linux.
I doubt one can make a user-friendly distribution with the cutting edge software. And I will try to prove my point.
Some elements of user-friendliness
There is a nice graphical installer.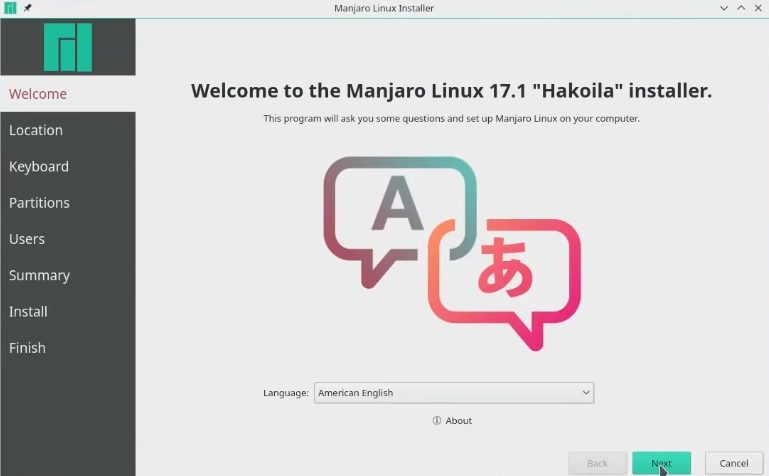 The whole installation process took only 6 minutes. And right after that, I had a ready to use system.
When you log in the first time, you are presented with a really good welcome screen.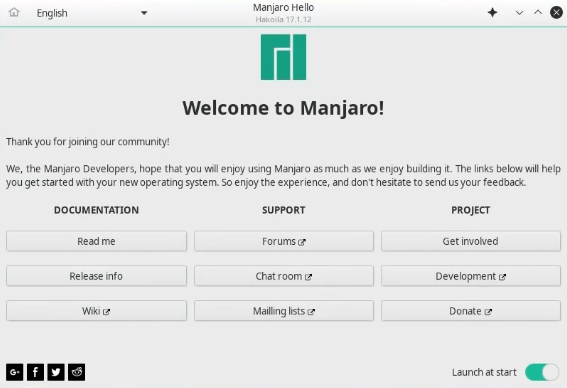 Manjaro contains many really good packages installed by default. To my surprise, almost all these programs are my favorite and I installed them in my Arch Linux. Unlike in Arch Linux, everything is pre-configured in Manjaro. Even my wireless mouse was showing the battery status right after the install.

Manjaro is just outstanding with its green theme. It is called Breath. It is really beautiful. My favorite Plasma 5 theme was actually the default Breeze theme, but after using Manjaro I am thinking about changing to Breath theme now.

Octopi is a package manager and it is a graphical package manager. It is interface is not super-friendly but it is still less scary for new users than the command line.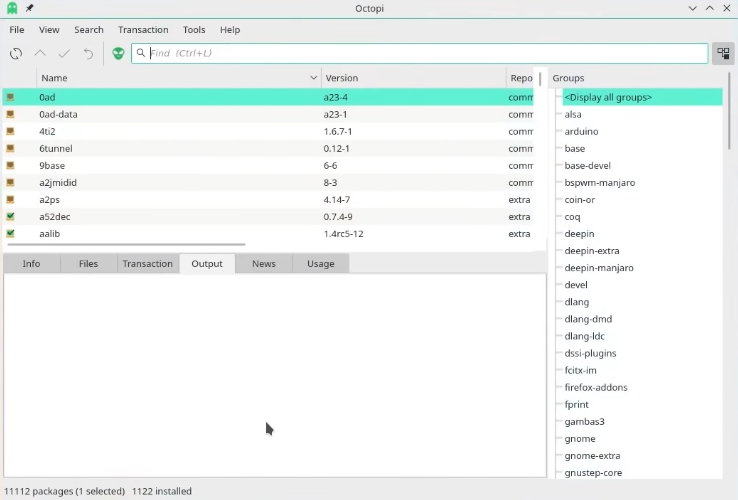 There is also a simple and informative User guide.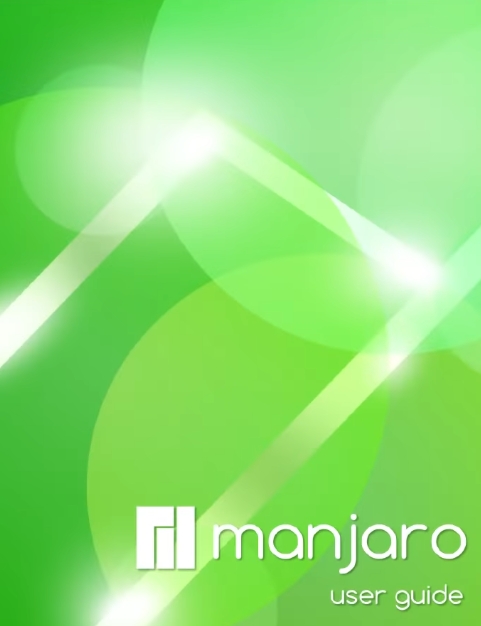 So, my first impression was wow! It is a really great Linux distribution and it seems to be a user-friendly Arch.
But later on, problems started to appear.
A look back at the past
It reminds me of my first experience with Manjaro Linux in 2015.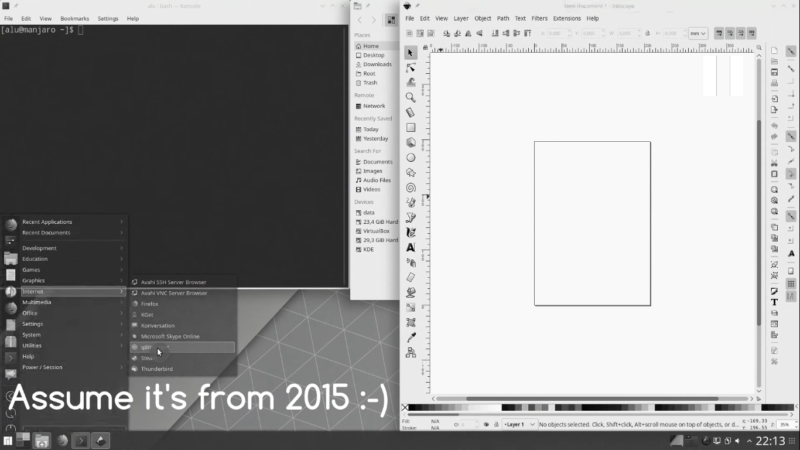 It was exactly the same experience as this time. I was impressed and happy right after I installation, but after several updates and I started noticing some problems. I had occasional freezes and glitches.
And at some point, Manjaro just failed to load the graphical interface. It was quite a while ago and I don't remember what was the problem. But I remember that I decided to sit down and finally install Arch Linux in the Arch way. I am using Arch Linux as my main home OS since then.
So, almost the same happened to me this time.
Problem 1 - Kernel panic
First, after a week of use a fresh installation of Manjaro, I updated the system. There was a kernel update among a few hundred other updates.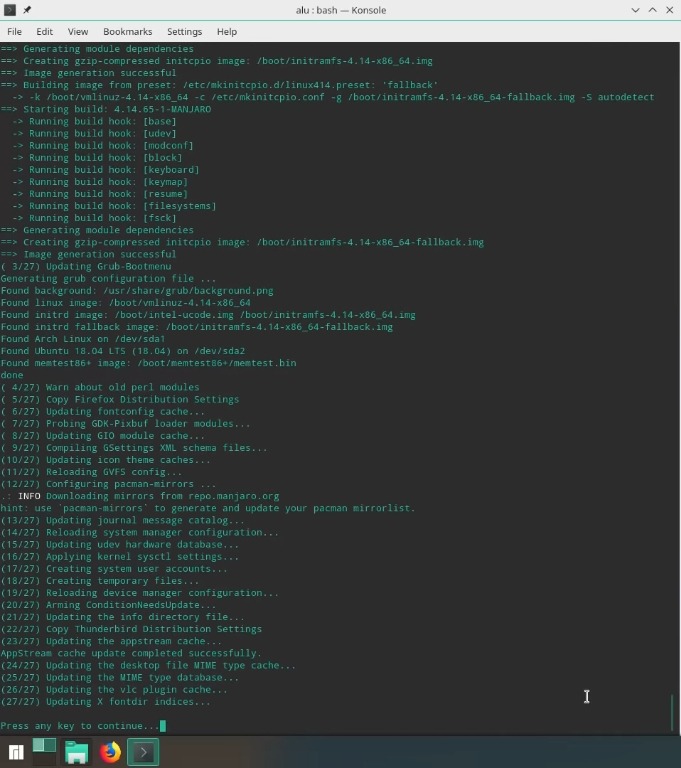 So, I rebooted my system after it updated and this is what I got: Manjaro kernel panic unable to mount root fs unknown block.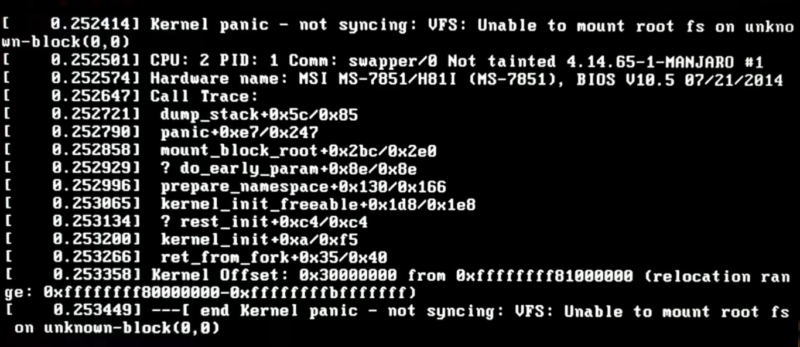 It was like a déjà vu.
After I investigated the problem I figured out that it was because of my dual-boot of Manjaro and Arch Linux. It seems Manjaro doesn't like any other bootloader except its own.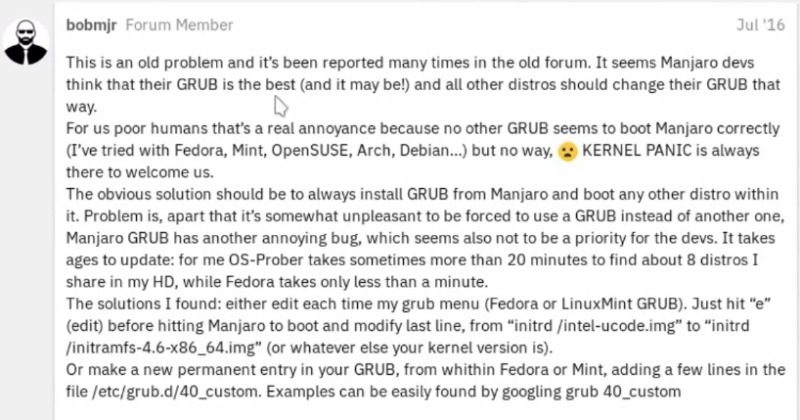 If you Google "manjaro kernel panic unable to mount root fs unknown block", you will find the solution. Basically, I edited my GRUB configuration of Arch Linux to have the custom menu to boot Manjaro.
sudo nano /etc/grub.d/40_custom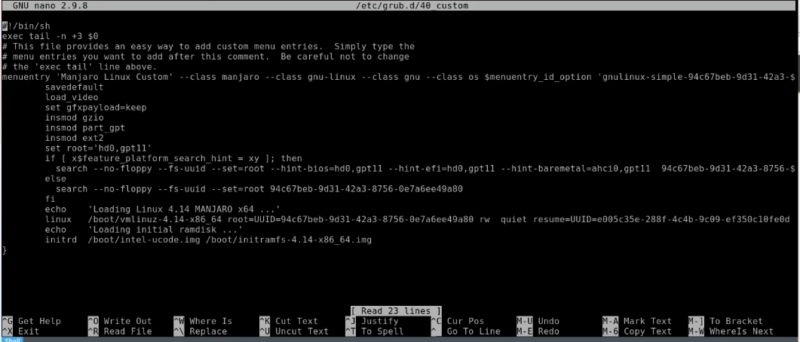 I admit that dual-booting Manjaro with any other distribution is not a typical use scenario and it won't be fair to say it was a major fault of Manjaro.
But come on! I dual-boot many distros with my Arch Linux to test them and have never had a problem like this.
However, the problems did not stop there.
Problem 2 - LibreOffice and mouse issues
When I used Manjaro, LibreOffice froze several times. And the mouse wheel stopped working occasionally, so I had to scroll in the old way with this scrolling bar.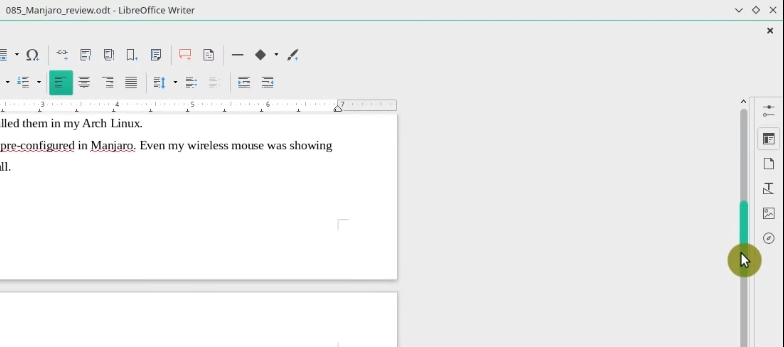 Problem 3 - Upgrading from Octopi doesn't work well
I did my first upgrade through the terminal interface.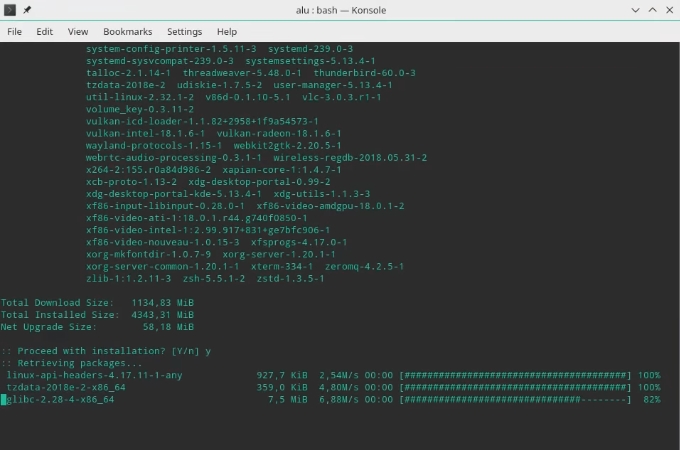 But the second time, I used the Octopi graphical interface to upgrade and it just got stacked, so I had to kill it.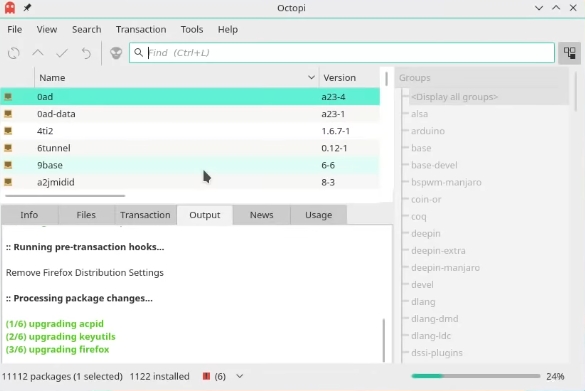 I had a problem with GRUB update, so maybe it was related with my dual-boot configuration. But upgrading through the terminal worked fine. So, this was not good either.
Problem 4 - Some issues with Octopi
Speaking about Octopi, I was surprised the AUR tab was not added by default.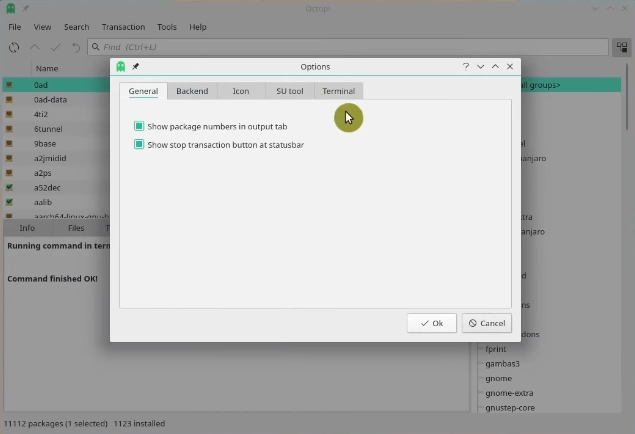 I assumed it was available by default before and you only had to activate. But now, there is no AUR tab in the settings anymore.
I had to figure out that you need to install some AUR helper first to get this AUR menu in Octopi. For that, you need to install yaourt or pacaur packages. I installed pacaur and only after that I saw this AUR menu.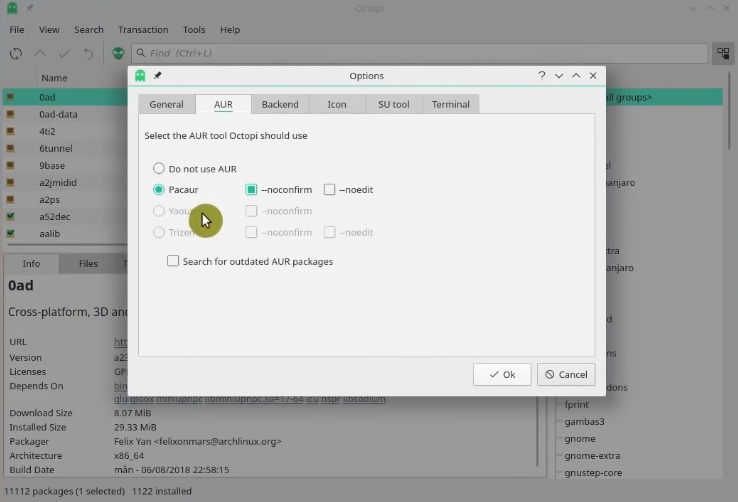 Manjaro website seems to recommend Yay as an AUR helper.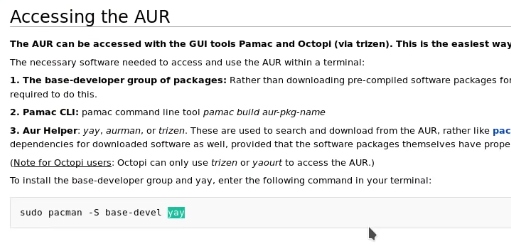 I installed it but it wouldn't appear in the Octopi options. So, with Yay, you need to use the command line only.
Next, I had to figure out how to search the AUR packages.
After I enabled the AUR I still was not able to find any AUR package by typing its name in the search bar.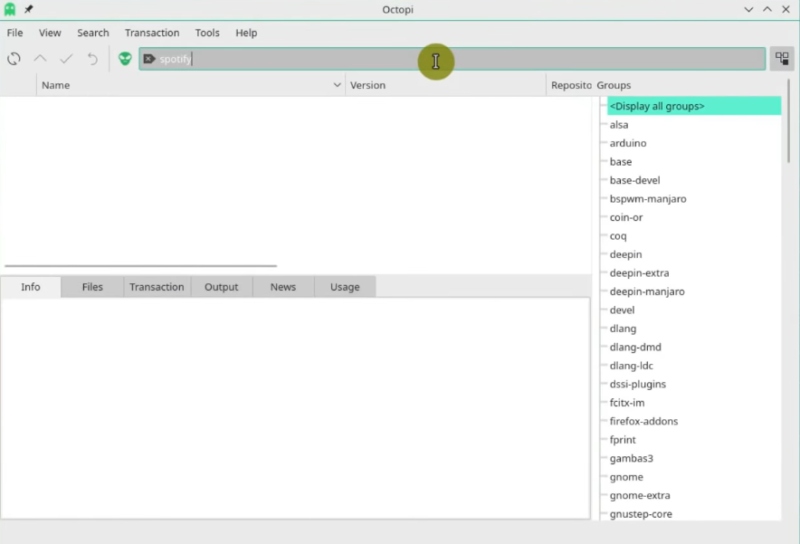 Only after a while, I found this "alien head" button that enables search in the AUR.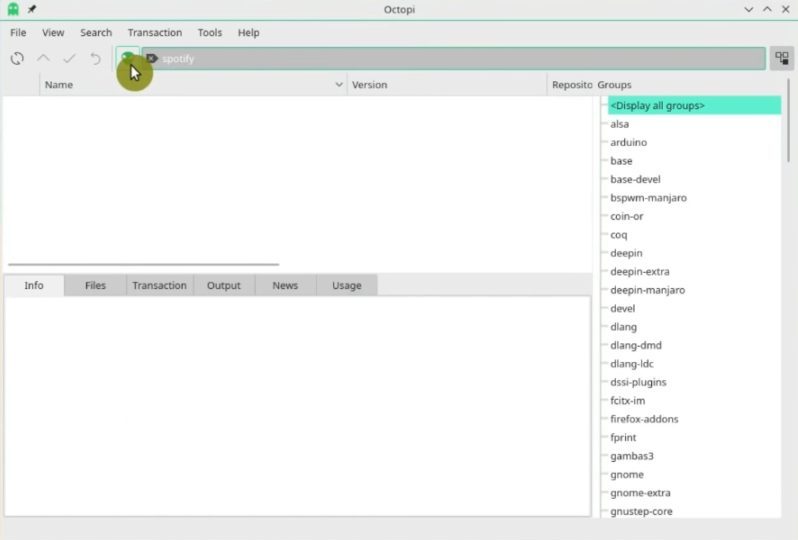 I don't know… Maybe I am stupid. But it doesn't look very intuitive. So, I believe many new users may find it really difficult to get access to the AUR packages in Manjaro.
Smaller PROS and CONS
There were also many smaller pros and cons I could talk about. But to keep this review short I will mention only a few.
For example. I appreciate the effort of the Manjaro team to make the Manjaro settings menu. I especially like the user-friendly option to control your kernel version.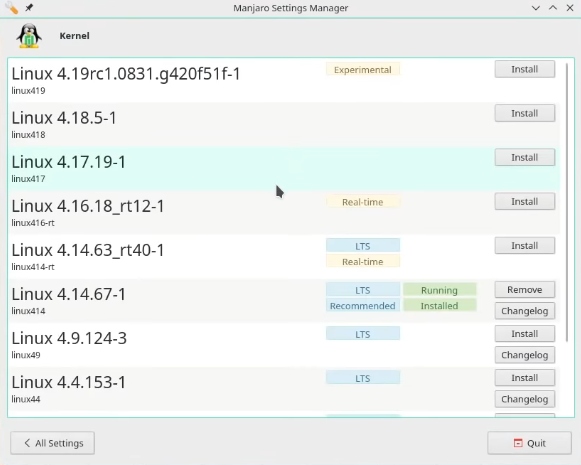 But it is redundant with the Plasma 5 settings. You can find the same options in both windows. Why do they keep Manjaro settings in a separate program is unclear to me.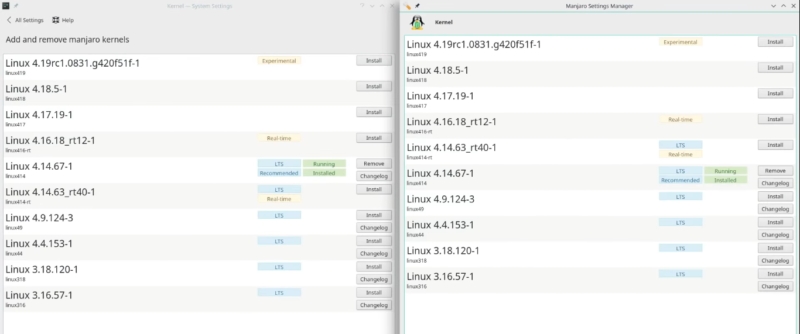 The same applies to the Printer Settings.
There is a dedicated printer configuration app, which reminds me GNOME printer app. But you can also find the KDE Printer Settings.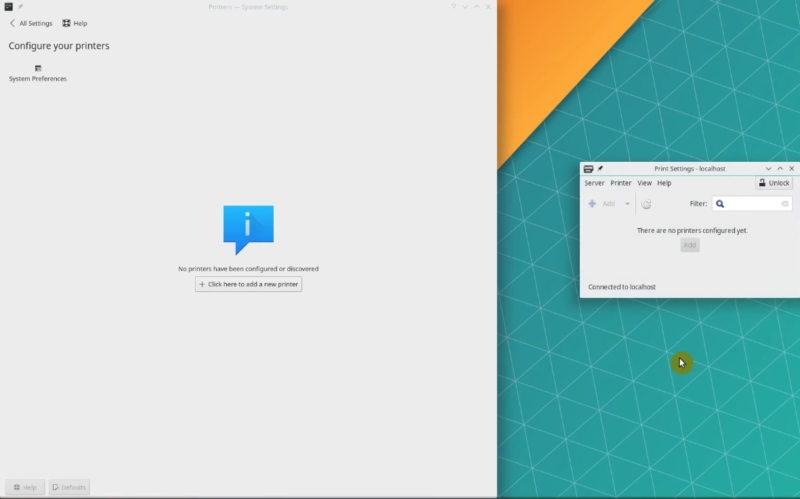 I don't have any printer at home to test the Manjaro printer app, but I have been using KDE Printer Settings at work for many years with different printers and it always works fine. So, I find this redundancy really confusing for new users.
On the positive side, I like Manjaro provides links to Microsoft office online viewers. I personally have to use Microsoft viewers when someone sends me a complex document in docx format and it does not look correct in LibreOffice.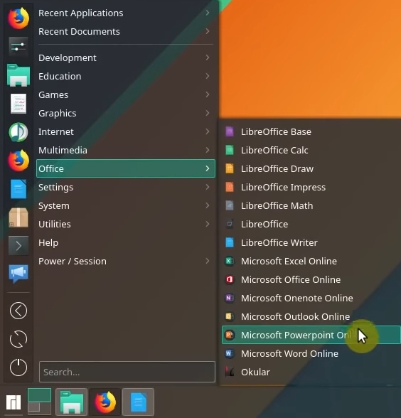 Similarly, the link to Skype online is also provided, though you can install Skype from the AUR. The last update of Skype for Linux made Skype really decent to use on Linux.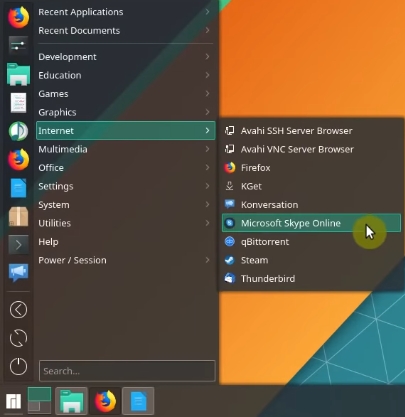 Manjaro is bleeding edge
Manjaro is bleeding edge and bleeding edge programs are not for new users.
Manjaro is claimed to be more tested than Arch Linux because it performs some additional testing before releasing the updates.

But it is still a short period of testing and it is impossible to find all bugs. For example, there are a few bugs which annoy me in Arch Linux and these bugs are present in Manjaro too.
For example, if you go to GIMP and use the tool to pick the color form the screen, it won't work. This can be really discouraging for new users.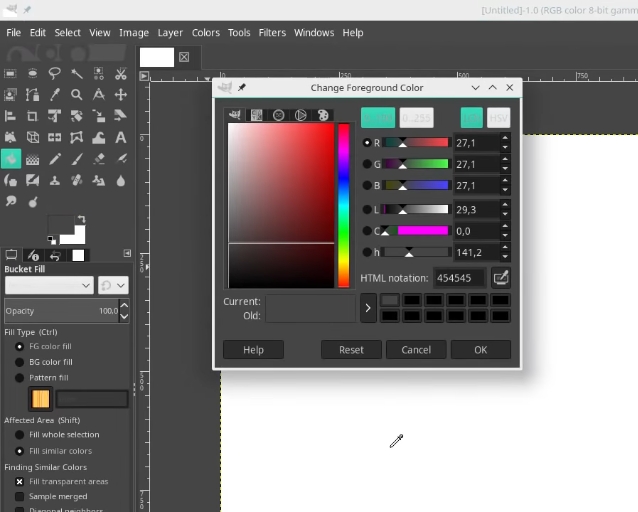 Conclusion
So, I would give Manjaro 4 starts. It has many features of a user-friendly distro. It may look and feel great at the beginning. But eventually, you will face some issues and fixing them maybe not easy. There are no many places to search for a solution beyond Manjaro forum. Arch Linux forum won't be friendly for new users and Arch Linux solutions often may not work in Manjaro because Manjaro is based on Arch but it is not Arch. Manjaro could be a good distro to start learning the Arch Linux base. But I think Antergos is better in this regard because it is closer to Arch Linux.
I know some of my readers use and like Manjaro, and probably they won't like this review. But this is how my experience was. Let me know your experience in the comments section.
If you are using Manjaro, you can read what things I did after installing Manjaro to improve my user experience.