Ubuntu 20.04 Review (vs Ubuntu 18.04)
Ubuntu 20.04 Focal Fossa has been released. There are many new features and improvements. So, how does it compare to the previous Ubuntu LTS release (18.04), and is it worth upgrading? You will find out in this Ubuntu 20.04 review!
We will start with the positive changes, and in the end, I will emphasize the negative aspects.
Content
Look and feel improvements
The first and major thing you will notice in Ubuntu 20.04 is its new look and feel.
It looks more modern, there are new icons and colors. The GTK look has been refined.
This is how the desktop of Ubuntu 20.04 looks relative to the desktop of Ubuntu 18.04: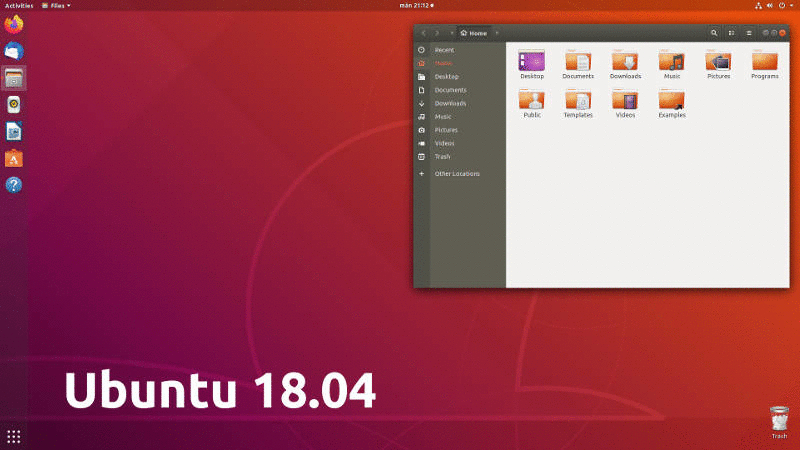 Ubuntu 20.04 finally has some default themes to choose from. You do not need to install Tweaks and essential GNOME extensions to change the default theme as you had to do in Ubuntu 18.04.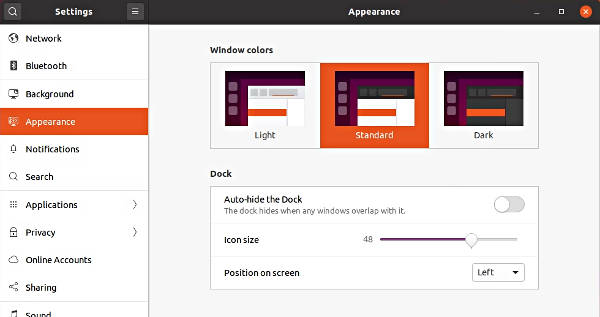 The choice is still limited to three themes only. Nevertheless, these three themes are very nice. I really like the default theme of Ubuntu 20.04: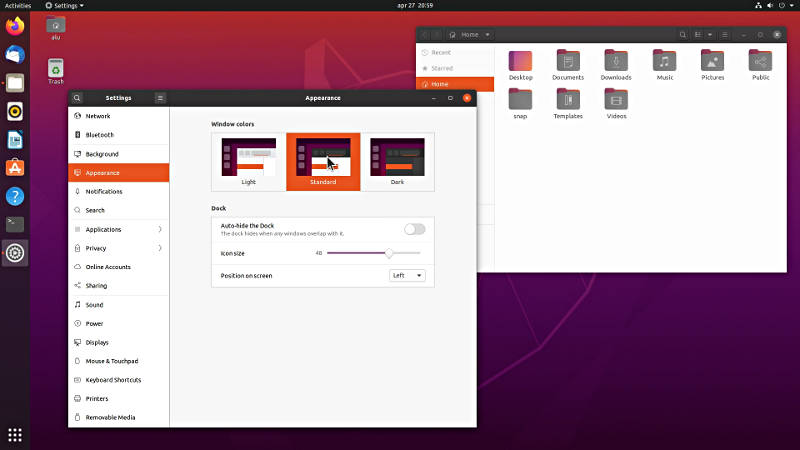 The light theme differs only in the title bar color: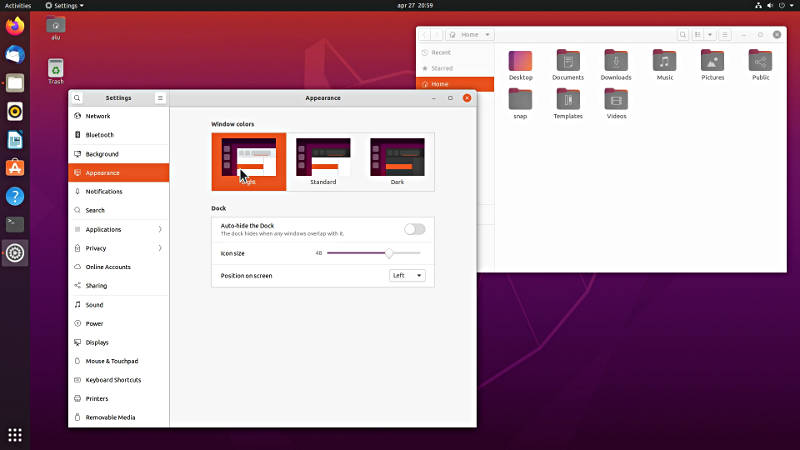 But Ubuntu 20.04 shines in its dark theme, which many of you have been waiting for. This dark theme is very polished. It has pleasant colors. It is consistent across most of the applications. I am sure everyone who likes dark themes will love it: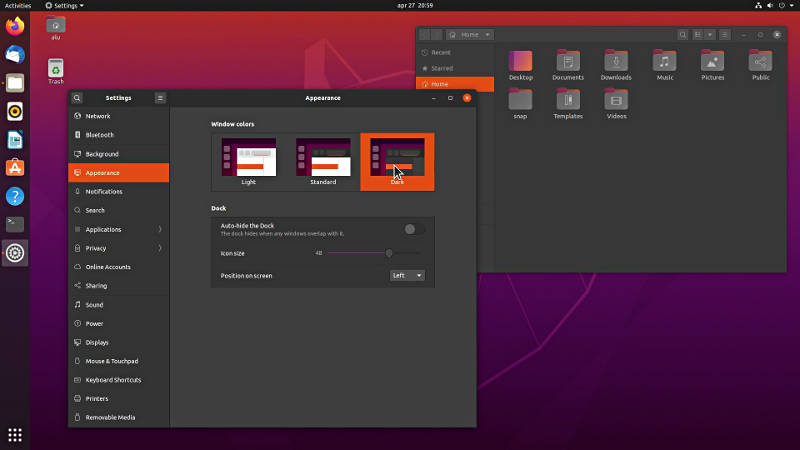 Obviously, there is a new default wallpaper: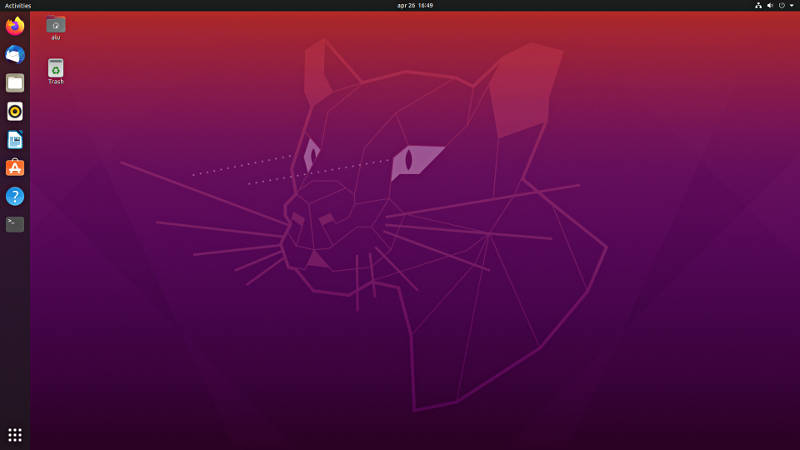 Now, you can group applications in folders and give these groups names: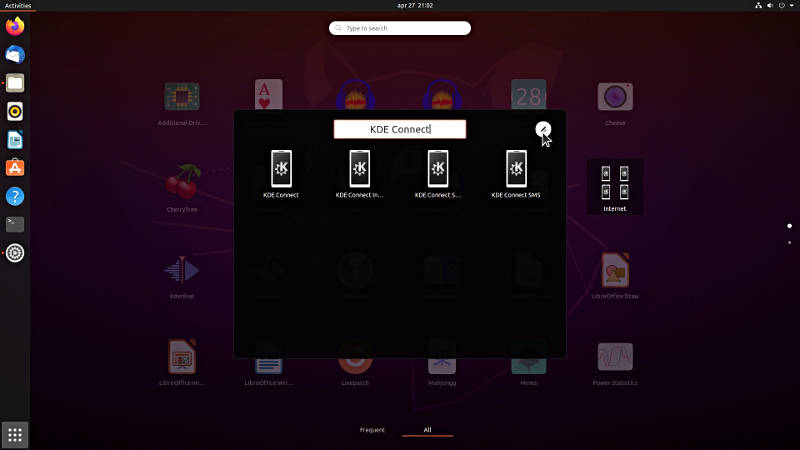 The login and lock screens have been redesigned: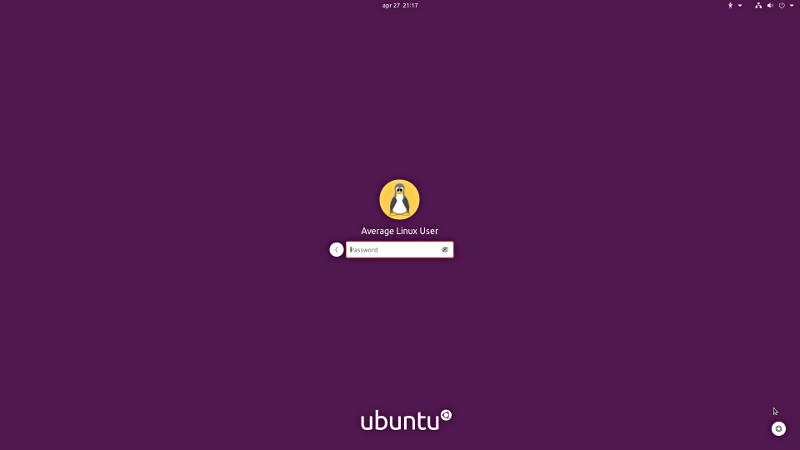 I particularly like that you do not need to scroll up the lock screen with your mouse to show the password field. It was very annoying before. Now, it is just enough to press any key on the keyboard and type your password without touching the mouse.
Many of these features come with new GNOME 3.36 (Ubuntu 18.04 has GNOME 3.28). GNOME 3.36 is claimed to be less resource hungry and faster. For me, it was difficult to measure because both Ubuntu 20.04 and Ubuntu 18.04 feel fast enough. But probably indeed Ubuntu 20.04 with GNOME 3.36 is a little faster.
GNOME 3.36 brings many small visual changes. The Settings application is easier to navigate now. Most of the things have been brought to the left panel, and they are easier to find.
The About screen in the Settings has been changed. This is how it looked before, and now: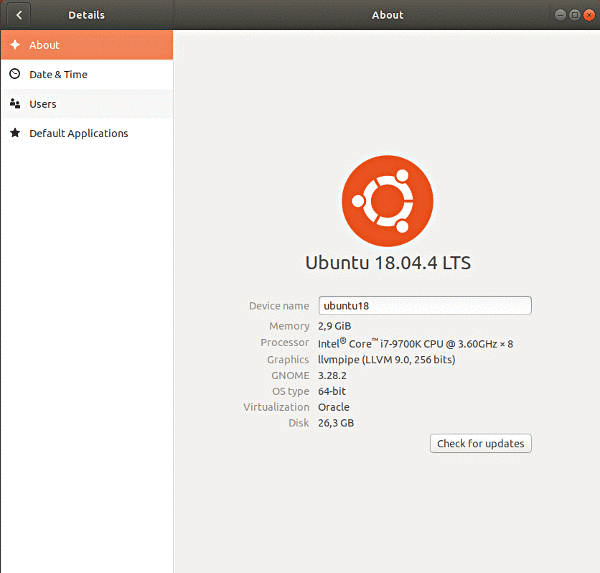 Some of you may also like the Do Not Disturb button in the notification window.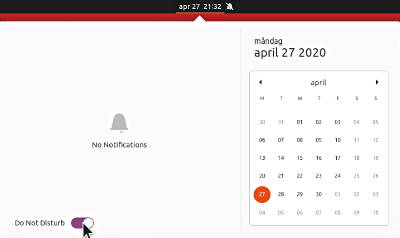 Settings and shutdown menu has also been redesigned. This is the old (dark) and new (light) ones: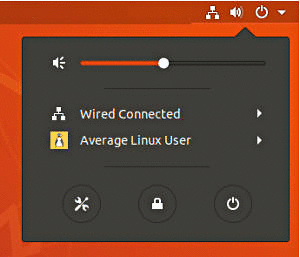 If you use the HiDPI screen, you can finally adjust the scaling with Fractional scaling. Now, there is a choice between 125, 150, 175 and 200% scaling vs 100 and 200 before.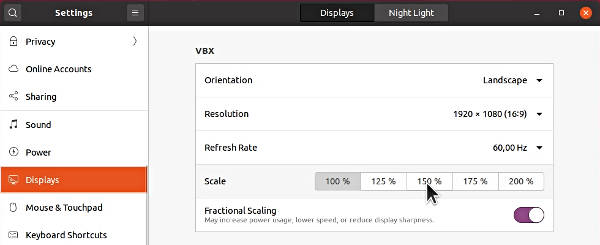 However, this scaling seems to be a little raw. It didn't work for me in a VirtualBox. And I have also heard that it doesn't work with multiple monitor setup. Anyway, I consider it a great improvement, and hopefully, the scaling functionality will get better with updates.
You will also notice right away that Ubuntu 20.04 installs faster and boots faster. These are the boot time of my Ubuntu 18.04 and Ubuntu 20.04, respectively:

The difference is small but it is in favor of Ubuntu 20.04.
Ubuntu 20.04 also brings flicker-free boot experience, which is also more pleasant visually.
And the cherry on the cake of the visual improvement, there is No Amazon button in the dock anymore. I was totally fine with it, and I did not mind supporting Ubuntu by shopping through their affiliate link. But many users did not like that Amazon button and even hated Ubuntu for that. I hope they will appreciate this move of Ubuntu.
So, Ubuntu 20.04 has many visual changes that are incredibly appealing. Next, let's look at the under the hood changed of Ubuntu 20.04.
Under the hood improvements
Snap priority
Ubuntu 20.04 sets the priority to Snap applications. Now, whenever you try to install an application, Ubuntu will try to force you on a Snap version.
It does it in the Terminal by placing a snap version at the top:

The same applies to the Ubuntu Software Center. Whenever you search for an application in the Software Center, the first option will be a snap application, and only down in the list, you can find the Deb version. So, whenever you install an app, look at its source description to know whether it is a snap package or a standard Ubuntu repository package.
If you do not know, Snaps are packages that include all dependencies as a container. This brings many advantages:
Simple to install
Safe to run
Easy to downgrade or upgrade
However, Snap applications had some problems.
First, they did not look coherent with the desktop theme. Luckily, it has been improved now. Snap applications now look rather native in Ubuntu. Moreover, some snap applications such as Kdenlive automatically picked the right dark theme of my desktop. While the Deb version had a light theme. So, the theme issue seems to be fixed for Snap applications.
The second problem was that new users could accidentally install two duplicated applications one is Deb application, and another one is a snap app. And they may not figure out why it is so, and because the version of these programs may differ their functionally may differ too. Unfortunately, this problem still exists.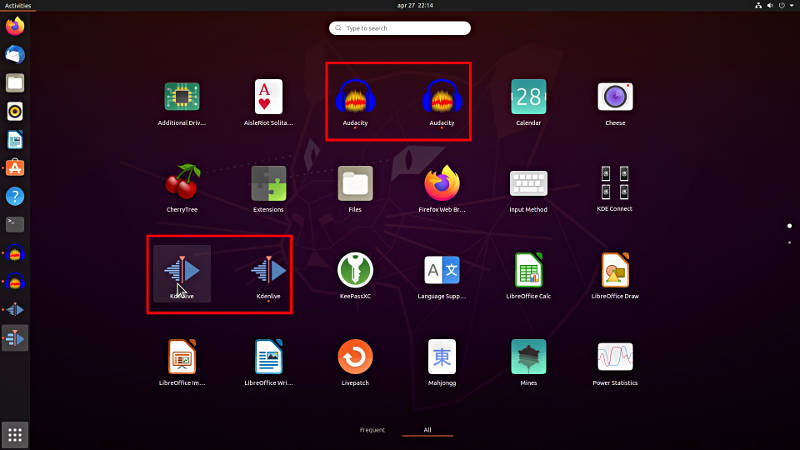 But I like that Canonical changed the icons of standard (Deb) applications to less attractive:

Thus users are less likely to install a non-snap application because of their unattractive icons.
The third problem is that Snap applications take much more space because they include all dependencies in the package. For example, such a simple as KeepassXC takes over 100Mb in a snap package while its Deb version is only 1.9M.
But I believe this space problem is possible to overcome given, that the storage is affordable nowadays. Just make sure you allocate as much space for your Ubuntu system as you can.
Also, because the Snap applications are larger, they take longer to install. And it seems that the launch time of Snaps applications is a little longer than the launch time of Deb applications.
I have to admit I was skeptical about this introduction of Snap packages by default. But after I have tried them, I am positively surprised how well they work. Maybe Canonical is right and this is the future.
Fingerprint reader support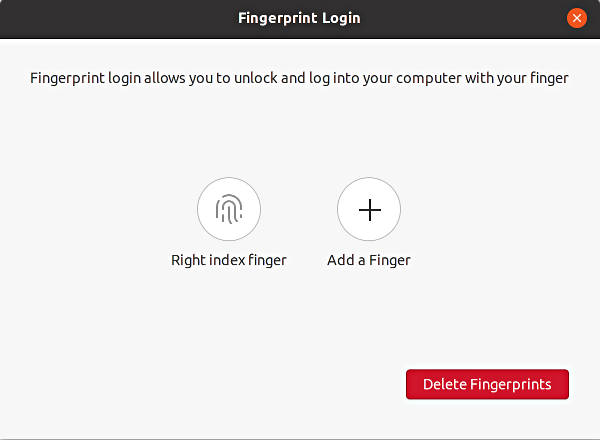 Another big step forward of Ubuntu 20.04 is the support for fingerprint readers. Many devices are now shipping with fingerprint readers. However, the Linux support for fingerprint devices has never been good. But it should change starting from Ubuntu 20.04. There is an improved backend and GUI, so biometric devices should work fine now. Unfortunately, I could not test it to confirm that. If you have a fingerprint reader, please share your experience in the comments below.
Kernel, drivers, 32-bit support etc.
There are many more improvements in Ubuntu 20.04 most of which are technical and are not of interest to an average Linux user. I would just like to point out that Ubuntu 20.04 ships with quite new software.
It has Kernel 5.4, which brings many exciting features such as ExFAT file system support and better Thunderbolt support.
Now, NVIDIA drivers are included in the ISO so they are easier to install.
If you are a gamer, you will appreciate the GameMode daemon that allows you launching applications using the discrete GPU if you have hybrid graphics: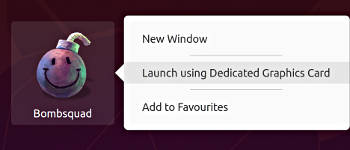 Ubuntu 20.04 even has Firefox 75 that has been released just before the Ubuntu release.
I also would like to point out that although there is no 32-bit Ubuntu ISO anymore, Ubuntu 20.04 still has the 32-bit libraries to support 32-bit packages needed by Wine and Steam.
Drawbacks of Ubuntu 20.04
It seems the positive changes are so overwhelming that it is difficult to find the drawbacks of Ubuntu 20.04. However, it is not perfect and some problems exist. Many of them actually migrated from the previous releases.
Minimize to dock still doesn't work by default. Clicking on the dock to minimize an application doesn't work. I do not understand why because this functionality is available and can be activated with
gsettings set org.gnome.shell.extensions.dash-to-dock click-action 'minimize'

Also, when you click on Activities, you must select any application to leave the activities view. Clicking on the empty space does work.
You cannot set the File Manager to show a different view for different folders. It is the most annoying problem about which I complain in every review of Ubuntu.
I also do not like that you cannot move a custom bookmark to the top in the File Manager left panel.
Some reviews of Ubuntu 20.04 also mention that Ubuntu 20.04 has the Extensions application by default. But it was not the case in my install. Probably, it was included in the beta ISO but removed from the release version. I had to install it manually:
sudo apt install gnome-shell-extensions

It is indeed an essential application that allows you to manage all extensions. If you want to customize Ubuntu 20.04, it is a must-have application. For example, you can disable Ubuntu dock and get the classical GNOME shell look: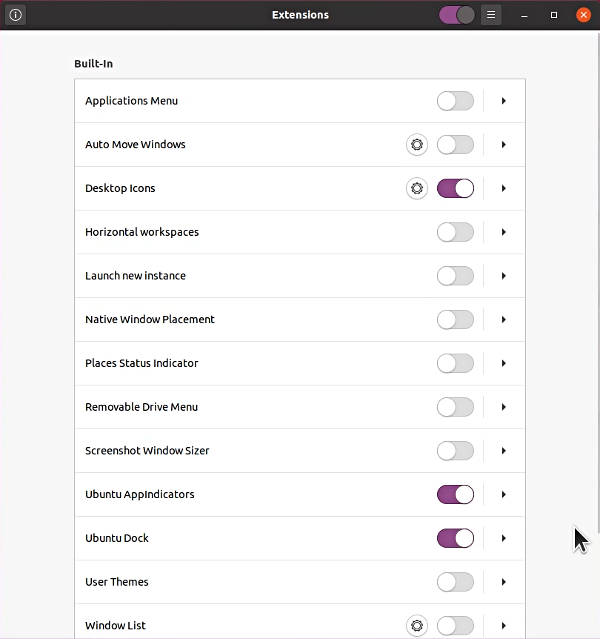 Ubuntu is getting better and better. So, I hope these my complaints will be eliminated in the future releases of Ubuntu.
Conclusion
I have always been very critical to Ubuntu. Surprisingly, Ubuntu 20.04 has changed my attitude towards Ubuntu. It has so many improvements that I can recommend it with confidence. Try it! I believe you won't regret. It is a long term support release, so it will serve you for a long time (till April 2025).