The most powerful terminal for Plasma 5
We are fortunate to have loads of terminal emulators on Linux. If you use the Plasma 5 desktop, the next question would be which one is the best for Plasma 5? If you ask me, that's Yakuake and, in this post, we'll see why!
Introduction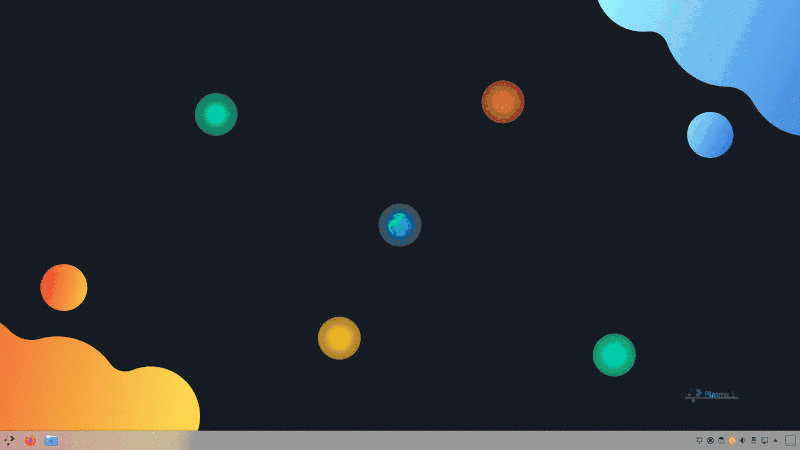 One of my favorite and most-used apps on Linux is Yakuake - a KDE dropdown terminal. Yakuake is old, but a powerful beast. It is available on all Linux distros. After installing it from the software repository, we can launch it from the apps menu.
And you'll see that nothing happens! Yakuake has started, but it's running in the background, waiting for you to call it. Upon pressing F12, Yakuake will pop up at the top of your screen.
What makes Yakuake the best?
Now that we've familiarized ourselves with Yakuake, let's see what makes it my number one choice for Linux terminal!
dropdown-based - likely it is the biggest selling point of Yakuake. It's extremely convenient when we can simply press F12 and have a terminal immediately at our service!
Integrates with KDE - if you've been reading my posts or watching my videos, then you'll know that KDE is my desktop of choice. Having Yakuake integrate with my favorite desktop by default is a big plus for me! (scroll below to learn about alternatives for GNOME & XFCE)
Tabs - just like we have different tabs in the browser, Yakuake also has tabs! If your main tab is busy or you would like to keep its output, simply double-click on the bottom bar of Yakuake, and you'll get a new tab!

Screen splitting - allows you to work at two or more screens simultaneously. It is a very useful feature if you need to work or keep track of multiple processes at the same time.

Yakuake settings

Notice how my Yakuake on the screenshot above looks different from the default look. That's because I've set a breeze-minimal theme, or skin as Yakuake calls it. You can do the same if you go to Yakuake's settings by clicking on the small button in the bottom right corner → Configure Yakuake.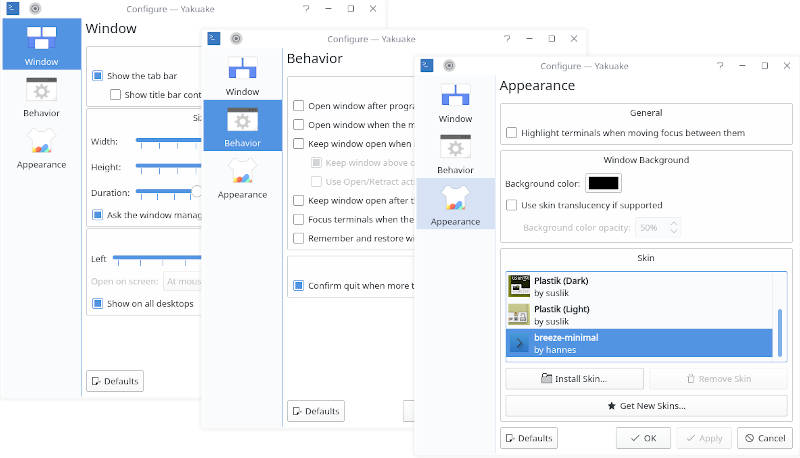 Yakuake features all sorts of customization options which allow you to tailor Yakuake to your needs:
Width
Height
Position
Various behavior options
Appearance (skins)
Yakuake has a great community which has created many amazing themes which you can install with a click of a button! Furthermore, if you would like to add transparency to the background color, you can do that as well by adjusting the value of background color opacity.
These were some of the common settings users like to configure and I'll leave the rest for you to explore!
Alternatives for other desktops
There are two alternatives on GNOME:
Drop Down Terminal which provides you with a minimalistic dropdown terminal.
Guake is a more feature-rich, Yakuake-like dropdown terminal for the GNOME.
Guake is also one of the best dropdown terminals for other GTK desktops.
XFCE users can switch the default XFCE terminal for a dropdown terminal.
Conclusion
Yakuake is the best dropdown terminal for Plasma 5. Features like being dropdown-based, multiple tabs, screen split, custom themes all contribute to Yakuake's supremacy over other terminals for Plasma 5. We've also covered popular alternatives for GNOME & XFCE in case you don't use KDE.
Let me know what you think of Yakuake in the comments section below! 👇