20 Things to do After Installing MX Linux (2021)
MX Linux, as one of the most popular Linux distributions, has a whole lot to offer. In this post, I've picked top 20 things most users should do after installing MX Linux in 2021.
Content
1. Enable Double-click
This feature comes down to personal preference. By default, MX Linux requires single-click to open files and folders, but I prefer double-click.
Open MX Tools → Tweak → Config Options → Disable Enable single-click on desktop & Enable single-click in Thunar File Manager → Apply.

2. Speed up Boot
After installing MX Linux, you likely see a boot menu on each system startup. If MX Linux is only OS on your machine, then this behavior is redundant. Fortunately, MX Linux has an easy way to disable it.
Open MX Tools → Boot Options → Set Menu timeout to 0 → Apply.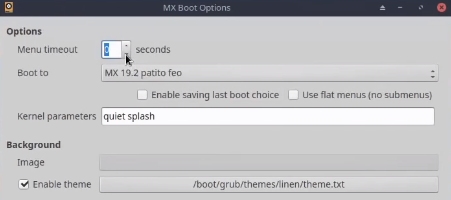 3. Fix Screen Tearing
Many users have encountered screen tearing on MX Linux. Screen tearing happens due to unsynchronised GPU & monitor frame rates.
Open MX Tools → Tweak → Compositor → Set VBlank xpresent & Compositor Xfwm (Xfce) Compositor → Apply.
Please note, these are the settings that work for me. They might not work for you. I would encourage you to experiment with different options until you get the right one for your system.

4. Install Nvidia Drivers
If your system uses Nvidia graphics card, then I would recommend you to install Nvidia drivers for a more seamless desktop experience.
Open MX Tools → Nvidia driver installer.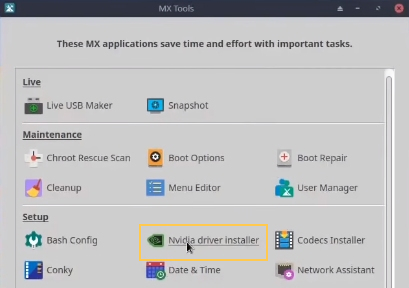 5. Install Codecs
Similarly to Nvidia drivers, I would recommend you to install codecs as well. Codecs allow you to play various media formats on your Linux machine. They are not included by default because of legal concerns.
Open MX Tools → Codecs Installer → OK.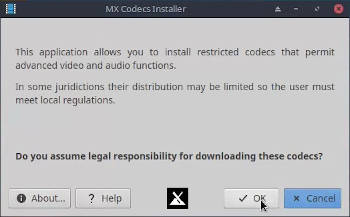 6. Configure HiDPI Screen
In case you have a HiDPI screen, you'll need to configure MX Linux to work nicely with it. MX Tools has our back again.
Open MX Tools → Tweak → Display → Adjust xrandr scaling → Apply.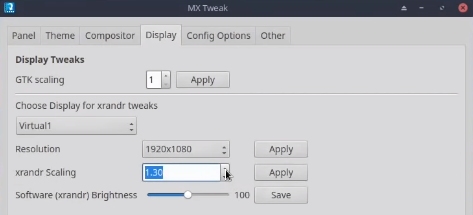 7. Set User Password for Admin tasks
When you were installing MX Linux, installer prompted you to enter user and admin password. For an average user, it's more convenient to have a single password for both user and admin tasks.
Open MX Tools → Other → Set Password for administrative tasks to User → Apply.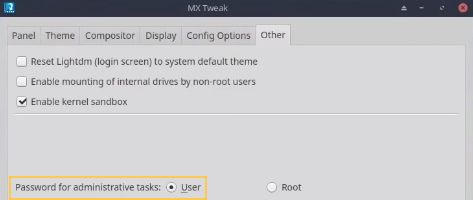 8. Configure Panel
By default, MX Linux has its panel on the left. However, many of you would probably prefer to have it at the bottom of the screen. You can easily change its position if you would like to do so.
Open MX Tools → Tweak → Panel → Set panel position to your liking → Apply.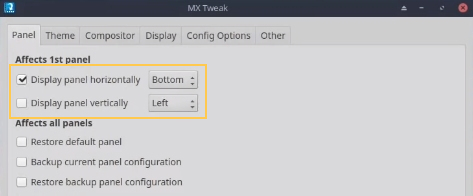 I also increase the vertical size of the bottom panel since by default it's pretty small.
Right-click on panel → Panel → Panel Preferences → Set row size to 40 - 50px.
9. Configure Task Icons
Another panel customization feature that I like is the ability to group multiple instances of the same app in the panel. For me, this results in better productivity when I have more apps opened.
Open MX Tools → Tweak → Panel → Options → Set Window grouping to Always → Close → Apply.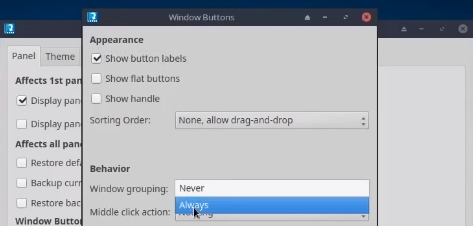 10. Increase Clock Font
Clock's text, depending on the position of your panel, can get very small. I increase its size to be consistent with other icons in the panel.
Right-click on panel → Properties → Font button → Set font size to your liking → OK.

11. Configure Whisker Menu
Whisker menu is MX Linux's default menu for launching apps. It's well configured out of the box. The only exception for me is that I place categories on the left-hand side.
Right-click on Whisker menu → Properties → Enable Position categories next to panel button.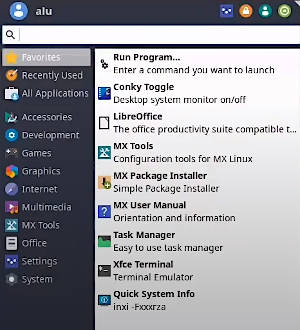 12. Configure Theme
MX Linux's default theme may not be everyone's cup of tea. Luckily, MX Linux uses XFCE desktop that is highly configurable.
MX Linux comes with a set of pre-installed themes which you can find in MX Tools:
Open MX Tools → Tweak → Theme → Options → Choose a theme from the set of pre-installed themes → Apply.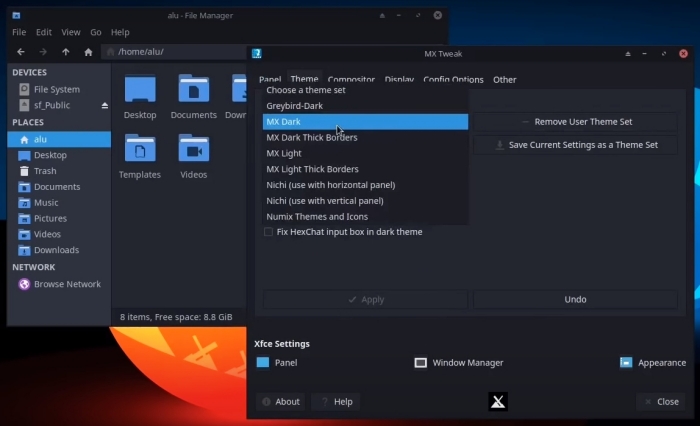 However, you can go beyond these preinstalled themes and install more themes and enable them in the XFCE Settings:
Open Settings → Appearance → Choose style and icons.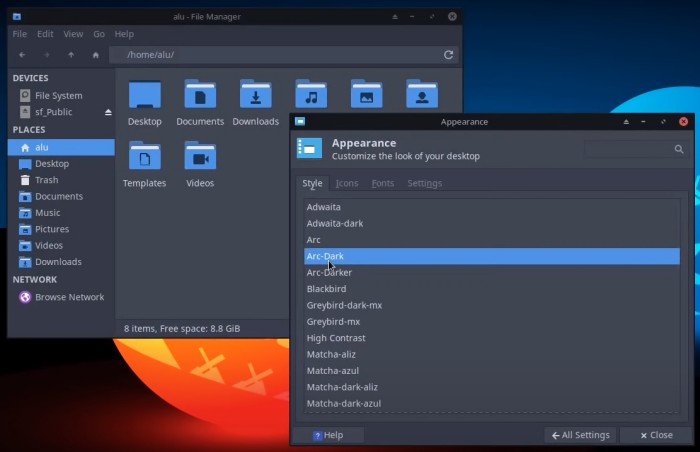 Check out our article if you would like to learn more about XFCE desktop customisation.
13. Install DockBarX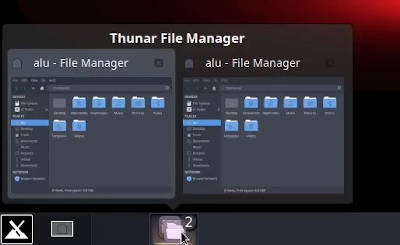 DockBarX describes itself as a lightweight taskbar/panel replacement for Linux. DockBarX is my go-to panel on MX Linux for many reasons:
App window preview
Pin application
Nice-looking
and many more!
Open MX Package Installer → Stable Repo tab → Search for dockbarx → Select dockbarx & xfce-dockbarx-plugin packages → Install.
Now, let's replace the default panel with DockBarX.
Right-click on panel → Panel → Panel Preferences → Items tab → Remove launchers and window buttons → Click on + button → Search for dockbarx → Add → Move it with up and down arrow to your desired position (it's bellow Workspace Manager for me).
DockBarX is customizable, so feel free to launch DockBarX Preferences.
In the Appearance tab, you can choose your preferred theme, window list style and much more.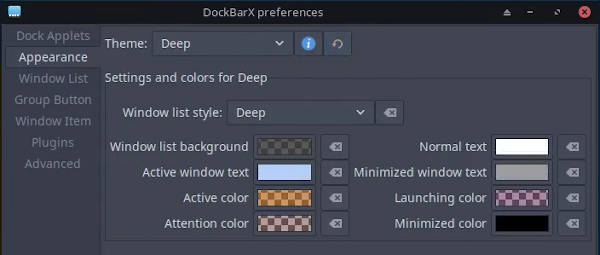 After you've finished tweaking DockBarX, don't forget to hit the Refresh button which you can find next to the theme entry. If the changes are not visible, log in/out to force DockBarX to apply them.
14. Configure Conky
If you are a new Linux user, you may not be aware of Conky. Conky is a lightweight system monitor which displays information on your desktop as widgets (conkies). It's available by default on MX Linux.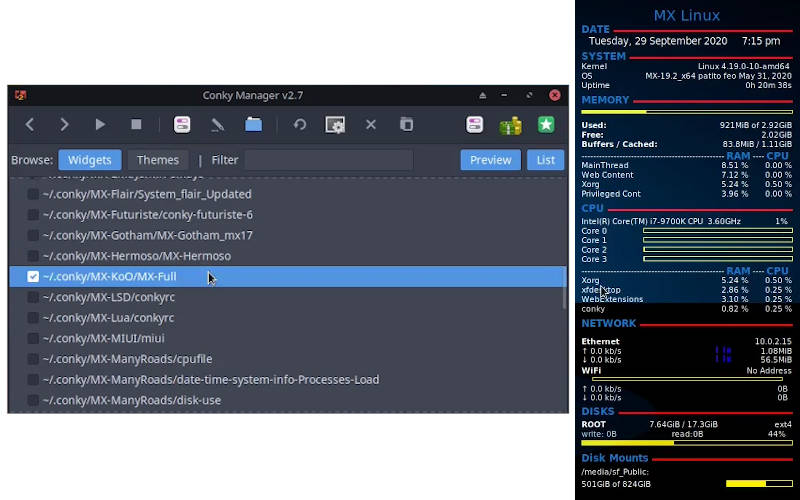 You can manage conkies with Conky Manager, of course. We have many conkies pre-installed. Once you've opened Conky Manager, click on a conky to preview what it is for and optionally, enable it!
I use MX-Full which provides detailed information about my system.
15. Configure Terminal
MX Linux's default terminal comes with a too transparent background which can be distractive. I prefer lower transparency.
Open Terminal → Right-click inside terminal window → Preferences → Appearance → Adjust opacity to your liking.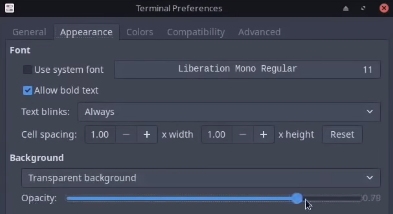 16. Install Popular Apps
MX Linux comes with a slew of pre-installed apps. Still, it doesn't include some popular apps that most of the users use daily. We can install them with MX Package Installer.
Popular Applications tab helps a lot in installing the most common apps. It groups apps in categories, and it includes the best of the best apps out there:
Spotify
Zoom/Skype
Google Chrome
Microsoft Teams (many of us are forced to use it for work)
and many more!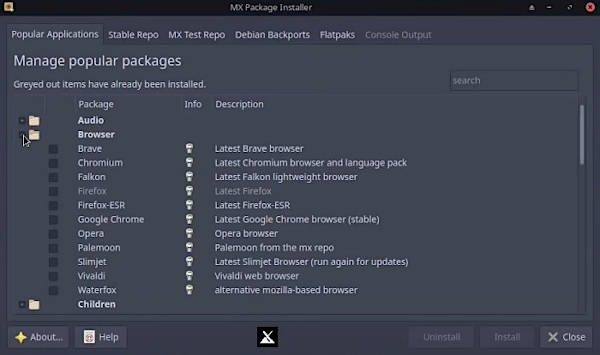 17. Install Redshift
Redshift is a Linux application that protects your eyes by reducing the amount of blue light at night. A very crucial app for all of you working at night. To my surprise, contrary to many popular distros, MX Linux does not include Redshift by default. Fortunately, we can easily install it ourselves.
Open MX Package Installer → Stable Repo tab → Search for redshift → Select redshift-gtk → Install.
Once installed, open it from the menu, and it will appear in your system tray. Make sure that Enabled and Autostart options are checked by right-clicking on the icon in the system tray.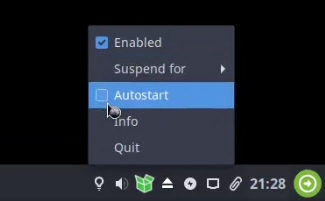 No further customization is required.
18. Enable AdBlocker
Adblock is pre-installed adblocker on MX Linux, but we need to enable it. Adblock blocks ads while you browser the web, thus providing you with fast and clean browsing experience.
Open Adblock → OK → Select all pre-configured lists → OK.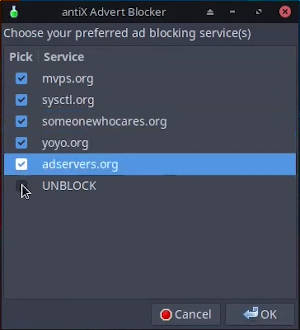 You can test Adblock app by going to ads-blocker.com.
19. Enable Firewall
I would recommend leveraging Firewall app, which is installed by default to improve the security of your system. A firewall, in general, protects against network intrusions.
Open Firewall Configuration → Enable it.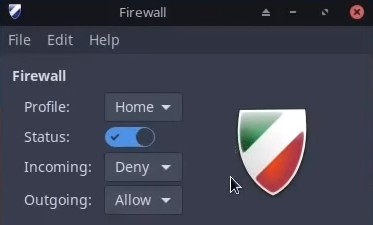 The default settings are fine, but if you would like to learn more about firewall, check out our article on the Linux Firewall.
20. Uninstall Games
MX Linux comes with some basic games. If you are like me and don't play them, I would recommend removing them.
Open Synaptic Package Manager → Select Sections → Scroll down to Games and Amusement category → Click on $ button to sort applications by installed, uninstalled → Select all games → Mark for removal → Apply.

Conclusion
In this post, I've outlined my top 20 things to do after installing MX Linux in 2021. Nevertheless, your journey doesn't stop here. I'll leave it to you to explore more awesome stuff that MX Linux offers. 🚀