MX Linux XFCE Review (2021)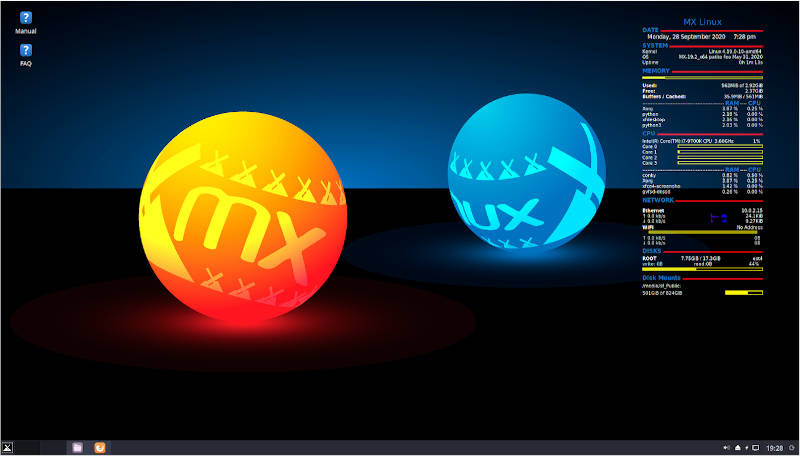 In this post, we'll take a look at MX Linux's desktop and try to figure out what makes MX Linux the most popular distro according to DistroWatch.com. I will also point out its flaws.
Content
PROS
It's not a coincidence that MX Linux is a distro of choice for many Linux users. Three desktop environments, a stable Debian base and even a 32-bit version of the distro all contribute to this factor! It does have some flaws, but let's have sugar on top!
Default Settings
MX Linux comes with great settings out of the box. The MX Linux team has done a great job configuring the distro for the best performance on any system. It has swappiness set to 15. You can check it with:
cat /proc/sys/vm/swappiness

This is close to what I recommend.
The processor microcode is installed that is also what I recommend to do. If you wish to learn more about settings and fine-tuning your MX Linux, check out our article on things to do after installing MX Linux.

Default Apps
MX Linux's default installation bundles all sorts of apps so you can get productive right after the installation. If I were creating a Linux distribution, I would likely select the same apps!
The only exception being Clementine player. It's a good app, but considering that MX Linux XFCE is a performance-focused distro, DeaDBeeF player would be a better choice in my opinion.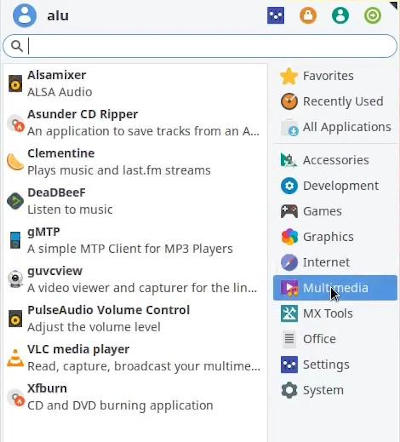 Documentation & Community
MX Linux is one of the few distros which provides extensive documentation. The MX Linux Manual contains around 200 pages and covers everything a new user would ever need! You can access it from the desktop icon.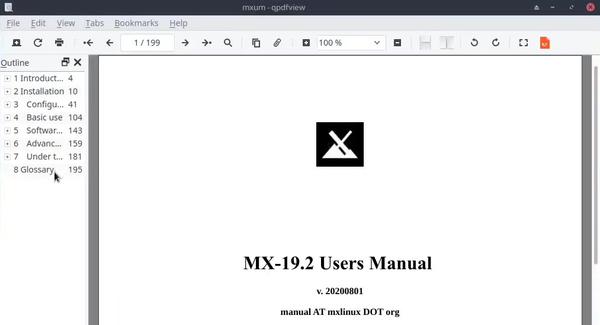 In addition to straight-forward documentation, MX Linux is notable for its community as well. I haven't had any problems with MX Linux and did not have to reach the community for help, but if you check out their forum, pretty much all questions get answered!
I have yet to see a distro that offers comparable customer care.
MX Tools
MX Tools is a single most powerful program for managing your system without touching the command line. You can configure just about anything with a click of a button. Here are some the feature it offers:
Create system backup
Install drivers & codecs
Edit boot options & menu
Clean your system
Manage conkies
Configure Bash
Manage repositories
Format USB
and so much more!
Another settings app is MX Tweak, which allows you to customize the look and behavior of your desktop.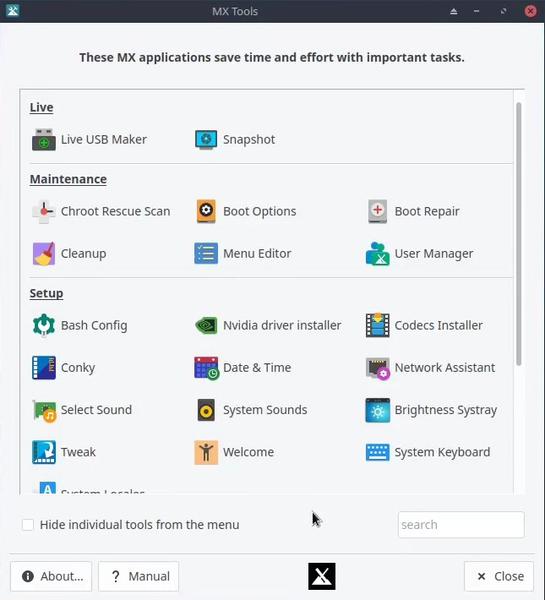 MX Package Installer
MX Package Installer is yet another helpful app that MX Linux offers to its users. You can install popular apps like Spotify, Zoom, Chrome with ease. If you are feeling adventurous, you can install a more recent version of various packages in MX Test Repo tab.
Being Debian based, packages in MX Test Repo are usually not the latest version. Flatpaks tab usually offers the latest version of packages.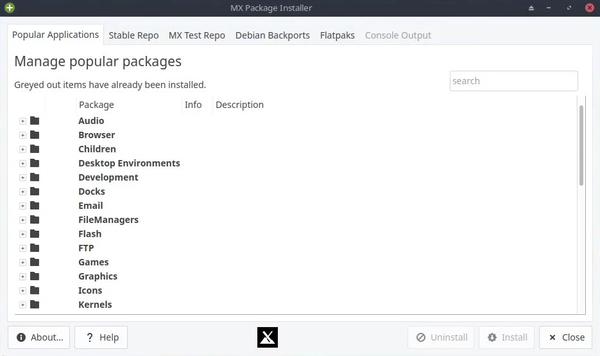 Synaptic
For more advanced users, MX Linux bundles Synaptic package manager. Synaptic gives you more power, but it requires a thorough knowledge of package management. Synaptic is my package manager of choice.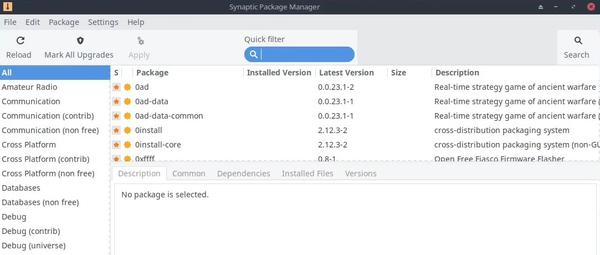 Adblocker
MX Linux has an AdBlocker installed by default. I appreciate that the MX Linux team included it in the distribution. I wish they also enabled it by default because it doesn't work out of the box. You can learn how to enable adblocker on MX Linux and much more in our things to do after installing MX Linux post.
Flash Player
Flash player is an old technology, but some websites still use it. MX Linux includes by default as well. Flash player is considered insecure and usually it is not recommended to have it, however, new users often do not have a choice if they need to access a website that requires flash. So, I think it is good that MX Linux provides it.
Terminal's Theme
As with everything, the MX Linux team likes to add their touch, which is always welcome. The default terminal theme is amazing. Couldn't have picked it better myself!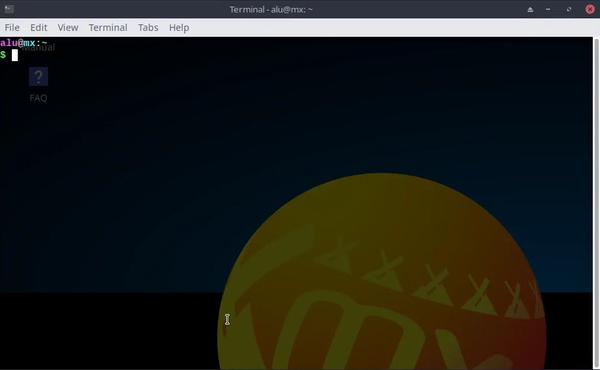 Hibernation
MX Linux does not enable hibernation by default. That's because hibernation usually doesn't work well on Linux. I even recommended disabling hibernation in one of my posts of things to do after installing Linux Mint. So, it is nice to see it disable out of the box in MX Linux.
However, you can enable it: MX Tweaks → Tweaks → Other → enable hibernation.
CONS
Nothing is perfect, neither is MX Linux. While it's a well-rounded distro, it does have some flaws.
Installer
MX Linux's installer is not the simplest one. If you are a new-comer to Linux, it can be hard for you to figure out what to do in some places. But I hope the MX Linux team will improve it in the next releases.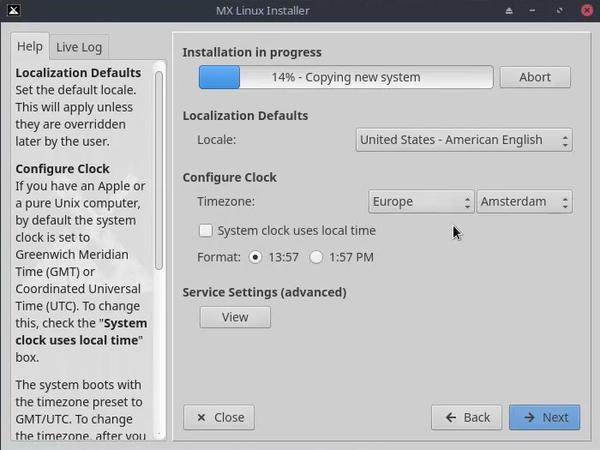 XFCE Panel
By default, MX Linux places the panel on the left. All icons are aligned to the bottom left, which is not convenient, in my opinion. Furthermore, icons are small, which makes it hard to know what you are doing. You can quickly fix these problems, but it would be better to have a traditional layout with a panel at the bottom.
Theme
The default theme is also not very beautiful. It is a pity because there are many beautiful XFCE themes. Of course, it is a matter of taste and maybe someone will like it. But I believe it is better to pick some of the most popular and highly rated XFCE themes as a default. You can follow our guide on how to make XFCE more beautiful.
Boot-Time
In my experience, MX Linux boots much slower than other Linux distros. On the bright side, the system is very fast and smooth after it starts up. The boot-time is not a big deal but it is annoying sometimes when you are in a rush.
Single-click
MX Linux seems to prefer single-click over double-click. It is a debatable topic, but many new users and I are used to double-click. So, it is a drawback in my opinion.
Terminal vs GUI
MX Linux allows you to alter many system configurations from a GUI app - MX Tools. It works fine, but it is a mix between real GUI and GUI shortcut that opens terminal and executes a command. This inconsistency might be confusing for new users.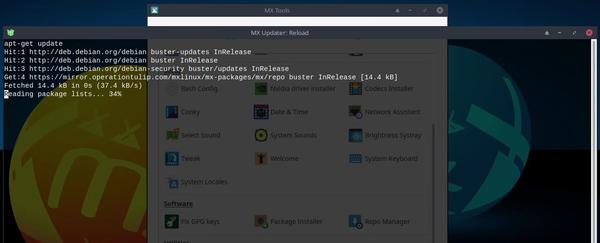 Conky
Again, this is debatable, but I find the default Conky clock not very useful. It's a nice touch to the desktop but does not provide many pieces of information about the system. I believe that new users would be pleased to have a short overview of the whole system. At least I was when I first got into it!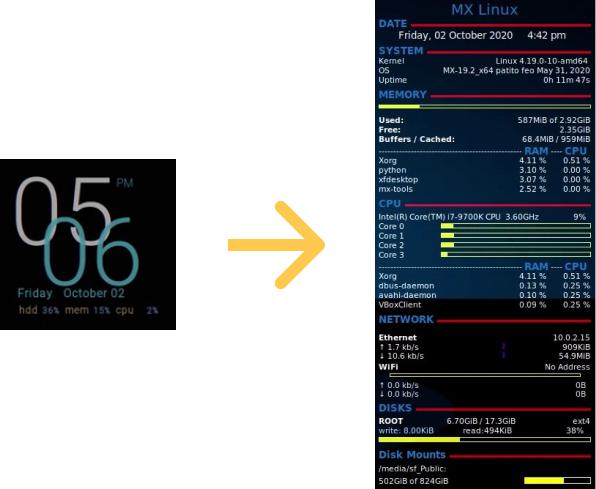 You can learn how to switch to this conky theme in our post on things to do after installing MX Linux.
Conclusion
MX Linux without a doubt is a great distro. It is the most suitable for beginners who wants to tweak and explore their system. You would be able to do all settings with graphical tools but you will be also slightly introduced to the command line tools which is a great way to learn.
If you are complete beginner, and you are afraid of many settings, use some other options. For example, I would recommend Linux Mint XFCE.
If you really want to learn Linux, install vanilla Debian XFCE. Debian XFCE is still my number one XFCE distro.
Let me know your thoughts about MX Linux XFCE in the comment section. 👇