Ubuntu 22.04: Beautiful Outside, Ugly Inside!
Ubuntu 22.04 Jammy Jellyfish is released and it looks gorgeous. But there are some problems that cannot be over-weighted by its beauty. Let's have a look at them in this Ubuntu 22.04 review.
Content
Positive aspects
Before I start criticizing this release of Ubuntu I would like to highlight some positive aspects. I do appreciate all the work that has been done by Canonical to release this version of Ubuntu.
When you have a first look at Ubuntu Jammy Jellyfish it is a breath of fresh air. There is a new Yaru theme and I particularly like its dark version.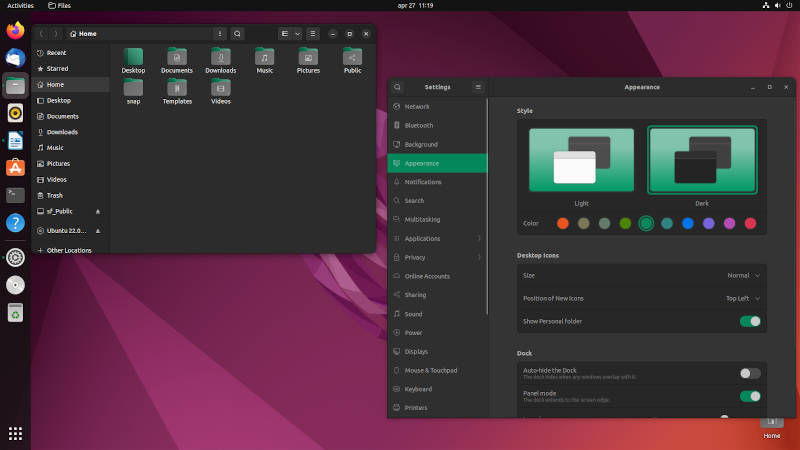 Ubuntu 22.04 is based mostly on GNOME 42. It has a new horizontal app launcher with a horizontal workspace switcher. There is also a fine-tuned activities view.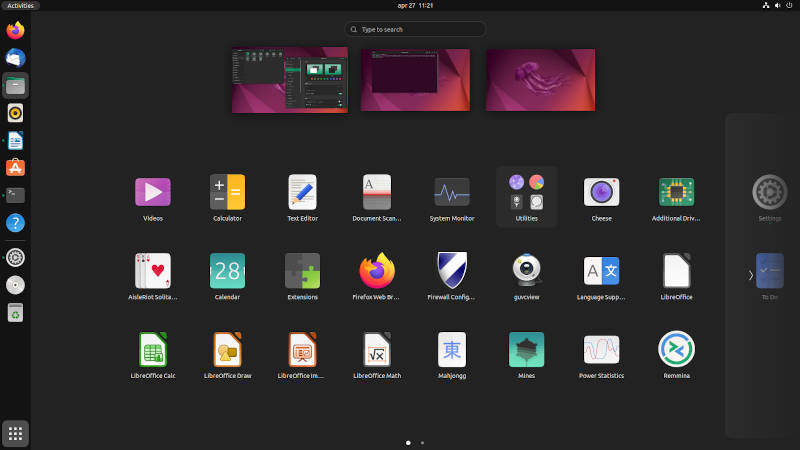 I have to emphasize that the Software Center is finally lightening fast. Navigation, searching for apps, installation, everything works fine. After more than 10 years of observing the development of the Ubuntu Software Center, I can say it is finally as good as I would like it to be. Maybe I would only like to have a little better indication of deb and snap packages. Right now, you get two entries for these two types of software delivery. I would prefer to have two install buttons: one for snap and another for a deb package. But I assume Canonical wants to transition to snap 100% eventually, so maybe it is ok to have these duplicates for now.
There are many improvements in the Settings app. New Appearance, Multitasking, and Power settings are probably the most prominent ones. I especially appreciate the possibility to switch between three different power modes which are also available in the status menu for a quick switch. It does help to save some battery time.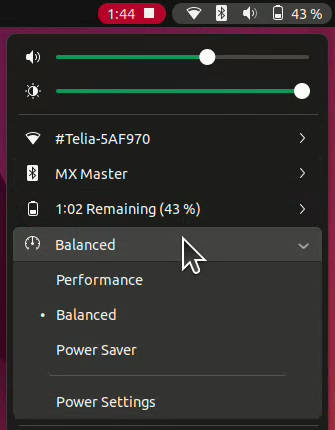 Wayland is now the default and it works much better than in Ubuntu 21.04. I use the new Nvidia graphics 510 driver and I encountered zero issues with it. Given this new driver and the new Kernel 5.15, I have heard that Ubuntu should also perform much better in games. But I do not play games and cannot confirm that. If you have tried games in Ubuntu 22.04, please share your experience in the comments below.
Now, let's talk about the problems.
1. Installation Problem
I had a problem with installing Ubuntu 21.04 in the EFI mode last year. I described this issue in my Ubuntu 21.04 review. This problem still exists in Ubuntu 22.04.
In brief, Ubuntu refuses to boot from a USB if you simply write the ISO to a USB with the dd command or with some popular apps such as Etcher and even Ubuntu Startup Disk Creator. To install Ubuntu 21.04, I wrote the ISO to my USB with the help UNetbootin app.
This time I tried to switch to the legacy mode in my BIOS and Ubuntu 22.04 finally booted. I installed it without a bootloader because I have several Linux distros installed on this laptop, so I could use the Debian bootloader to boot Ubuntu.
It could be just an issue specific to my hardware but I installed many other Linux distros on this laptop that is MSI Prestige 15 and none of them had installation problems. There are also comments on my YouTube channel where other users reported a similar problem.
2. Boot time
Ubuntu 22.04 is noticeably slow in boot time. It takes 35-45 sec to boot on my Intel Core i7-10710U CPU, 16 Gb of RAM and NVMe SSD.

Debian and KDE Neon that are also installed on this laptop, boot within 15 sec. Shutdown time is also quite long.
3. Firefox is snap
Little by little Canonical transitions all the apps to snap versions. This time it is Firefox. It is a snap app in Ubuntu 22.04. by default.
I have also installed a binary version of Firefox from the Mozilla website and tested the performance of the two Firefox programs. Both were the 99.0.1 versions.
I launched the snap version first and then the other one. The result you can see below, this screenshot shows the binary version is fully loaded while the snap version that was actually started earlier is still loading.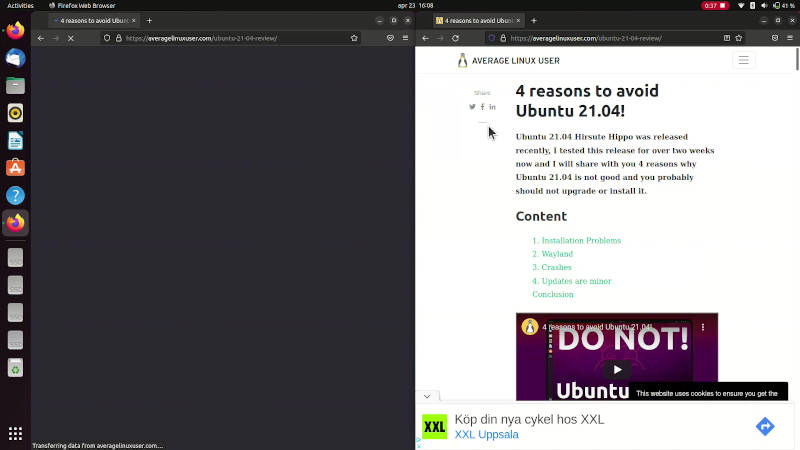 Firefox is the most frequently used app in my workflow and I do not like that it is slower than it could be.
Moreover, Firefox is not fully integrated into the desktop environment because a snap app is a little isolated program. For example, you won't be able to install the GNOME extension through Firefox and some password manages may not work with it.
There is no deb version included in the default repository. To install a non-snap version of Firefox that works faster you need to follow the instructions on the Mozilla website. I doubt a new user would do that.
4. Overall problem with snap apps
Snap apps have a fantastic idea behind them - to eliminate the problem of dependencies. As I programmer I understand this pursuit. However, when I look at snap apps from a regular user perspective, I do not like them. Besides the Firefox issue I have just shown, there is a general trend that snap apps do not work as well as their non-snap counterparts.
They have problems with inheriting the desktop theme. For example, I tried two versions of Kdenlive in Ubuntu 22.04. The snap version of Kdenlive the changes cursor theme and makes all fonts smaller, while the deb version of Kdenlive inherits the desktop theme without issues. I have not tested the performance of these two Kdenlive versions in Ubuntu 22.04 but recalling my previous tests, the snap version of Kdenlive was considerably slower during editing and rendering and even crashed.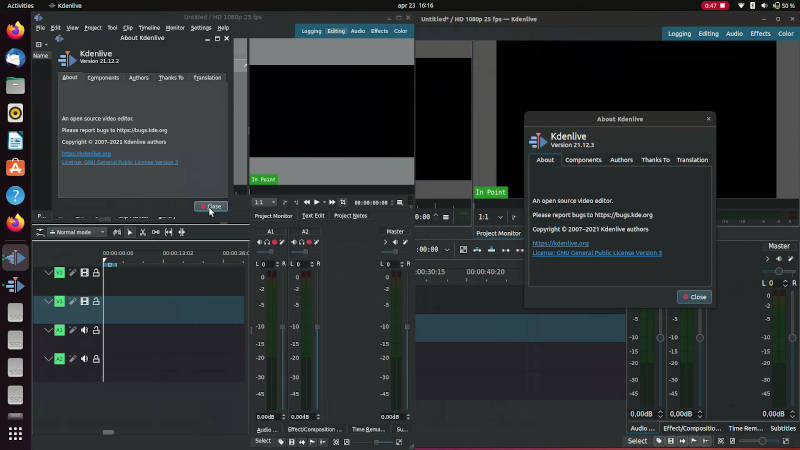 Also, surprisingly Kdenlive snap version is older in Ubuntu 22.04 than the deb version. For me as an end-user, having the latest Kdenlive is essential because I edit all my videos in it.
I really hope snap apps will become as good as regular deb versions. But for now I try to avoid snap packages.
5. No minimize on dock click
When I click on any open app in the dock it doesn't minimize. It can be activated with this terminal command:
gsettings set org.gnome.shell.extensions.dash-to-dock click-action 'minimize'

I just do not get why this feature is disabled by default.
Canonical has finally added the option to show applications from the current workspace only in the Settings. Couldn't they also add a graphical option to enable minimizing to dock on a click?
6. Cheese doesn't work
Well, Cheese works but incorrectly. This is the picture I get on the webcam of my MSI Prestige 15 laptop.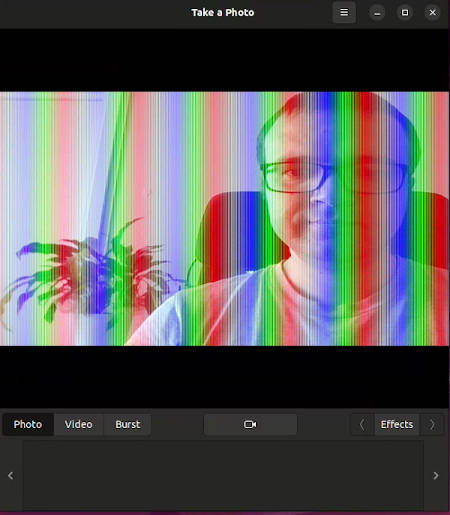 Given that it crashed in Ubuntu 21.04, and it doesn't crash in Ubuntu 22.04 but has visual issues, I hope it will work in Ubuntu 23.04 next year 😄.
I installed Guvcview as an alternative webcam app and it works fine.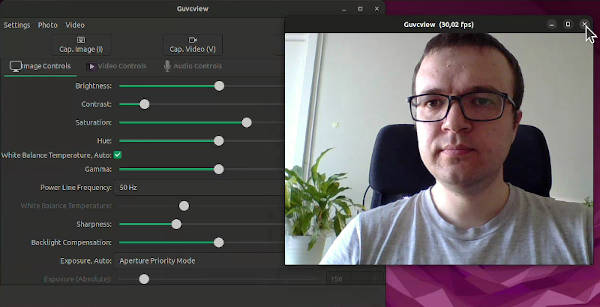 Otherwise, I have to point out that Ubuntu 22.04 has no problems with recognizing any of my hardware. Wi-fi, Bluetooth mouse, Bluetooth headphones, NVIDIA graphics, printers, everything works as expected.
7. Clipboard buffer issue
I was writing this post in Ubuntu 22.04 and I noticed that the Clipboard buffer doesn't save the last copied text if you close Firefox.
If I copy any text in Firefox and then close it. When I try to paste it in LibreOffice, it doesn't paste and if I do the same in the Terminal, the Paste option is not even active.
But the Clipboard works fine if I keep Firefox open after I copy the text. This is an obvious bug. Also, it is not specific to the snap version of Firefox. The binary version of Firefox has the same problem in Ubuntu 22.04.
8. Files crashes
The last issue I experienced was that Files, the fine manager of Ubuntu 22.04, has crashed several times. I do not even know why. Every time I received this crash message, I was not even using Files. It was open in the background and just crashed.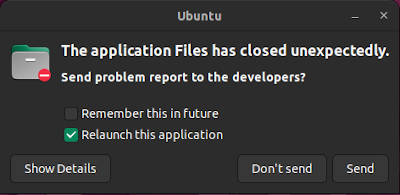 I did not test Files with a lot of workload like coping many or large files, but casual browsing worked fine. So, if there is a bug, it is not crucial for the end-user but still annoying.
Conclusion
Overall, Ubuntu 22.04 brings many attractive improvements and the problems I mentioned are not devastating. But given that there are other Linux distros without these problems, I would not look at Ubuntu 22.04 as my daily driver.
If you are an Ubuntu user, I recommend waiting at least 3 months before you upgrade so most of the bugs get fixed.
What's your experience with Ubuntu 22.04? Leave a comment below.