15 Things to do after installing elementary OS
I installed elementary OS Juno on my laptop a few months ago. During this time I have made many adjustments to make elementary OS fit my needs. I summarize these adjustments in the 15 things to do after installing elementary OS Juno.
Content
1. Install Firefox
Epiphany, the default web browser of elementary OS, is well integrated into the Pantheon desktop environment. But it is inferior to Firefox. From my experience, it fails to play some full HD videos smoothly and it lacks some key extensions I use in Firefox. Firefox, on the other hands, has no problem with playing full HD videos and has plenty of useful extensions. So, the first thing I did in my elementary OS is I replaced Epiphany with Firefox:
sudo apt install firefox
sudo apt remove epiphany-browser

2. Install Tweaks
Next, I have changed many other settings using the terminal or Dconf editor, but later I discovered that you can do all these changes with the nice graphical program elementary OS Tweaks. So, as a second thing to do after installing elementary OS, I recommend installing elementary-tweaks:
sudo apt install software-properties-common
sudo add-apt-repository ppa:philip.scott/elementary-tweaks
sudo apt update
sudo apt install elementary-tweaks

Tweak will be available in your elementary OS Settings after the installation: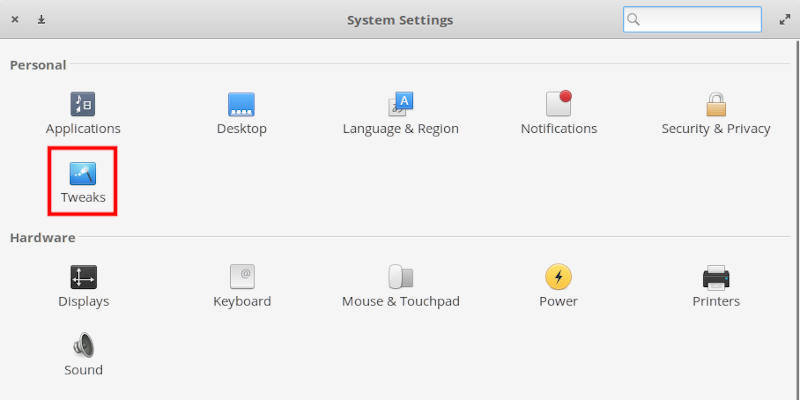 I will show how I used it in the next things to do after installation of elementary OS.
3. Disable single-click
The file manager of elementary OS uses a single click to open files and folders by default. It is also the default behavior of Plasma 5. Some users seem to like this behavior, but I do not. I also believe many new Linux users are used to double-click. So, I disable the single click. This is when elementary Tweaks come to play. Go to Settings → Tweaks → Files, and disable single-click: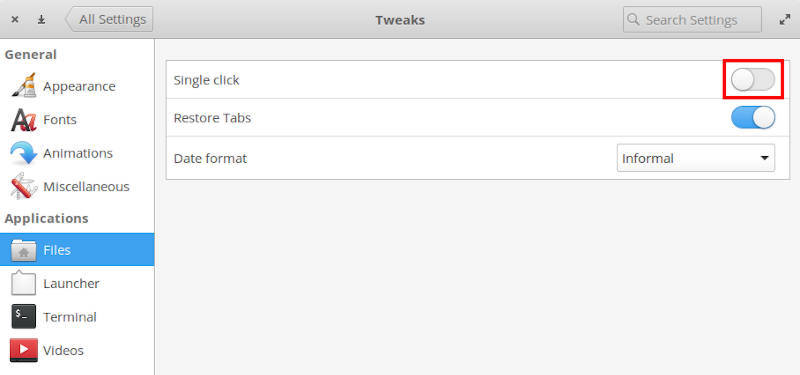 Now, you can use your mouse pointer click in a traditional way with one-click to select and double-click to open.
4. Disable natural copy-paste in terminal
Another non-standard behavior of elementary OS is that by default you can use Ctrl+C and Ctrl+V to copy and paste in the terminal. Elementary OS tries to be friendly for new Linux users and I understand that. However, these shortcuts are not standard and confusing for users who have some experience of using the terminal. For example, Ctrl+C is usually used to interrupt the process in the terminal window. But in elementary OS it copies text. I prefer to use the standard shortcuts and I think new users should learn them too.
So, to disable these natural copy-paste shortcuts in the terminal and return the standard ones, open Tweaks and in the Terminal tab disable natural copy-paste.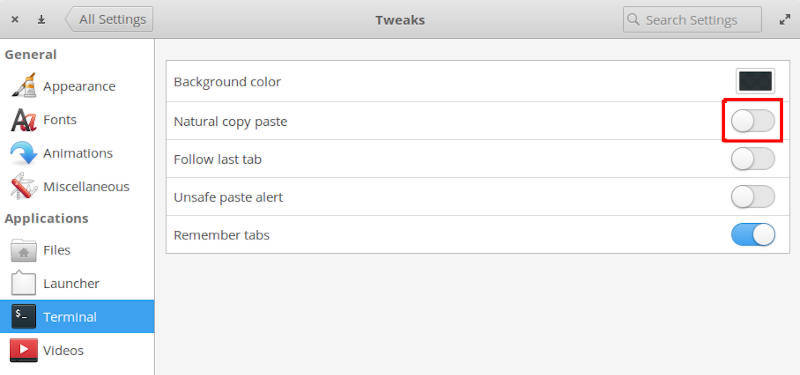 After that, you will have to use Ctrl+Shift+C and Ctrl+Shift+V to copy and paste in the terminal. These shortcuts may feel little awkward if you are new Linux user but believe me after you get used to them you will appreciate them. The major advantage you can now use Ctrl+C to interrupt the running process in the terminal.
5. Add minimize button
Elementary OS has only close and maximize buttons by default:

The Elementary OS team argues that instead of the minimize button, you should use the close button and the application should stay pre-loaded in the memory after you close it, so next time you open it, it opens very fast. But it seems that only elementary-specific applications behave this way. I am also conservative in my habits, so I prefer to have the minimize button:

To add the minimize button, open Tweaks again and in the appearance tab select Minimize left layout: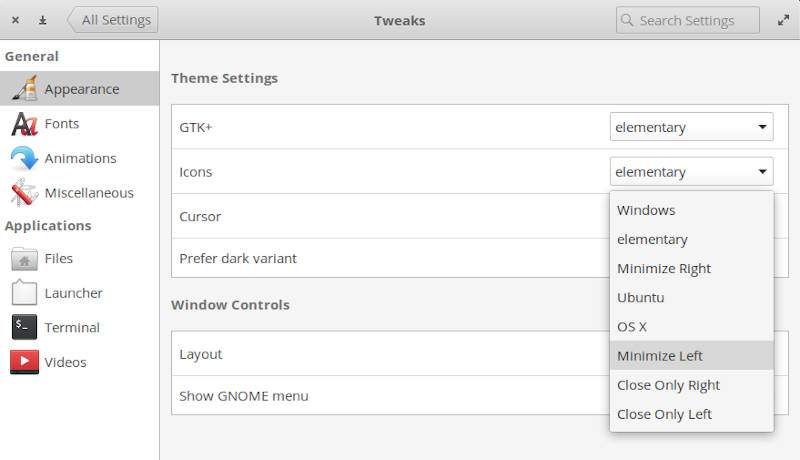 There available some other options, check them out. You can have buttons like in Windows, Mac OS, Ubuntu, etc.
6. Disable GRUB delay
When you start your elementary OS, you likely see this GRUB menu: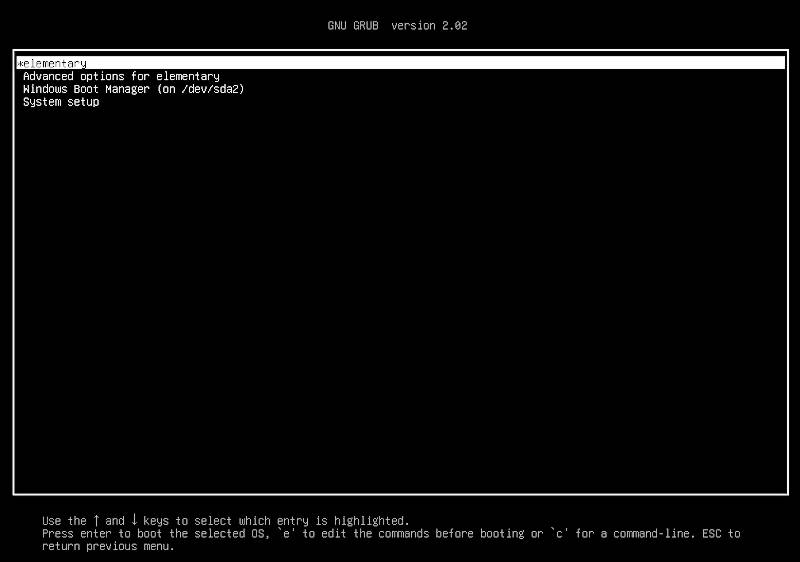 Unless you dual-boot and need to switch between elementary and Windows often, you can disable this menu and speed up your boot by a few seconds.
To disable the GRUB delay, open the GRUB config file:
sudo nano /etc/default/grub

And set GRUB_TIMEOUT to 0:

Press Ctrl+O and Ctrl+X to save and exit from Nano editor. Then, update GRUB:
Reboot your system, and you won't see the GRUB menu anymore. Your system will good starlight into your elementary OS without a GRUB delay. If you need to see the GRUB menu again, press the ESC key during startup of the system.
Note: If you dual-boot, GRUB_TIMEOUT to 0 may not work and you will still see the GRUB menu after the reboot. I am also a victim of this bug, I tried to fix it with different approaches including setting GRUB_RECORDFAIL_TIMEOUT, but it did not work. As a temporary solution, you can set GRUB_TIMEOUT to 1. You will see the GRUB menu for 1 second which is still less than the default 5 seconds.
7. Install LibreOffice
As my office of choice, I installed LibreOffice. I believe it is the best office suite for Linux:
sudo apt install libreoffice libreoffice-gtk3 libreoffice-style-elementary

The latter two packages are required to make LibreOffice look native in elementary OS. This is how LibreOffice looks in my elementary OS: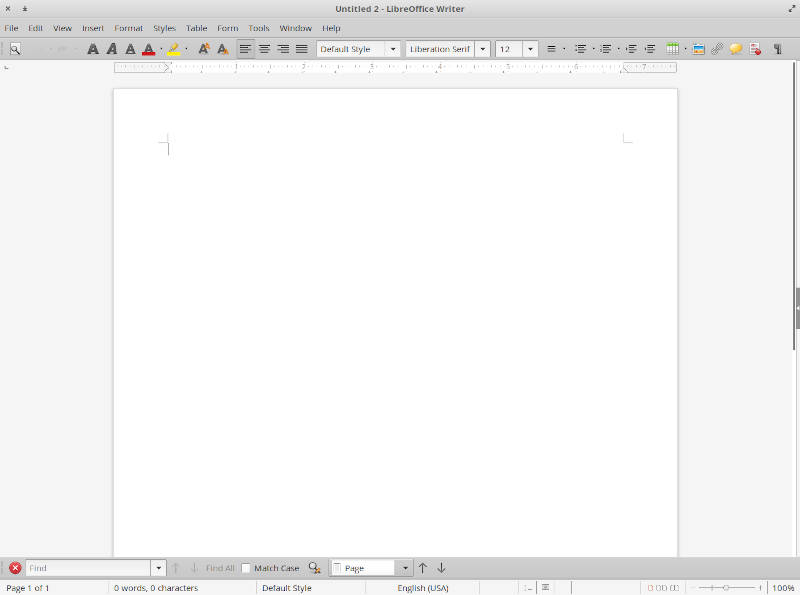 If you do not get this look out of the box, navigate to Tools → Options → View → Icon Style and select the elementary style: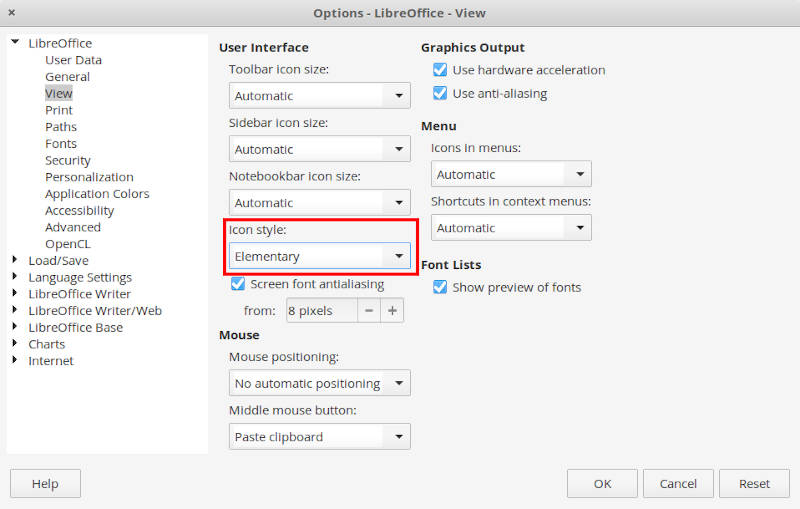 8. Install Clipped
After I tried to use the clipboard manager in Plasma 5, I cannot imagine my computer work without it. In Plasma 5, it is a part of the desktop, but in elementary OS you need to install a third-party app to get this functionality. I tried different programs and only Clipped worked the best: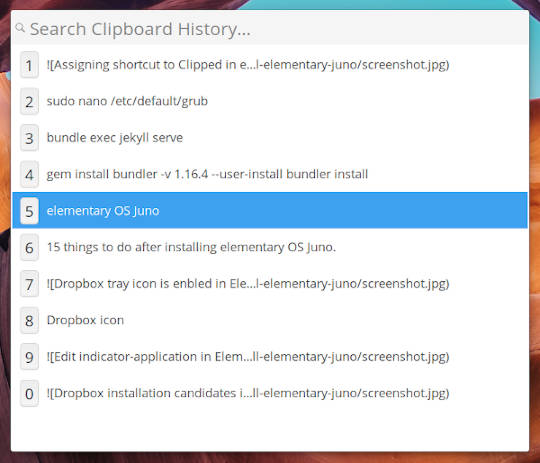 To install it, run:
sudo apt install com.github.davidmhewitt.clipped

Next, I recommend do create a keyboard shortcut for it. Go to Settings → Keyboard → Shortcuts and add this command com.github.davidmhewitt.clipped –show-paste-window and assign a shortcut for it. For example, I use Ctrl+Space: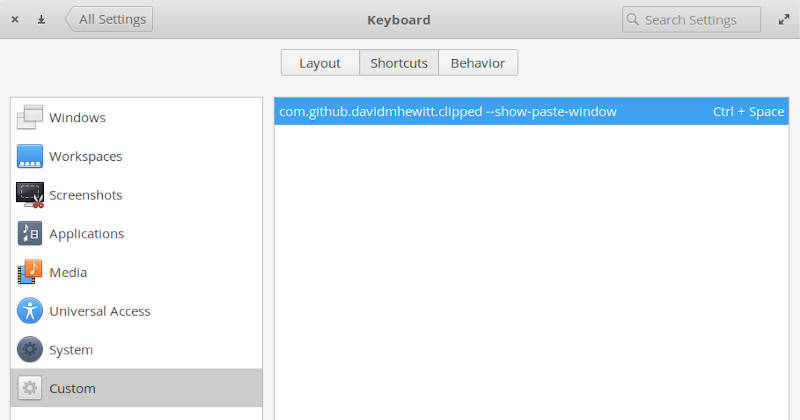 So, if I press Ctrl+Space, I will see the list of strings I copied recently. I can select the one I need from this list and paste it where I need. Try this program, I promise you won't imagine your work without it after you start using it.
9. Install Multimedia codecs
If you play different media file, you may want to install media codes for some commonly used formats:
sudo apt install ubuntu-restricted-extras libavcodec-extra libdvd-pkg

10. Activate Night Light
Night Light reduces the blue light emission of your screen at night time. This reduces eyes strain and helps to fall asleep. More and more distros include it by default and elementary is not an exception. Just go to Settings → Display → Night Light and activate it: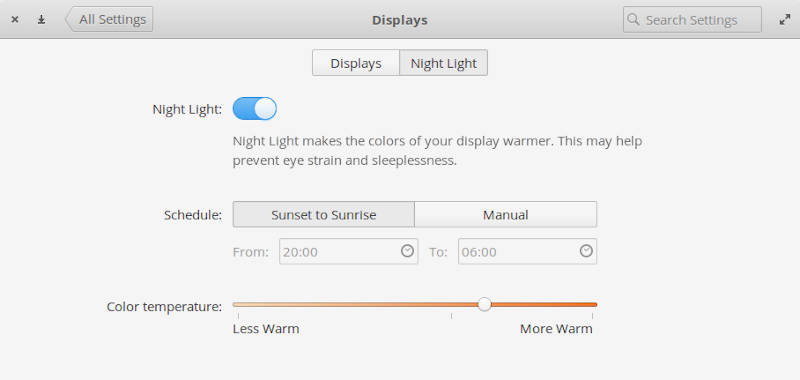 Now, your screen will be reddish at night which is better for your eyes.
11. Install Drivers
There are different ways to install the essential drivers. The easiest way is to run this command and it will help you to install all the necessary drivers:
sudo ubuntu-drivers autoinstall

My system doesn't require any proprietary drivers, so I cannot show you all possible options. This is also the reason I moved this thing to do after install to the number 10. Please, share your experience with installing the drivers this way.
12. Install GDebi
GDebi helps to install deb packages with a graphical interface. This is also not what I do on my system because I am fine with using the command line. However, I know that many new Linux users prefer installing programs with a graphical interface. So, if you will need to install some non-official programs in deb packages, you would like to have GDebi. Install it:
To test GDebi try to install any deb package: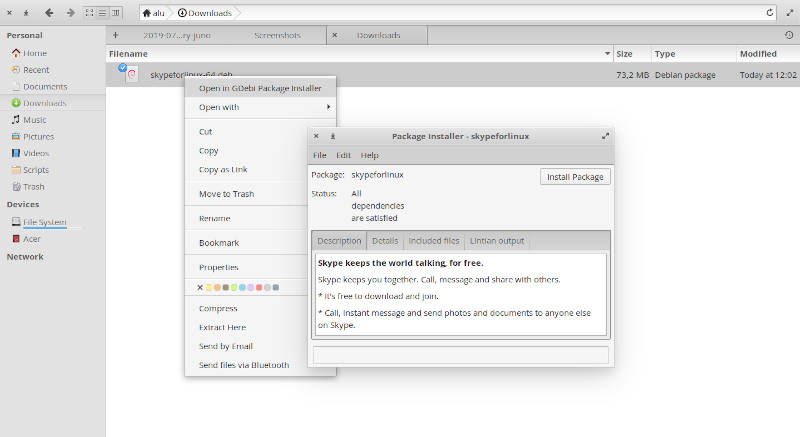 13. Improve Laptop battery life
I use elementary OS on a laptop. So, I installed TLP package that reduces the number of running tasks in the background and thus extends the battery life.
You just need to install and forget about it:
sudo apt install tlp tlp-rdw

I installed it on my Acer Swift 1 laptop and I get the battery life of 6-8 hours, which is compatible with what I had with Windows 10 on this laptop.
14. Enable tray icons for third-party apps
Dropbox, Skype, and some other third-party apps use some outdated code for their tray icons and this code is not compatible with elementary OS Juno. So, you won't see the tray icons for these apps. To fix this incompatibility you first need to edit the indicator-application by adding Pantheon to OnlyShowIn=Unity;GNOME; line in /etc/xdg/autostart/indicator-application.desktop:
sudo nano /etc/xdg/autostart/indicator-application.desktop


Then install the old panel indicator (wingpanel-indicator-ayatan) by downloading it from launchpad.net and running:
sudo dpkg -i Downloads/wingpanel-indicator-ayatana_2.0.3+r27+pkg17~ubuntu0.4.1.1_amd64.deb

Now, log out and log in. The Dropbox tray icon or any other app will be visible in the system tray now:

15. Install Synaptic
I list "Install Synaptic" as the last thing to do after installing elementary OS because I think Synaptic is rather a software manager for advanced users. Although its interface is not the prettiest, Synaptic is extremely reliable and powerful software manager. You can see the real package names instead of user-friendly names you see in the Elementary Software Manager. You will also find all available packages in Synaptic, while in the Elementary Software Manager, you will see only the pre-selected packages. There are also more options for installation in Synaptic, and you will find more advanced information about a program. For example, you can see all the dependencies.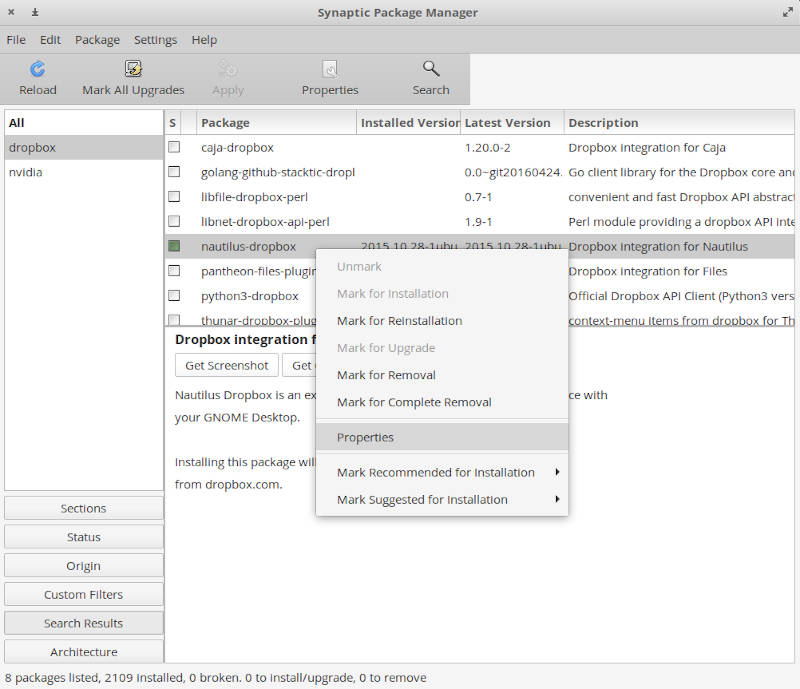 So, if you want to have access to more advanced features in your software manager, install Synaptic:
sudo apt install synaptic

Final thoughts
This was my list of 15 things to do after installing elementary OS Juno. I hope it was useful. Let me know what things you do with your elementary OS after the installation. I will add the most useful things to this blog post as an update.