KDE Neon - the best KDE distro 2021
KDE Neon became my daily driver three years ago. I enjoy using it more and more with every update. If you are looking for a KDE distro, I would highly recommend you KDE Neon. In this KDE Neon 2021 review, I would like to explain why.
Content
If you would like to read my previous review of KDE Neon, click here.
Finding the best KDE distro
First, I would like to share with you my 10 years of Linux experience and how I ended up running KDE Neon on all my production machines.
I fall in love with the KDE desktop thanks to its file manager Dolphin, which in my opinion is the best Linux file manager. I first tried Dolphin on Ubuntu because Nautilus, the default file manager of Ubuntu, did not work well on my system. Dolphin worked much faster than Nautilus and it also had more features. It was 2010 and I only started my Linux journey. I even did not know that there was the KDE desktop. When I found out that Dolphin was the file manager of the KDE desktop I wanted to try KDE right away.
The first distro I tried was Kubuntu 10.04. This is when I experienced what everyone meant by saying "KDE is too buggy". It crashed almost every hour. I quickly gave up on Kubuntu and returned to Ubuntu with the GNOME 2 desktop. However, I kept looking for a nice and reliable KDE distro.
It was the beginning of my distro hopping and search for the best KDE distro. I re-call trying PCLinuxOS, Netrunner, Mandriva, OpenSUSE, Fedora. I liked OpenSUSE the most and it was my KDE daily driver for about a year. Then Pardus Linux became a hype. I quickly switched to Pardus Linux and it was indeed the best KDE distro in 2011. I ran it for two years. Unfortunately, the people behind Pardus Linux decided to switch to the corporate sector. I had to look for another KDE distro. This is when Linux Mint succeeded with their KDE flavor. I switched to Linux Mint KDE edition in 2013 and ran it for 5 years on my office work computer. Linux Mint had the KDE 4 desktop at that time. It was a very polished and reliable distro. I have never had any major problem with it during 5 years of heavy usage. This was also the time when I started to greatly appreciate the Linux Mint distros.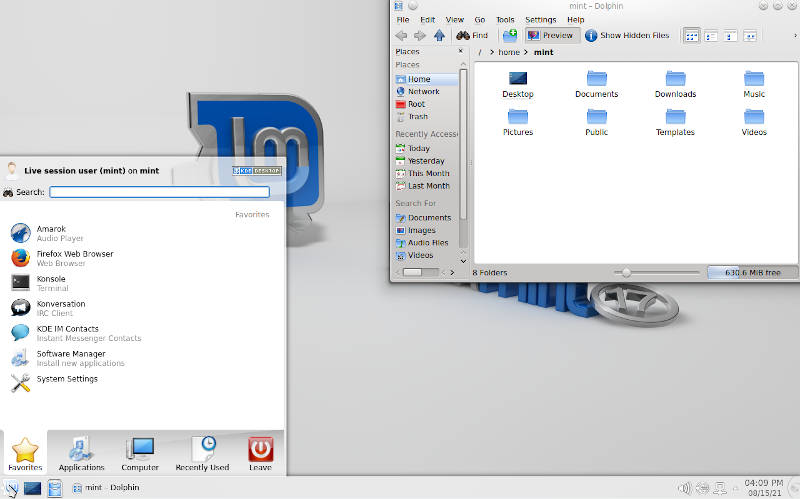 Then the Linux Mint team dropped the KDE edition from their lineup. I had to look for a replacement again.
When KDE/Plasma 5 was released, I also started to experiment with Arch Linux and Plasma 5 desktop on my home computer. I liked the Arch experience and Plasma 5 was amazing. It was better looking, lighter and faster than KDE 4. But I was not confident to run Plasma 5 on a production machine. Arch Linux was also not suitable for my work computer where stability and reliability were of the highest priority.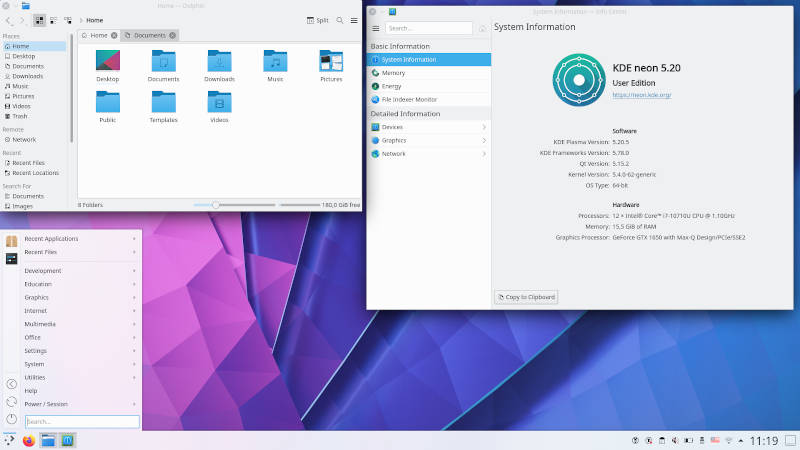 This is when KDE Neon appeared on the horizon. I liked the concept that it is a distro with the KDE/Plasma 5 desktop developed by the KDE team. But I was not sure if it was a great replacement for my Linux Mint KDE. The KDE team did not market it very well in my opinion. They say KDE Neon is not a distro, it is a rapidly updated software repository. Basically, they say it is like many other KDE distros. Quote from their FAQ:
Is this "the KDE distro"?

Nope. KDE believes it is important to work with many distributions, as each brings unique value and expertise for their respective users. This is one project out of hundreds from KDE.
However, I disagree with them. After I tried KDE Neon I quickly realized that I don't have to look for anything else. I now run KDE Neon on my office production machine that is used for heavy computation, on my home computer where I edit all my YouTube videos, and on my MSI Prestige laptop where I am writing this blog post right now.
So, if the KDE team doesn't want to say that KDE Neon is the best KDE distro. I will do it 😁!
😎 KDE Neon is the best KDE distro!!! 😜
Rock-solid base
KDE Neon is based on Ubuntu and this is one of its major advantages. Ubuntu is probably the most popular Linux distro. It has good if not the best hardware compatibility. So, KDE Neon works fine on most hardware. To install proprietary drivers on KDE Neon, one can borrow the driver manager from Kubuntu. There are many third-party repositories created for Ubuntu and thus they also can be added to KDE Neon. In my experience, most of the software first is created as a deb package for Ubuntu and only then for some other Linux distro. So, any Ubuntu deb package is fully compatible with KDE Neon. Finally, given the popularity of Ubuntu, it is usually easier to find solutions for problems with Ubuntu than any other Linux distro.
Minimal by default
KDE Neon is a very minimal distro. You will find only a few apps in the menu after the installation. So, it is not cluttered with many unnecessary apps and you install only what you really need. It makes it a relatively light and thus fast Linux distro. If you are a new Linux user and do not know what to install in your KDE Neon, I have a guide to things to do after installing KDE Neon, which will help you to get a fully configured and ready-to-use system.
Latest Plasma 5
I like that KDE Neon is shipped with the latest Plasma 5 desktop. Plasma 5 is actively developed and every update improves its performance and brings many new features that improve the desktop experience. For example, the recent update has introduced a new menu: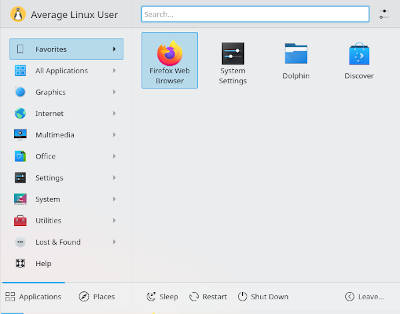 I also like how much the KDE team improved the Plasma 5 integration with different media players including online streaming services e.g. YouTube Music: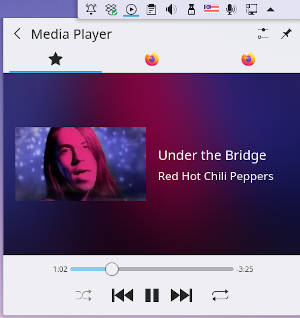 As I mentioned before, I used to run Arch Linux with the Plasma 5 desktop for a few years. Arch is known for its bleeding-edge software and it always has the latest Plasma 5. I compared Arch Linux and KDE Neon updates, and they receive Plasma 5 updates almost at the same time. Thus, by running KDE Neon you get the same desktop as in Arch Linux. Moreover, in my experience, Plasma 5 on KDE Neon was even more stable than on Arch Linux.
Plasma 5 is the most integrated desktop
I strongly believe that Plasma 5 is the best desktop environment. I mentioned already that it has the best file manager. Plasma 5 is extremely configurable. You can configure its look and behavior exactly as you want it. Some users complain that it has too many settings and it is easy to get lost among them. But I believe it is better to have some extra settings than having too few options as it is in GNOME.
For example, let's take a look at the flexibility of Plasma 5 panels and widgets. You can combine the panels in any way you want. My favorite layout is with the left-side task panel and tray icons in the top-right corner. It gives maximum vertical space, large panel space to open apps, and an always visible tray that doesn't take much screen space. Moreover, you can turn the Plasma 5 panel into a dock and use it as a quick launcher. Just add a launcher widget to it, populate it with the required icons and make it hide on focus loss. In addition, you can add system monitor widgets to the panel, and get a highly ergonomic and informative desktop with the built-in Plasma 5 features:
Plasma 5 is also the most complete desktop in terms of native apps. Plasma 5 has apps for almost any task and they all are well integrated into the desktop environment. I already mentioned that it has the best System Settings app. I think only OpenSUSE Yast can compete with it.
In addition, Plasma 5 also provides the best Linux video editor Kdenlive. Even GNOME users often prefer Kdenlive over the GTK video editors further signifying how good Kdenlive is. Probably, only DaVinci Resolve beats this Linux video editing program. But DaVinci Resolve is more of a pro editor and it is not free software.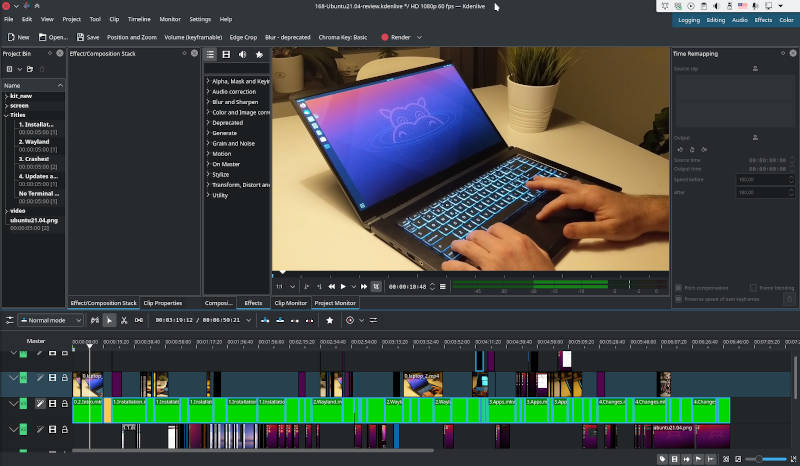 As far as I know, Plasma 5 is the only desktop that has a built-in clipboard manager: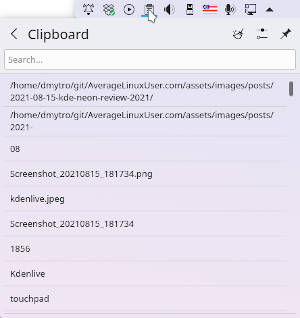 Okular is a Plasma 5 PDF reader that can also be used as an e-books reader: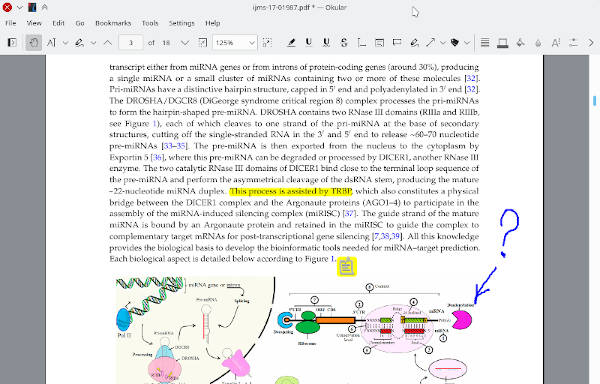 Kate is a text editor that can also work great as a code editor. It has syntax highlight features for most programming languages, a built-in terminal and many other features: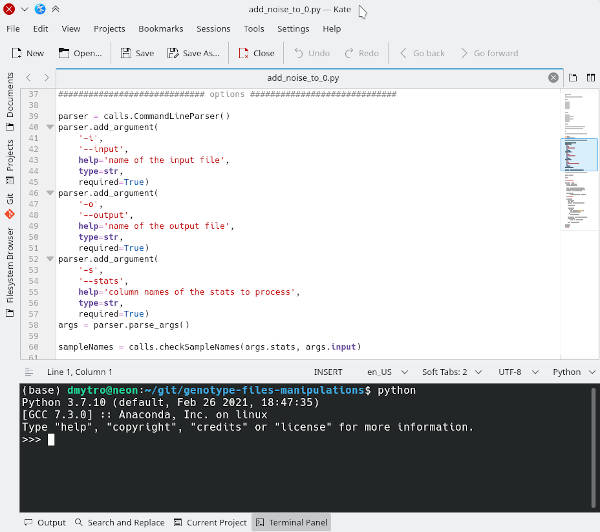 Gwenview is an image viewer that has the basic features of an image editor: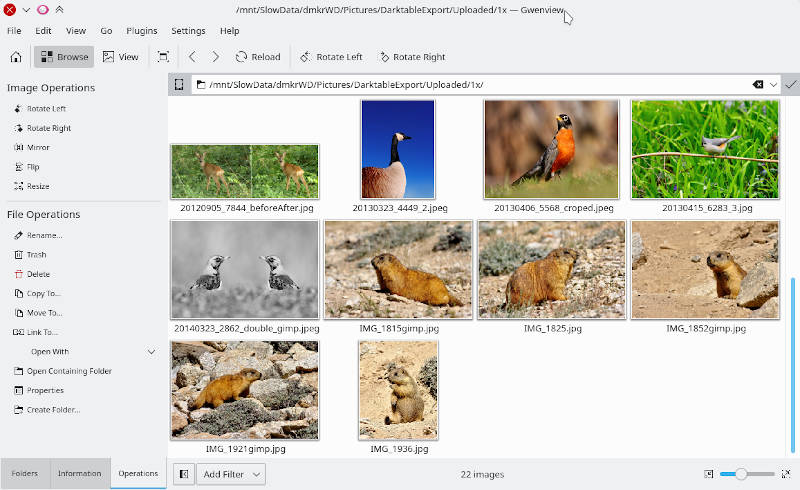 DigiKam is the best Linux app to manage a photo library. It has all features you may think of including text tags, color tags, metadata editor, geo-location map, image editor, etc.
Ktorrent is a torrent client of Plasma 5. It is also a simple and yet feature-rich torrent app:

Another famous Plasma 5 app is KDE Connect. It is the best app to connect your Android phone to the Linux desktop. It is even included in the Ubuntu default set of apps despite it being a KDE app.

I also often use Kompare to compare documents: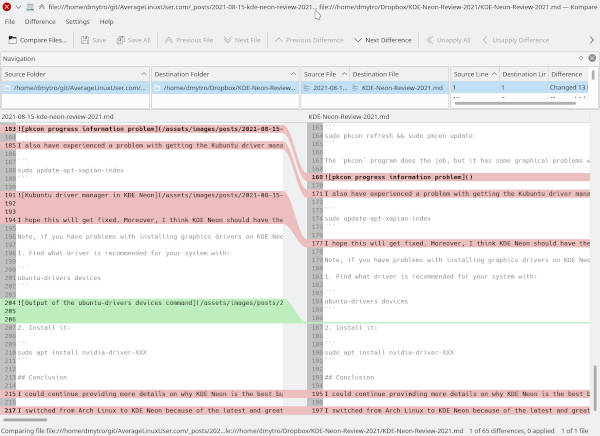 You can also access KRunner, a quick launcher/search app of Plasma 5 with Alt+F2:
KDE even had its own office suite KOffice. But I assume it is difficult to beat LibreOffice, so KOffice is not maintained anymore.
I also would like to mention Kmail, KAddressBook, KOrginizer which provide a well-integrated set of apps to manage email, contacts and calendars.
There are many other great KDE apps such as:
KcolorChooser - to pick up the color code from the screen.
Night Color - to reduce the amount of blue light on your screen at night.
SMPlayer - my favorite video player.
Spectacle - a screenshot tool.
Ark - archive management tool.
Kfind - a powerful search tool.
As you can see the list is very long and I have mentioned only a small part of the full KDE applications list.
Bugs get fixed
Like any other operating system, KDE Neon may have some bugs. However, I have never experienced a serious bug that would affect my work. Also, most of the bugs I have seen get fixed after some time.
At its onset, Plasma 5 had some compatibility problems with non-QT apps. For example, GIMP had problems with tooltips which were not visible by default.
Also, a few versions back Plasma 5 could not remember my choice of the favorite apps in the menu. After the reboot, it would return the default set of favorite apps.
I also experienced occasional mouse pointer freezes for a few seconds on one of my KDE Neon machines for one or two months, but after I updated the system, freezes disappeared.
It is also worth mentioning that most of the KDE programs receive regular updates and improvements. Only Kdenlive has been changed a lot in its look and performance. It is a little slow now when you add new clips to the timeline, but I believe this is a temporary problem and it will be fixed soon too.
Distro upgrades
My experience with upgrading KDE Neon has also been smooth so far. Although I usually recommend re-installing the system instead of upgrading it, I was curious how the upgrade process works in KDE Neon. Surprisingly, I have done two upgrades of KDE Neon and it still works like a fresh install. So, I would recommend upgrading KDE neon if the upgrades process will stay as good as it was during the last upgrades.
Installation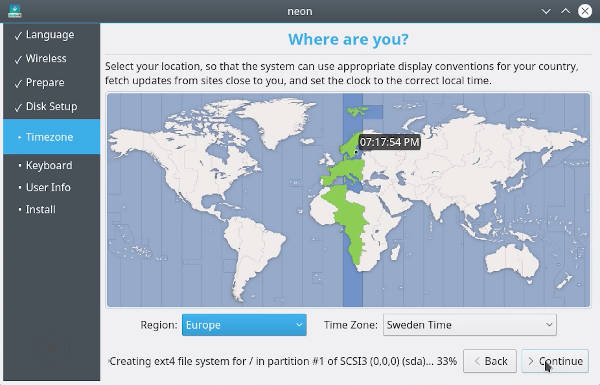 The installation process of KDE Neon is also as simple as installing Ubuntu or Linux Mint. The only difference is that you get a bare-bones system and you need to do a few things after installing KDE neon to make it a usable desktop system.
Room for improvement
Nothing is ideal and every piece of software has room for improvement. KDE neon has a few points that I wish were better.
Discover Software Center is one of the weakest points of KDE Neon. It works and does the job. You can use it to install programs and even successfully upgrade the system. But it is slow and not modern-looking. I hope its design and performance will be improved in the coming years. I use Discover only to upgrade my system for all other tasks I use Muon, a synaptic-like software manager for KDE.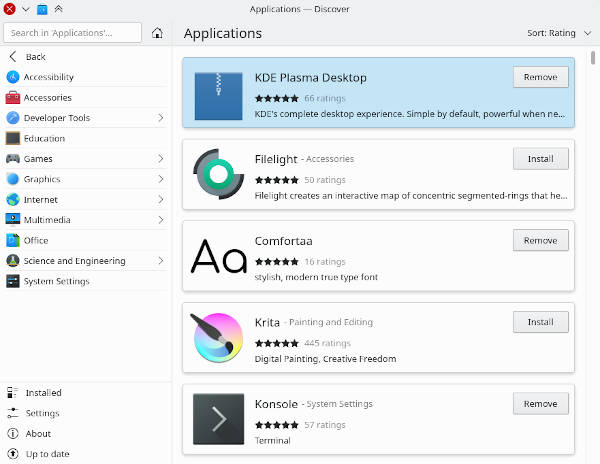 Baloo search also is desired to be better. It always has some bugs. I usually do not use search by file content, so I disable Baloo search on my system. But some users may need it and unfortunately, it is very slow and often stops working. I hope the KDE team will find a solution to solve the search problem on Plasma 5.
You may not know it, but you need to use the pkcon program to update KDE Neon instead of apt:
sudo pkcon refresh && sudo pkcon update

The pkcon program does the job, but it has some graphical problems with showing the progress. The progress information lines overlap:

I also have experienced a problem with getting the Kubuntu driver manager to work in one of my recent installations of KDE Neon. The Kubuntu driver manager got stuck at the step of searching for available drivers. I had to run this command to make it work:
sudo update-apt-xapian-index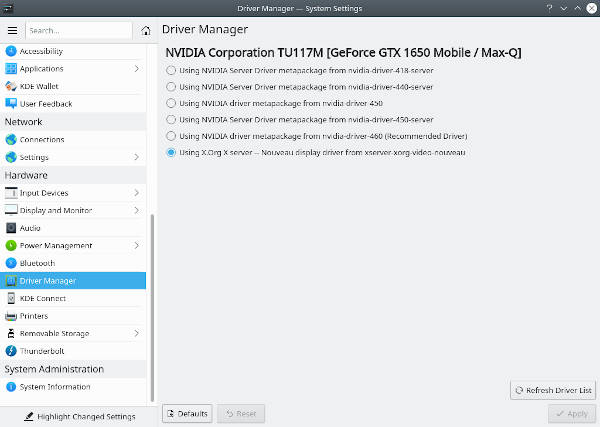 I hope this will get fixed. Moreover, I think KDE Neon should have the graphical driver manager included by default.
Note, if you have problems with installing graphics drivers on KDE Neon, you can always go the most reliable way - the command line.
1. Find what driver is recommended for your system with: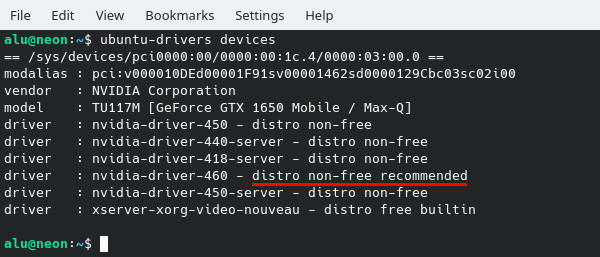 2. Install it:
sudo apt install nvidia-driver-XXX

Conclusion
I could continue providing reasons why KDE Neon is the best but this is already one of my longest articles. Maybe we can discuss them in the comments below.
What are the reasons you run KDE Neon?
I switched from Arch Linux to KDE Neon because of the latest and greatest of KDE software on a rock-solid base of Ubuntu. If you have not experienced it yet, I highly recommend you to try it.